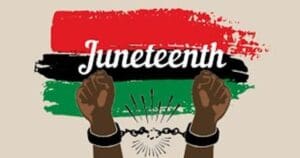 Because the Juneteenth federal holiday falls on Sunday, June 19, Governor Albert Bryan Jr. has issued a proclamation designating Monday, June 20, as a day of observation for the holiday and has granted administrative leave to all non-essential government employees.
"Here in the U.S. Virgin Islands, with our own storied history of fighting for our freedom, we are joining the nation in pridefully celebrating this national holiday. On Monday, June 20, all our non-essential government agencies and offices will be closed on that day," Bryan said.
Juneteenth is commemorated on the anniversary date of the June 19, 1865, announcement of General Order No. 3 by the Union Army's General Gordon Granger that proclaimed freedom for enslaved people in Texas, which was the last state of the Confederacy with institutional slavery.