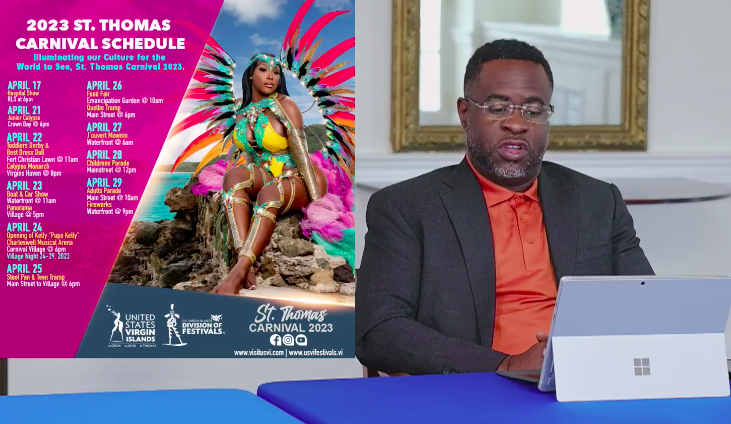 Gov. Albert Bryan Jr. opened Monday's weekly media briefing with comments about the shooting of six individuals this weekend on St. Croix. One 19-year-old man was killed and another person is on life support. In a separate incident, another man was run down and killed on Friday, allegedly intentionally, by a co-worker, and a teenager apparently died by suicide on St. Croix.
The governor recognized that mental health care is badly needed in the territory and promised it is coming soon as well as opportunities for more after-school activities.  Bryan said the V.I. Government also will collaborate with federal partners to remove violent offenders and guns into the territory.
"Nothing is ordinary about consoling grief-stricken families about the loss of a loved one," Bryan said, 
The V.I. Health Department asks that anyone seeking counseling service or someone to talk to call 340-777-7700 on St. Thomas and 340-712-0096 on St. Croix from 8 a.m. to 5 p.m. All calls are confidential. Additionally, 9-8-8 is the suicide and crisis hotline, staffed 24 hours a day, seven days a week. Call, text, or chat at 988lifeline.org.
The governor asked people to enjoy Carnival, beginning next week, safely and "take things down a notch."
The governor later announced the new Vendors Plaza and downtown bathrooms will open this week. 
Bryan introduced Assistant Commissioner of the V.I. Police Department, Mario Brooks, to offer some advice to stay safe during Carnival. He pointed out the police will be out "in full force" just as with last week's UberSoca tramp. Brooks pointed out there was no criminal activity during the event. 
"As we transition over to the Carnival, we implore the community — those who are planning to visit; those who are already here; those who will be partaking in the Carnival events — to look out for each other. Be each other's brother, a keeper of each other," Brooks said.
Next, Ian Turnbull, director of the Festivals Division under the Tourism Department, listed fete events, starting with Monday's Hospital Show at 6 p.m. 
Turnbull and the governor congratulated the Carnival Queen La'Monee Morris, Princess Na'Riyah Penn, Prince Kriston Ward, and Jr. Miss Jahniya Williams.
The Partial Carnival Schedule 2023:
Calypso Monarch – Virgin Haven – April 22 at 8 p.m. – $25 tickets.

Toddlers' Derby and Best Dressed Doll – Fort Christian lawn – April 22 from noon to 5 p.m.

Boat Show, races and music, waterfront and in front of Finance Department – April 23 – 10 a.m. to 5 p.m.

Panorama and Village ribbon cutting – the Village – April 23 – from 6 p.m. until.

Food Fair – Emancipation Garden – April 26 – 10 a.m.

J'ouvert – waterfront – April 27 – 6 a.m. 

Children's Parade – starts at St. Peter and Paul School – April 28 – 12 p.m.

Adults' Parade – Main Street – April 29 – 10 a.m.  
Call the Tourism Department for more information at 340-774-8784.
"We are having meetings with VIPD. We're encouraging no mask-wearing, no facial mask wearing at that event," Turnbull said, referring to J'ouvert. "If you come with a mask on you're going to be asked to take off that mask or you can't take part in J'ouvert," Turnbull said.