Guy Benjamin students learn hip-hop during the 21st Century Grant after school program.
Students at Guy Benjamin School were brushing up on their reading and math skills, learning hip hop dance moves and even making origami boats last week — and that was all after the school day ended.
GBS earned a 21st Century Grant last year, under which its current program is still running. The school has been approved for a total of five years for the grant which offers academic enrichment or remediation as well as a bevy of exciting extracurricular activities.
Almost the entire student body takes part in the 21st Century Grant program which runs from 3:30 to 5:15 p.m. Monday through Thursday.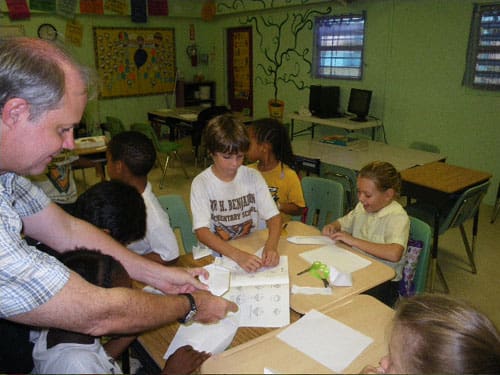 Bill Stelzer imparts his knowledge of origami to GBS students.
"This year we have 102 students enrolled and our entire student body is 120," said Dionne Wells, GBS principal. "Students from kindergarten through sixth grade are taking part."
For the academic portion of the afterschool program, GBS faculty determine in which areas students need either extra help or enrichment, explained Wells.
"We focus on reading and math and the students are placed in either remedial or enrichment classes depending on their individual needs," said the GBS principal. "It is based on their standardized test scores and teacher recommendations. My enrichment students have things like a reading club and a creative writing class."
"In the remedial classes, the students are getting the extra time they need to bring those test scores up," said Wells.
GBS officials teamed up with St. John School of the Arts in obtaining the grant and the art school now offers several classes through the Coral Bay elementary school's program.
Tumbling with Jude Woodcock and drumming with Eddie Bruce have been popular classes in the 21st Century Grant program. Other classes include yoga, guitar and art. GBS staff also teaches a variety of classes from jewelry making to Quadrille.
"We're offering some classes from SJSA and my staff is also leading a bunch of classes," said Wells. "We have a gardening club, jump rope, basketball and baseball and Ms. Daniels is leading an art class."
Another highlight of the program was Connor Snyder of Kids for Broadway, who hosted a professional, and intensive, week-long thespian class through the 21st Century Grant, Wells added.
"One of the cool things that we did this year for the first time was work with Kids for Broadway," said Wells. "The first week of November our students put on a production of Orphan Annie Meets Richie Rich. The kids had to audition for the roles at SJSA and the whole thing was just like a Broadway play."
"In the afternoon session they read over their scripts and then they had to go home and memorize their lines," Wells said. "They sang and danced and acted — it was a whole professional production. I was so impressed with them."
Snyder also trained GBS teachers in the Kids for Broadway philosophy and promised to be return next year for another production, Wells added.
The 21st Century Grant program is truly a holistic approach to education. The program addresses student's academic needs and talents, while stimulating their minds and introducing them to new activities, many of which the students wouldn't otherwise be able to enjoy.
"The program is really working great," said Wells. "A lot of what we offer the students on a normal basis, they wouldn't be able to afford if they had to pay for classes or lessons. A lot of parents are strapped for money, working two or three jobs, and just can't pay for dance classes or guitar lessons."
"It's really exciting for the parents and the students and I'm really happy that we did this," Wells said.
While the program is a definite at the school for the next five years, Wells hoped the program would continue even further into the future, she added.
"This is something we can count on for the next five years," said the GBS principal. "But I'd like to see this go on forever. If we get more partners and more funding, we could keep this up after the grant runs out."
Wells is always looking for volunteers and donations to keep expand the 21st Century Grant program. For more information, or to see who to get involved, call Wells at 776-6242.