A guest-led initiative is forming to save the relaxed eco-resort Maho Bay Campground, above.
There is new hope on the horizon for the future of Maho Bay Campground.
With its lease expiring in July 2012, Maho Bay Campground officials announced late last month that this winter would be the eco-resort's last high season in operation, unless the situation changed.
An attempt to extend the lease or purchase the 13 acres of land it sits upon — which is on the market for $23 million — was being headed by the non-profit Trust for Public Lands. Those negotiations fell through and officials were forced to announce that they could not accept reservations for any time after June 2012.
It seemed the best outcome Maho fans could expect was a one year lease extension. There is still a possibility that the land owners will extend the campground's lease for one year, but officials have until April 2012 to make the decision. With such short notice to staff the campground for the 2013 season, Maho Bay management did not view that option as ideal.
Now, however, a new movement is afoot. Since a story about the campground's impending closure ran in the May 30-June 5 issue of St. John Tradewinds, a new push to save Maho Bay has been launched.
Long-time guests of the campground are taking matters into their own hands and trying to save the eco-resort they love so much.
"This is a guest-led initiative to bring together the many guests and concerned proponents of Maho Bay Camps and eco-tourism in general to brainstorm and collaborate towards approaches for saving this property," Maho guest Juila Glad stold Tradewinds. "Anyone concerned about losing this precious eco-tourism experience and pristine land to conventional development is welcome to be involved."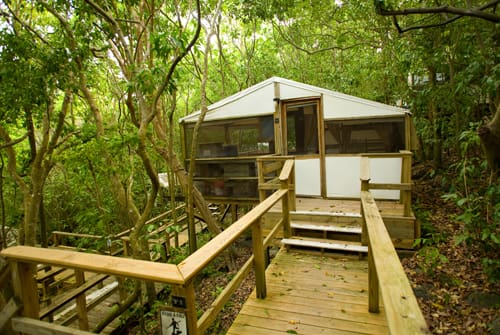 Guests hope to be able to enjoy Maho for years to come.
"This initiative attempts to activate guest energy, contacts, and knowledge resources towards saving Maho Bay camps following the disappointing end of the negotiations conducted by the Trust for Public Lands," said Glad.
The Save Maho Bay campaign is being led by Glad, who lives in Wisconsin and first visited the campground when she was six years old.
"I first went to Maho Bay as a child with my family and have returned many times over the years," said Glad. "My family's visits to Maho Bay introduced us to the idea of eco-tourism and inspired us to seek eco-tourism experiences in other parts of the world as well. Like so many any other guests to Maho Bay Camps, I am awed by the natural beauty of the Maho Bay land and the unique experience of staying in tent cottages overlooking Maho Bay and enjoying the natural flora and fauna from the raised wooden walkways."
Like many other Maho fans, however, Glad thought the lease would be extended and didn't know how dire the situation was until recently, she explained.
"I have been following the progress of Maho's future as much as possible since 2006 when I learned of the lease expiration issue but like many others found it difficult to devote my energies without a clear entity or guest movement to work through," said Glad. "When I learned a couple of weeks ago of the fall-through of the negotiations, it was clear that the situation called for a more organized guest effort to find a viable solution."
"I am convinced that the unique eco-experience and eco-tourism legacy Maho offers is compelling enough to find and justify a means to continue Maho Bay Camps," she said. "Everyone I have been in touch with so far agrees that the development of the Maho Bay land as anything other than a eco-tourism destination open to the public as it is now would be a senseless and tragic loss. Thus, I have already begun to connect concerned individuals and organizations to evaluate potential approaches to how we might proceed."
While the exact path to saving the campground remains unclear, Maho is such a unique property and, as a front runner in the eco-tourism industry, is important to save, Glad explained.
"My personal love for the property aside, the reason Maho Bay Camps is so important to save lies in what it represents for the eco-tourism industry and its history as a pioneering proponent of environmental and sustainability principles for travel," she said.
Saving the campground is not even just about preserving its fairly pristine environment, Glad added.
"Part of the unique argument in favor of preserving Maho Bay is not directly related to the land itself, but the history of the Maho Bay camps," said Glad. "How much does the stupendous growth of the green building industry owe to Maho Bay Camps for exposing so many potential clients to the beauty and practicality of green building? How much has the eco-tourism community grown and profited based on guests who first experienced Maho Bay's idyllic natural surroundings?"
"How many people have become 'believers' in the values of sustainability and conservation based on seeing first-hand the simple elegance of Maho Bay Campground's pioneering approach," Glad questioned. "Much of what has become a strong and vibrant set of interconnected movements can be traced to these early 'green' pioneers. If there were such a thing as a world eco-tourism heritage site, shouldn't Maho Bay Camps be one?"
Glad foresees the movement to save Maho Bay blossoming into a testament to the entire eco-tourism industry and green living in general.
"How can we possibly even guess as to the future value of the multi-faceted 'green outreach and PR' of this experience," she said. "Environmental organizations around the world work tirelessly to raise awareness about the need for embracing sustainability in our everyday lives, and many environmentally-minded businesses and companies rely on such increased awareness to sell more eco-friendly product alternatives."
"Maho Bay shows families that such sustainability is not only possible, it can be immensely pleasurable and beautiful," said Glad. "This set of unique guest experiences and educational opportunities is what makes Maho Bay so much more valuable than the land itself."
Glad welcomes anyone interested in maintaining Maho Bay Campground to join the movement by emailing savemahobaycamps@gmail.com. Maho Bay fans can also become a "friend" of Save Maho Bay Camps on Facebook to see updates and share ideas and "like" the "Save Maho Bay Camps — A Guest-Led Eco-tourism Preservation Effort" Facebook page.