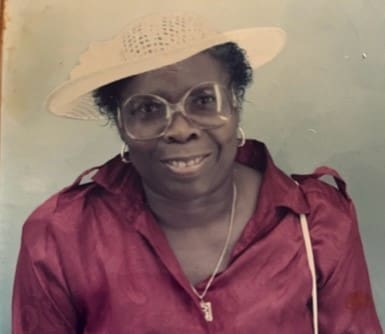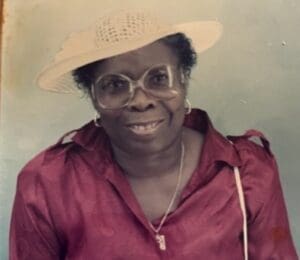 Gwendolyn Barnes died at her home on Saturday, March 25, at the age of 88.
She was preceded in death by her husband, James Barnes ("Mr. Pueblo"); and her parents: Rachel Smith and Canute Fraser of Sea Cows Bay, Tortola.
Gwendolyn is survived by her sons: Justin Charles and Claude Smith; daughters: Celestine Browne and Jacquelyn Barnes-Corbett; brothers: Austin Fraser, Earl Fraser of Tortola, Kenneth Fraser of Tortola and The Honorable Julian Fraser of Tortola; sons-in-law: David Corbett and Glenville Browne; daughter-in-law, Lillian Charles; and sisters-in-law: Irene Fraser, Frances Carty of Texas, Beverly Fraser, Kharid Fraser and Rubena Fraser of Tortola, Caroline Charles of Tortola and Kathleen Henry of England.
She is also survived by grandchildren: James A. Barnes, Kyliel A. Barnes, Kimberly Smith, Lortasia Smith, Jillian Charles, Chionesu A. Browne and Hadiyah A. Browne; great-grandchildren: Je'Vonte Barnes, Joshua Miller, Raziyah Hicks and R-King Hicks; and nieces: Joycelyn Forbes, Rev. Janet Hodge, Evelyn Fraser-Forbes, Brenda Fraser, Lisa Fraser-Harris, Jacqueline McCain, Florence Maduro, Jenecia Fairfay, June Famous, Christine Glover-Walton, Sonia Cranston, Andrea Fraser and Sylvia Rich.
Other survivors include nephews: James Fraser Jr., Glanville Fraser Sr., Reynald Fraser, Leroy Fraser, Elwin Fraser Sr., Austin Andrew Fraser, Bryan Fraser, Lyndly Turnbull, Kimani Fraser, Derrick Fraser, Cecil Fraser, Kelvin Fraser, Damek Fraser, Delani Fraser, and Jamil Fraser; loving caregivers: Marsha Collins, Valencia Petty, Tina Hazel and Editha Honore; as well as many other relatives and friends too numerous to mention.
Homegoing services will be held on Friday, April 21, at St. Andrew's Episcopal Church. The viewing will begin at 9 a.m. followed by the funeral service at 10 a.m. Interment will be at Western Cemetery No. 3.
Arrangements by Dan Hurley Home for Funerals and Cremation Centers of St. Thomas, St. John and St. Croix.
For online condolences or to share a special memory, visit our website at www.hurleydavisfuneralhome.com