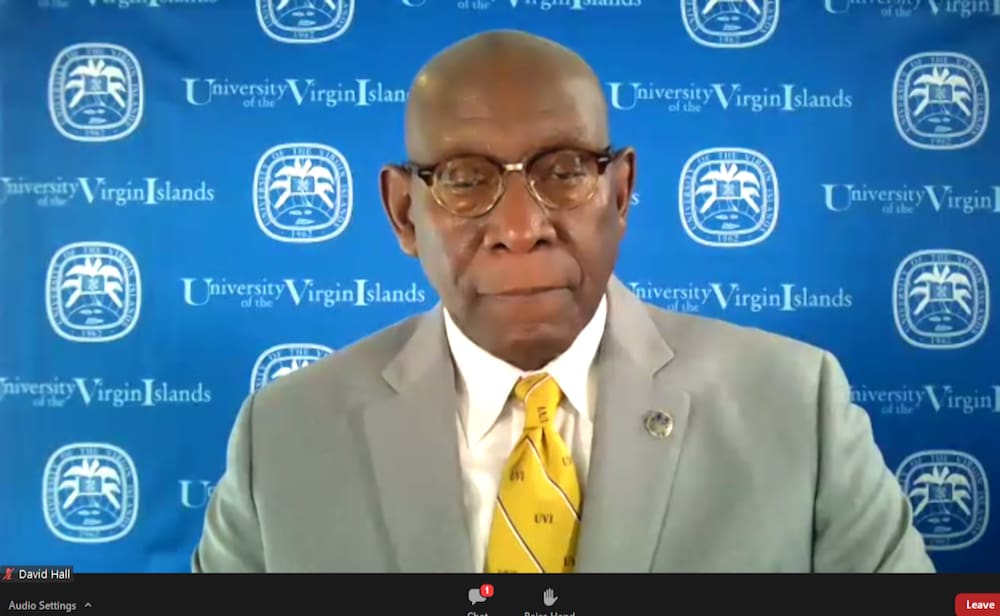 As UVI prepares to start a new school year Monday under a COVID-19 vaccine mandate that has sparked protests, President David Hall stressed the importance of community and the social responsibility that comes with that in his state of the university address on Friday.
When we choose to be part of a community, we enter a social contract where at times our individual desires and preferences must give way to the greater good, and that means getting vaccinated to attend university while a pandemic rages, said Hall in a wide-ranging and sometimes philosophical address that lasted the better part of an hour.
"We stand by this decision," Hall said of the vaccine mandate adopted by the UVI board of trustees at their meeting in June. While he applauded protesters for their "respectful and thoughtful manner," vaccination is the safest way to return to in-person learning and campus living, he said.
"The approach adopted by this university is the safest approach. That is an indisputable fact, based on CDC guidance and other reputable scientific leaders in this field," said Hall, who thanked those who have complied with the vaccine mandate, calling them heroes for doing what is best not just for the university, but also for the territory.
"The work of this university will continue even though there are key individuals who may not be with us" because they choose not to get vaccinated, said Hall. The goal is not to create division, he said, and offered them his "respect and deep appreciation" for their contributions to UVI.
"This will be a difficult year, for so many reasons, but we will make it through," said Hall. "I have seen this community survive and thrive through so many other challenges, and I know we will make it through this one."
Renovations, repairs and a medical school
Overall, the state of the university is promising, said Hall. Buildings it hopes to have ready for occupancy this fall after the devastating hurricanes of September 2017 include the School of Business, the School of Nursing, and the Center for Marine and Environmental Studies annex, said Hall. A new childcare facility will open soon on the St. Croix campus, along with the school's first dance studio.
Work on numerous facility improvements and repairs will soon go out to bid, and thanks to wind-retrofit grants from the Federal Emergency Management Agency will include the residence halls and library on St. Thomas, and cafeteria, residence halls and annex on St. Croix, said Hall.
The S. Donald Sussman School of Medicine project is gaining momentum thanks to a namesake $6 million gift from St. John homeowner and former UVI trustee Donald Sussman that is attracting new donors, Hall said. A dean will be in place by September, when the school will seek approval from the Liaison Committee on Medical Education, he said. A simulation training center on St. Croix will be completed by the end of the semester, a classroom building with anatomy lab by early 2022, and a biomedical lab for the medical school complex on St. Thomas is designed and should have a contractor soon, he said.
Additionally, a contractor has been selected to renovate the former West Bay Supermarket building on St. Thomas, which will become the new Research and Business Innovation Center, with renovations to be completed by January or February 2022, Hall said. The university is partnering with Microsoft to equip the center after hosting a technology summit with the V.I. government and the tech giant in June.
The Reichhold Center for the Arts on St. Thomas, which was badly damaged in Hurricane Irma in 2017, is one facility that won't see a comeback this year, Hall said, noting that reconstruction in the middle of a pandemic "is not a smooth or clear process." The roof has been rebuilt, the interior space has been designed with an acoustic consultant, and an RFP will go out soon, with an optimistic completion date of fall 2022, said Hall.
COVID funding goes to employees, students
In good news for UVI's employees, the university has lobbied the V.I. government to include semi-autonomous agencies in the four percent pay raises that Gov. Albert Bryan Jr. announced for central government workers in May, said Hall. Those whose pay was cut by 8 percent from July 2011 to July 2013 under a government austerity program will see those funds restored in the next fiscal year, once Bryan signs the bill passed into law by the Senate, he said.
Additionally, UVI employees who could not work remotely during the last year due to the nature of their jobs, including security, maintenance, payroll, accounting and those who take care of the plants and animals of the school's agriculture program, will receive $1,500 bonuses, Hall said.
"Some call it combat pay, but I call it thank you," he said.
While COVID-19 has brought destruction and death, it also has brought some $19 million in federal CARES and American Rescue Act funds that have enabled the university to help its students, Hall said. In addition to continuing with its technology awards and special compelling circumstances grants, the university plans to use some of the funds to eliminate the existing debt of all students that was incurred from the start of the pandemic in March 2020 through this summer, Hall said. A comprehensive student financial support initiative will be unveiled soon, and the elimination of student debt will be a cornerstone of that plan, he said.
Hall also thanked Bryan for $2.8 million in funding to enhance WIFI coverage for a total of 500 access points across both campuses, including in dorm rooms as well as classrooms so they can better accommodate hybrid learning, where some instruction is virtual and some in-person, said Hall.
Circling back to his theme of community, Hall said other projects to be undertaken with federal funds will be geared to helping the territory, with a particular focus on evidence-based research into how to monitor and suppress COVID-19.
"Yes, we have challenges, but we have so many blessings. These blessings are not only a product of divine grace, but a result of a lot of hard work and determination by a lot of dedicated individuals. That is the secret formula to blessings. They come through this magical combination of faith and work," said Hall, who quoted the Rev. Dr. Martin Luther King Jr.'s "I've Been to the Mountain Top" speech at the start of his address and returned to it again at the end.
In that speech, given the day before he was assassinated, King pondered the question of which era he would live in, given a choice. "Strangely enough, I would turn to the Almighty, and say, 'If you allow me to live just a few years in the second half of the twentieth century, I will be happy,'" said King, despite the crushing racism and violence he confronted in his fight for justice and equality.
"If I was asked and had to answer the same question that Dr. King asked and answered, I too would pick the time that we are in now," said Hall. "None of us know what tomorrow may bring, but we should know that we have the capacity to face it with courage, creativity, integrity and resolve. We can't choose the era, but we can choose how we will leave our mark on whatever era we find ourselves within."
"There are forces that are attempting to control our lives with fear and disinformation," Hall continued. "Let us control our future with wisdom and love. This is our community, and we know what it means to be part of it. So let us work to make it, again, as Dr. King asked, a beloved community. A community that has its differences but still has a common mission. A community that can respect not only itself, but those around us. Let us embrace all of the challenges we face but let us also embrace the great potential during this academic year."