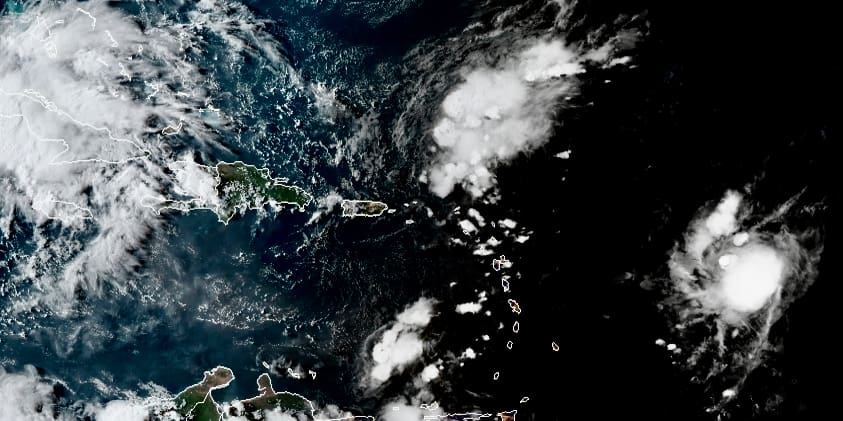 A tropical storm watch has been posted for the U.S. Virgin Islands and Puerto Rico as the weather system approaching the the islands was designated a tropical depression Friday afternoon, according to the National Hurricane Center.
According to the NHC, Friday afternoon the system passed just north of a buoy owned by the Woods Hole Oceanographic Institute. The buoy's winds backed from northwest to west to south, indicating that the system has a closed surface circulation, according to the center's 5 p.m. update.
That and other wind data prompted the agency to designate the storm as a tropical depression. Maximum winds remained 30 knots as of the 5 p.m. update based on earlier estimates.
The NHC anticipates the system will be Tropical Storm Grace when it passes by the territory and Puerto Rico Sunday afternoon to Monday morning.
As of Friday afternoon the circulation had closed off despite the depression moving quickly westward (275 degrees) at about 19 knots. The track guidance was tightly clustered during the first 48 to 60 hours, with the depression being driven quickly westward across the Leeward Islands and toward the Greater Antilles by ridging to the north.
After 60 hours, by about Sunday evening, there is considerably more spread, with the regional dynamical models keeping the system farther south over the Caribbean Sea, and most of the other models indicating a turn toward the west-northwest, following a track similar to Tropical Depression Fred, which as of Friday afternoon was over Cuba.
During the next two days, the NHC reported, the depression is expected to move beneath an upper level ridge axis, which should allow the deep-layer shear to fall below 10 knots, with the system also moving over warmer waters and through an environment of increased moisture.