Pictured above: An outdoor classroom surrounded by natural beauty set the scene for the last day of the 2017 Annaberg Folk Life Festival. Photo by Judi Shimel.
ANNABERG — The abundant rain that fell on St. John at the end of February didn't bode well for the annual Black History Month celebration at Annaberg. Heavy clouds shielded held back the sun for students and visitors on the first day. But by the end, organizers and participants got a break. Just the thing for an outdoor festival surrounded by turquoise seas and green hills.
It was the 26th recreation of the Folklife Festival held on the Washington Mall in the early 1990s. Virgin Islands culture bearers brought evidence of their creativity in song and dance, in weaving and planting. Tales of a fanciful spiders and his mischievous deeds. There were head-ties and flowing skirts of madras. Added to that, the artifacts of daily living which when assembled, gave visitors from all parts of the country a taste of Virgin Islands life.
Tradition sits at the root of the Annaberg Folklife Festival, so does education. No more so than in 2017, the Transfer Centennial of the former Danish West Indies to the United States.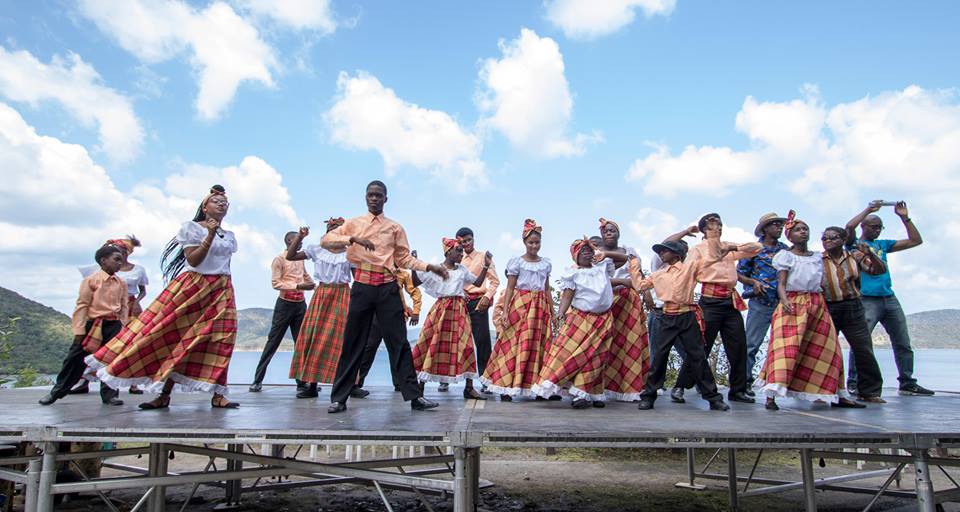 National Park Service Interpreter Golda Hermon and several co-workers loaded this year's event with teaching moments.
"The part I liked the best was when the students came on the premises. They were directed up to the educational station and I was so happy to see the children sitting down in front of a teacher and learning, weaving, and all of that," Hermon said.
Archaeologist Ken Wilde led student groups through a history of centennial observances through the years. Musician and culture bearer Glen Davis demonstrated maubi making. He also brought along a troupe of apprentice story tellers who took turns spinning a yarn.
Justin Todman led students through the techniques of broom making. After the fair was over, he said, he was going home to weave a special broom for a stateside wedding.
And the Flambo Combo from the Bertha C. Boschulte Middle School showed off what they had learned in music class with quelbay tunes.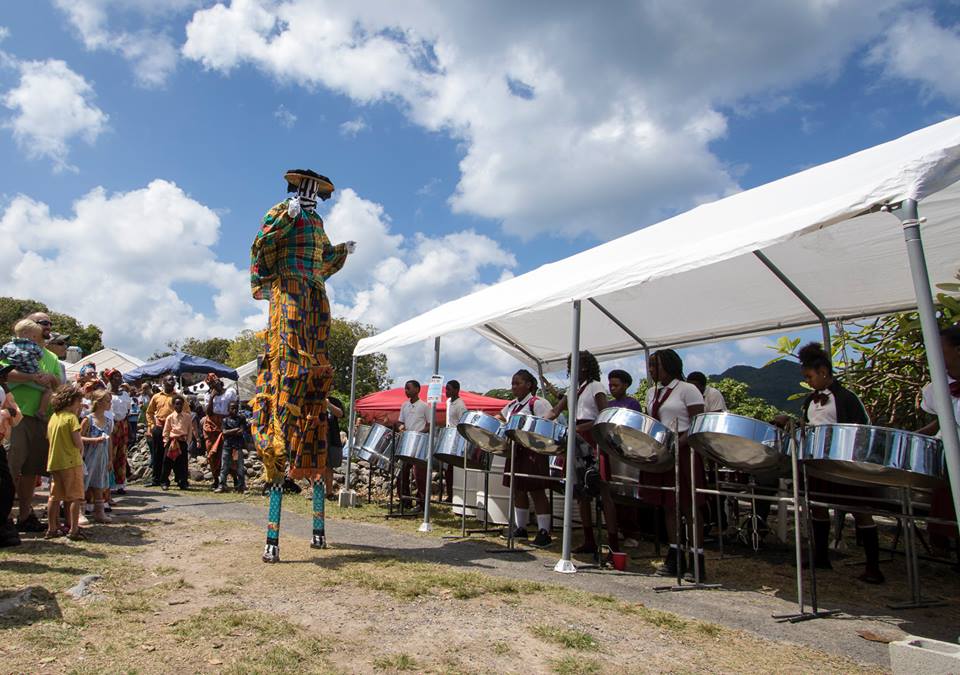 Novogenarian Elizabeth Aubain brought her bric a brac. The Frenchtown native said she learned the technique of flat straw weaving while sitting at the bedside of her convalescing child. The recovery took months, she said. Aubain told one of the nurses she didn't know how long it would take before she mastered the technique of zig zag box weaving, but she would.
"I started to weave it with a ribbon. (The doctor) told me, 'you ain't going to master it,' and I said, 'Doc, I have fifteen weeks in here. I will master it," Aubain said. If it took longer, she told the doctor, she would put the results in the mail and send it.
At Annaberg she showed off a shoe box full of bracelets, wide straw mats and a table sized cover done for a special occasion. As spry as she is petite, Aubain has been known to hike up her skirt and dance if the on stage musician played something she liked. Now at an age hovering around 95, she said she was starting to slow down.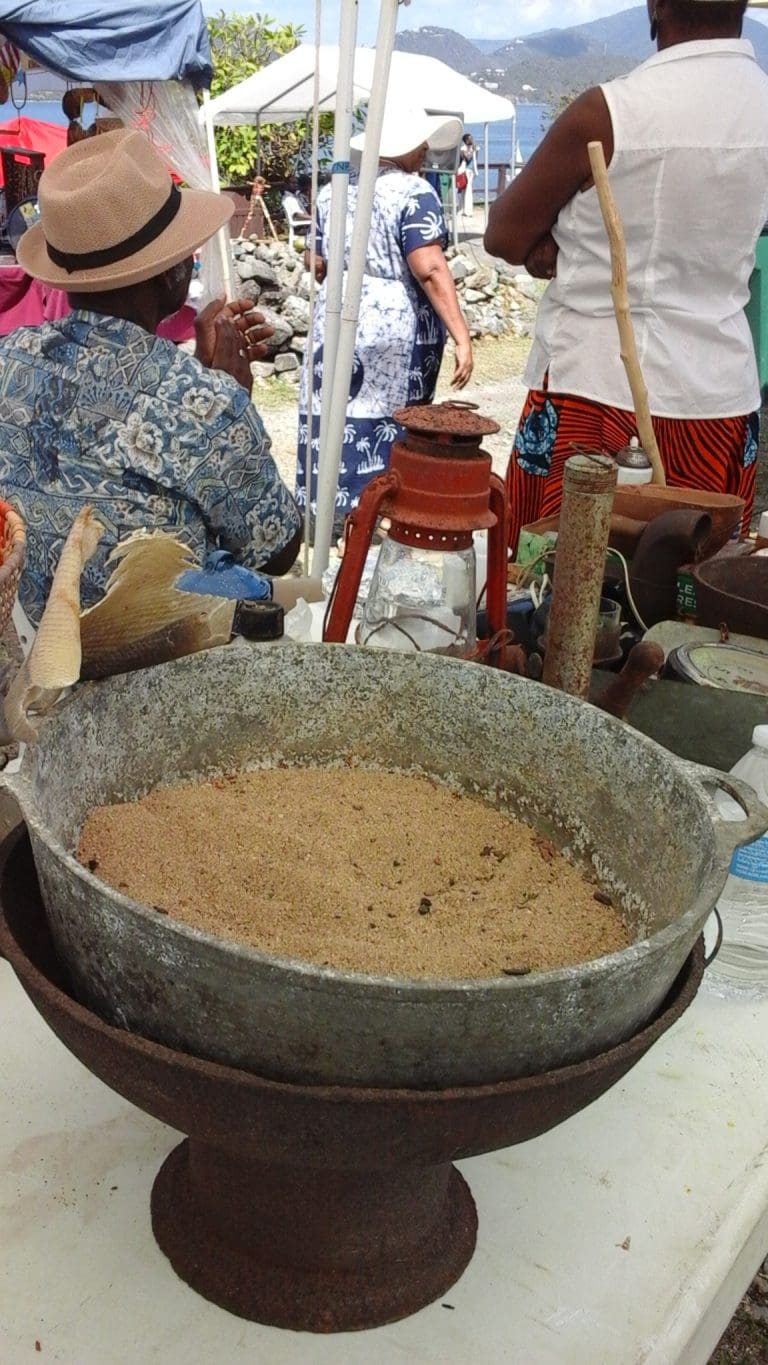 When the Annaberg Fair began park Interpreter Denise Georges recruited several seniors to demonstrate crafts like crocheting fish nets, herb horticulture and basket making. Several have died since then.
The latest to go was Mario Benjamin, three weeks before this year's fair. Even after he retired from the Park Service Benjamin came year after year to peacefully shuttle a needle and string into a web hung from a tree. Sometimes the threads came in different colors. When it was done, he'd tie small weights around the hem. A skillful fisherman could cast one into the water from shore and bring back lots of bait.
Hermon said she was pleased to have assumed the organizing tasks from Georges after she retired from the park a few years ago herself. A dedicated group of co workers volunteered their after work hours to arranging transportation, pitching tents, moving chairs, tables, coolers and people.
As the festival wound down, it was time for the organizers to relax. Koko and the Sunshine Band strummed a banjo tune and Georges, now a tourist, danced from station to station gathering hugs, kisses and thanks.