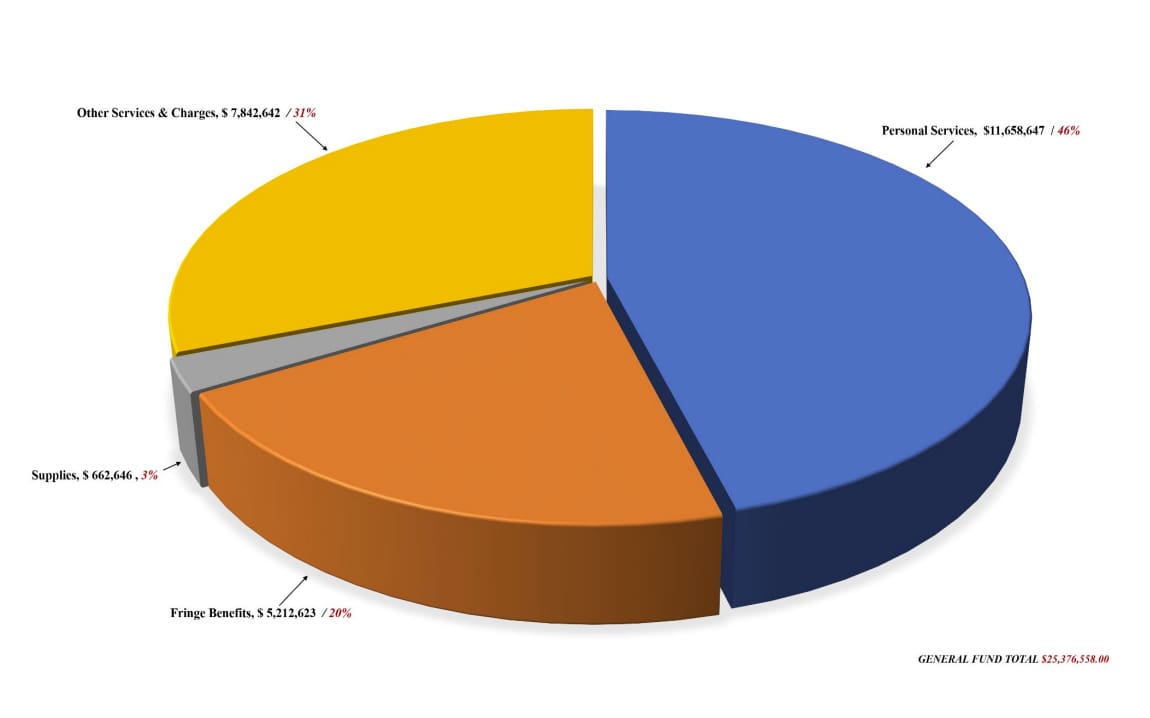 Health Commissioner Justa Encarnacion presented the Committee on Finance with 58 pages of testimony Thursday to justify a budget request of $25.3 million from the General Fund. The department gets funds from several sources, including fees for services and federal funding. The General Fund portion accounts for most of its local government funding, but federal funding accounts for much more than the local funding.
The Department's Office of Federal Grants Management is currently overseeing 65 projects, according to Encarnacion's testimony. These grants total $70.6 million. Core grants make up $22 million of that, while $36.3 million is for COVID-19 grants. The rest of the federal grants include $6.2 million in a federal Special Supplemental Nutrition Program for Women, Infants, and Children infrastructure grant and $6.1 million in one-time grants.
Forty-six percent or $11.7 million of the General Fund request goes to personnel. Another $5.2 million goes to fringe benefits, from Social Security taxes to pension contributions. The department has 367 funded positions; 215 general fund positions and 152 federally funded positions; 181 employees in St. Thomas/St. John District and 186 in the St. Croix District.
Sen. Javan E. James questioned Encarnacion about what was being done to help the homeless who have behavior problems. He said he saw a former classmate of his standing in the street "naked as the day he was born." He said there were community members who needed help.
Sen. Kurt Vialet echoed his concern. He said the Senate had funded the purchase of a van by the Health Department so it could reach out to the homeless.
Encarnacion said just putting some people in a home did not resolve their problem. Several senators raised concerns about how much it was costing the territory to house residents who had behavior problems on the continent. Sen. Carla Joseph said she calculated that the department was paying $233,000 annually for each person housed off-island. Encarnacion said 35 residents with behavior problems were being housed in the States.
Senators also wanted to know about the government land on St. Croix that formerly held a detention center deeded in 2016 to the Department of Health for a future mental health facility. Encarnacion testified that the building in Anna's Hope could not be made into a home for unstable individuals. She said it would have to be demolished and a new facility built.
Vialet, who engineered the 2016 land transfer, asked if something could be done sooner, noting that demolishing the building and erecting a new facility "sounded like five or six years out." Sen. Novelle Francis said discussions were ongoing concerning a site in Golden Grove.
Sen. Donna Frett-Gregory wanted to know what was going on with the Charles Harwood building in Little Princess. Encarnacion said it was to be demolished and a public meeting was to be held this Saturday from 2 to 4 p.m. to inform neighbors how that demolishing might affect them.
Encarnacion, who did not read her complete written testimony, leaving out the pages referring to capital projects, said her department was working with the Association of State and Territorial Health Officials to complete a Strategic Plan, a Comprehensive Health Needs Assessment, and our Community Health Improvement Plan.
The written testimony said, "Contracts for the hurricane rebuild projects for Knud Hansen, St. Thomas WIC building, and the Frederiksted WIC clinic have been awarded and construction is expected to begin later this year."
Other senators attending the meeting were Marvin Blyden, Dwayne DeGraff, and Kenneth Gittens.