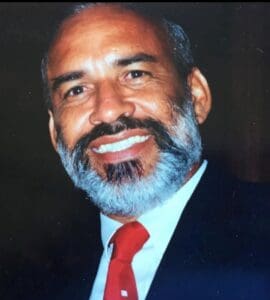 It is with great sadness that the family of Pedro Peder Espinosa, affectionately known by his Crucian family and childhood friends as "Junie Maggie," announce his peaceful transition into eternal life on July 22 in McAllen, Texas.
Pedro was the only son and youngest of seven children born to the late Pedro Espinosa and Margrethe Pedersen Espinosa, a ship captain and a homemaker, on March 12, 1946, on St. Croix. As a young man, he enjoyed fishing, diving and race car driving.
He graduated from St. Croix Central High School in 1967 and was drafted into the Vietnam War in the same year. A proud Vietnam veteran, Pedro then served in the V.I. Police Department for 12 years before leaving to open his own construction company, P Espinosa Construction.  
In 1989, Pedro and his wife Mary moved to Texas and did missionary work throughout Mexico until 1995. They moved back to St. Croix in 1996 until 2000 and then returned to Texas where he lived and enjoyed working on his farm.
He was preceded in death by his sisters: Margarita Rodriguez Noble, Constance Espinosa Roberts and Violet Espinosa Roebuck.  
Pedro is survived by his loving and devoted wife of 45 years Mary Calderon-Espinosa; their daughter, Abigail Espinosa; two sons: Pedro Jr. (wife Ana G. Espinosa) and Jonathan Espinosa; his eldest daughter, Nikki Espinosa-Scott; granddaughter, Courtney Scott; and great- grandson, Cannon Scott.
He is also survived by sisters: Marie Louise Espinosa, Mercedes Espinosa-Arlin and Juanita T. Espinosa; uncle, Julio Espinosa; aunt, Eulalie Pedersen; nephew, Angelo Espinosa; nieces: Sandra Valls, Marise C. James and Judge Jessica Gallivan (all of St. Croix); and sisters-in-law: Luz Rodriguez and Rosie Calderon.
Other survivors include brother-in-law, Jose V. Calderon; niece. Anna Rodriguez-Guzman; many other nieces and nephews living in the states; and members of the Espinosa family, the Pedersen family, the Golden family, the Calderon family, and numerous other families and special friends. 
 The family will rejoice at a celebration of his life to be held at 10 a.m. on Saturday, July 30, at Faith Please God Church in Harlingen, Texas.