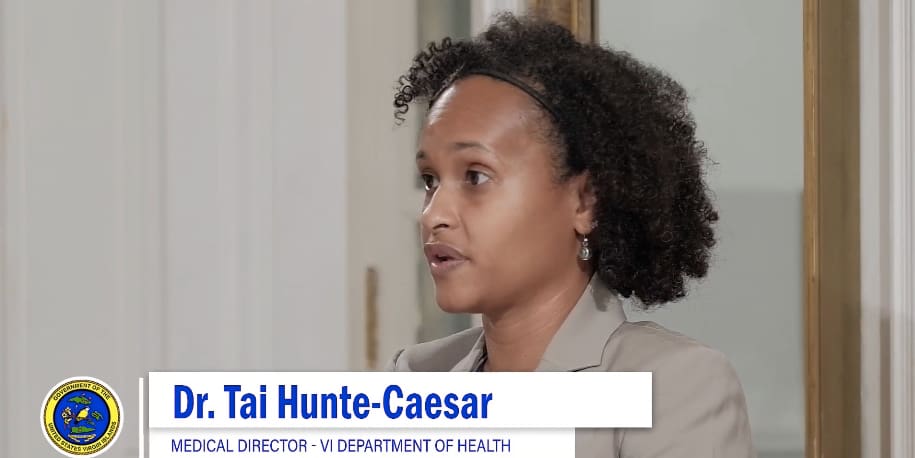 Health Department officials are urging patience as the people who are already responsible for COVID-19 testing, contact tracing and care roll out a vaccination program without any additional manpower.
"Please be patient as we work with the providers," said Daryl Jaschen, director of the Virgin Islands Territorial Emergency Management Agency, at a virtual town hall held on Thursday at Government House on St. Croix to address the public's COVID-19 vaccination questions and concerns.
"We'll get there as soon as we can, but we want to make sure we phase this out," said Jaschen.
It's a scene playing out across the nation as governments and health care workers from California to New York have been charged with rolling out COVID-19 vaccination programs while still working to test for, contain and treat the virus.
Currently, essential workers and those over age 65 are eligible for the vaccine under Phase 1B of the territory's rollout. Phase 1A included health care workers, residents and staff in long-term care facilities, those in congregate living facilities outside of nursing homes and the elderly throughout the islands, according to the Health Department.
Under Phase 1B, essential workers include grocery store employees, taxi drivers, teachers, police, firefighters and government workers, among a list of dozens of others that can be found along with more information at the Department of Health website.
Residents also can call 340-774-7447 on St. Thomas or 340-718-1311, ext. 3895 on St. Croix.
The first phase of vaccinations began on Dec. 16 and will continue throughout the upcoming phases, said Health Commissioner Justa Encarnacion, addressing residents who fear they might have missed their opportunity if they fall into that category but have not received a shot.
For those who have been trying to get a shot from their doctor but have been met with busy phone lines or delays, government officials stressed that providers have simply been overwhelmed by the demand.
"It's going to take a little while to get in the queue," said Jaschen, who said VITEMA is creating hotlines for both districts that should be functional in the next week in an effort to handle the volume of calls and schedule the allocation of vaccines.
Scheduling is complicated by the fact that the COVID-19 vaccine comprises an initial shot, followed by a booster 21 days later, in the case of the Pfizer vaccine, and 28 days later for the one manufactured by Moderna, officials said.
The Health Department also is now planning a separate vaccination clinic for those over age 65, and working with Human Services to reach senior citizens, said V.I. Immunization Director Monife Stout.
"We hear you and we understand that it is a longer wait than you would like," she said.
Jaschen said a clinic also is in the works for veterans after Veterans Affairs Director Patrick Farrell reached out to his counterparts in Puerto Rico, who will send a team of nurses to conduct inoculations. Tentative dates are Jan. 25 and 26 on St. Croix, and a couple of weeks later on St. Thomas, he said.
Jaschen also encouraged residents to download the V-safe smartphone app developed by the Centers for Disease Control and Prevention to provide personalized health check-ins after they receive their vaccinations.
As for when the general population will be eligible to receive the vaccine, Stout estimated mid-spring, but maybe early summer.
"That all depends on how quickly we move through the phases we have right now," she said.
Stout also dispelled fears that delays are being caused by a lack of vaccines. Since late December, the Health Department has administered 3,369 doses and distributed 9,838 more, she said. Additional vaccines are delivered weekly on schedule, she said.
"Needless to say, this has been one incredible experience that is ongoing," Stout said. "I thank the public for being patient with us as we try to help you. This has been a yeoman's job."
In the meantime, V.I. Medical Director Dr. Tai Hunte-Ceasar stressed that residents must maintain their social distancing, mask-wearing and sanitization efforts even after they are vaccinated, and they still will be required to provide a negative COVID-19 test before air travel.
"The vaccination does not give you a bulletproof shield," but will help you not get so sick that you will die, Hunte-Ceasar said. "Initially, the community transmission is not going to go down just because you are vaccinated. It will go down as more and more people are vaccinated."
General COVID-19 information and frequently asked questions are online at the DOH website.
People can report a suspected COVID-19 case by calling 340-712-6299 on St. Croix or 340-776-1519 on St. Thomas. Those interested can register to receive text updates by texting Covid19usvi to 888777.
Thursday's town hall is online at the DOH Facebook page.
Where to Get the Vaccine
The Health Department says the following providers are actively vaccinating by appointment:
– V.I. Department of Health Community Health, St. Croix: 340-718-131;
– V.I. Department of Health Community Health, St. Thomas: 340-774-7477;
– Neighborhood Pharmacy: 340-718-6784 ;
– Carolyn Jones MD PC: 340-774-2331;
– Delgiacco Medical LLC: 340-772-1551;
– Inter-Island Pharmacies: 340-777-1400;
– Pediatric Care Center: 340-719-0681;
– Partners 4Kids: 340-774-5437;
– St. Croix Obstetrics and Gynecology LLC: 340-719-9876;
– Red Hook Family Practice PC: 340-775-2303;
– Frederiksted Health Care Inc., North Shore: 340-772-0260;
– V.I. Urologic Center, Inc.: 340-774-9655;
– Plessen Urgent Care: 340-715-7720;
– Yacht Haven Family Practice: 340-776-1511;
– Frederiksted Health Care Inc., Ingeborge Nesbitt: 340-772-0260;
– Cruz Bay Family Practice: 340-776-6789;
– Wilson Healthcare Consultants: 340-776-5507;
– ProHealth Urgent Care LLC: 340-998-2404;
– St. Thomas East End Medical Center Corporation: 340-775-3700;
– Frederiksted Health Care, Mid-Island: 340-772-0260;
– St. John Agape Wellness Center & Wound Care LLC: 340-778-1932;
– Island Health & Wellness Center, Inc.: 340-714-4270;
– Virgin Islands Ear, Nose & Throat, St. Thomas: 340-774-8881;
– B & S Medical: 340-713-0348;
– Acute Alternative Medical Group: 340-772-2883;
– Transform KM (Kmart Pharmacy): 864-991-9643;
– Risa M. Nielsen MD LLC: 340-778-6680; and
– Virgin Islands Ear, Nose & Throat, St. Croix: 340-773-8801.