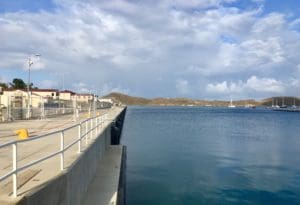 The U.S. Virgin Islands has not seen a cruise ship since the beginning of the COVID-19 pandemic and might not see another this year, the West Indian Company Ltd. board was told at its Friday meeting.
"We have not received any cruise ships for the last 10 months," said Joseph Boschulte, chairman of the WICO board of directors, which met virtually via Zoom.
Cruise lines hit pause back in March 2020, and since then the U.S. Virgin Islands has not seen a cruise ship, creating financial woes for WICO.
During Friday's meeting, President and CEO Anthony Ottley said the cruise lines have plenty of hurdles they have to clear before they can resume.
"The cruise lines are pursuing compliance with the CDC's three-phase approach directive. These phases consist of attaining a full COVID-19 negative crew, a medical facility with testing lab and completion of a simulated cruise with volunteer guests," he said.
Prior to the cruise setting sail, the cruise line will have to follow all the phases to be provided clearance.
"As a result, cruise lines have been forced to further extend the delay sailing days," Ottley said.
So far, MSC, Carnival, Holland America, Norwegian and Disney have all extended to March, with a proposed sailing date in April. Royal Caribbean, along with Princess has now extended to April, with a proposed sailing date of May.
"The lines continue to shuffle. Shift month by month with reports of some being sent to dry dock, sold or scrapped. Itineraries via individual websites show conflict with official deployment rates we have received from the line," Ottley said.
As a result, WICO has requested updated itinerary information from the cruise liners via their agents.
"In monitoring the various websites and news outlets as mentioned, the industry is in an ever-evolving state of adjustment. The major attention seems to be focused on the vaccine," Ottley said.
Another issue is whether passengers will be required to take the COVID-19 vaccine prior to sailing, a move that Ottley said, "will push the sailing dates further out."
The uncertainty over confirmed dates for the cruise lines left the board puzzled.
"Take out a crystal ball and tell me realistically, with the death rate of 4,400 just on Jan. 12, even though the vaccine is out, when do you realistically see a cruise ship coming to our port?" board member Enrique Rodriguez asked.
Ottley said he remains hopeful but added, "I never expected it to be kicked back this far."
"I think that we need to be prepared that we are not going to see a cruise ship in 2021 with the rates going the way they are going," Rodriguez replied. "In terms of the death rates, they are only moving upward. They haven't gone down with the vaccination rates. I would love to see a ship in April. I doubt it. We should prepare for a plan that allows us to get 'til the end of 2021 without a single ship in port, and if I'm wrong then we can all celebrate."
The board then went into an executive session to discuss legal issues and because of network connectivity issues adjourned thereafter.
Attending Friday's meeting were Jason Charles, Roosevelt David, Edward Thomas, Rodriguez and Rick Carrington, and Chairman and Tourism Commissioner Boschulte. Pash Daswani had an excused absence.