With candles lit and the traditional seder meal on the table, Rabbi Michael Feshbach reflected with members of his congregation on the beauty of being able to come together again for Passover for the first time since 2019 while juxtaposing the "horrors" he said of a recent relief trip to Poland, where he joined a group of rabbis helping refugees cross the border from Ukraine.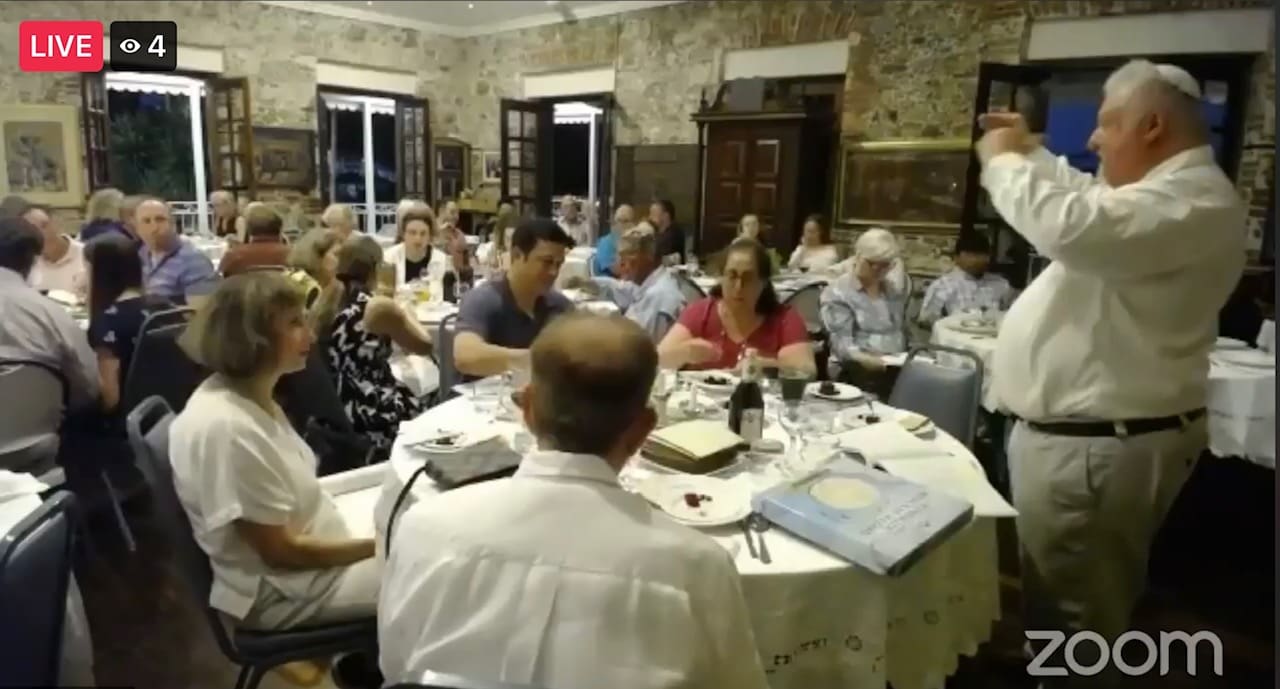 Because of this experience, Feshbach said this year's seder, held Friday night, was the first in many years to take on, for him, the meaning of Passover, which commemorates the story of the Israelites' departure from ancient Egypt, as told in the Hebrew Bible's books of Exodus, Numbers, and Deuteronomy, among other texts.
With help from the Hebrew Congregation of St. Thomas and others within the local community, Feshbach said he was able to contribute to the two tons of supplies – and $750,000 in donations – given to the Friends of the Jewish Community Centre in Krakow.
"I am still processing. I am still overwhelmed by the tremendous response given on behalf of the people of Poland," Feshbach said before the seder officially began. "Now, in a moment that should be a celebration – Passover, Easter weekend, and Ramadan – there is still a darkness rearing its ugly head. I am returning to you with images in my head and heart of horror and sorrow from halfway around the world."
Feshbach joined 26 other rabbis on the trip and shared stories of watching Ukrainian refugees come in, likening the influx to Ellis Island, where from 1892 to 1954, nearly 12 million immigrants arriving at the Port of New York, and New Jersey were processed. One young woman, he recounted, was asked whether she would go back to Ukraine after the conflict with Russia had passed.
"She said, 'go back to what?'" Feshbach said. "So, here, the themes of Passover resonate. Of the people who are wandering, looking for freedom, looking for a promised land. And with our own celebration of being together, or feeling connected as almost never before, we think of what is happening in the world around us."
Among the seder rituals, Feshbach also asked attendees to reflect upon the meaning of the food at the table, which is significant to the Exodus story, including matzo, herbs, a lamb shank bone (this year, a chicken bone), and a mixture of fruit, nuts, and wine known as charoset, which represents the mortar Jews used while bonding bricks as slaves in Egypt.
The weeklong festival also includes the removal of leavened products from the home, the substitution of matzo for bread, and the retelling of the Exodus tale, which was read in part Friday night.
Friday's seder was also live-streamed on Zoom, allowing attendees from as far as Canada to participate.