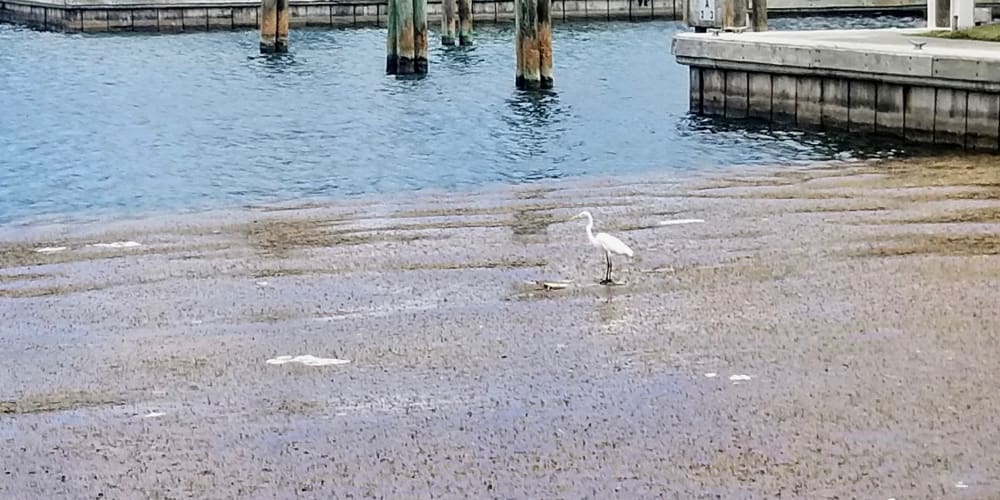 Between the pandemic and predictions of an active hurricane season, island residents may find little energy left to worry about another problem that has been mounting over the past summer: what to do with the masses of sargassum washing onto some shorelines and decomposing there, releasing a sulfurous stench.
It's hard even to understand the magnitude of the issue.
Try this. Put your arms out in front of you and separate your two hands by 36 inches. (Place them on either end of a yardstick, if you can find one.) Now imagine a big box that is a cube, 36 inches wide, 36 inches long and 36 inches deep.
Fill that box to the brim with a mass of the rotting algae. Now go to the landfill and empty the contents there.
Do that 7,860 times.
That's how many cubic yards of sargassum has been dumped at the Bovoni landfill on St. Thomas so far this summer, according to the V.I. Waste Management Authority.
Things are not as bad on St. Croix. Charmin Springer, Waste Management spokeswoman, said that island has contributed 800 cubic yards of sargassum to the Anguilla landfill this year.
She did not have comparable figures for 2020.
With the exception of 2013, the Caribbean region has seen a massive influx of floating mats of sargassum each summer for the past 10 years. The phenomenon is markedly different from the centuries-old pattern of occasional bits of algae that drifted southward from the Sargasso Sea and often went unnoticed by most of the public.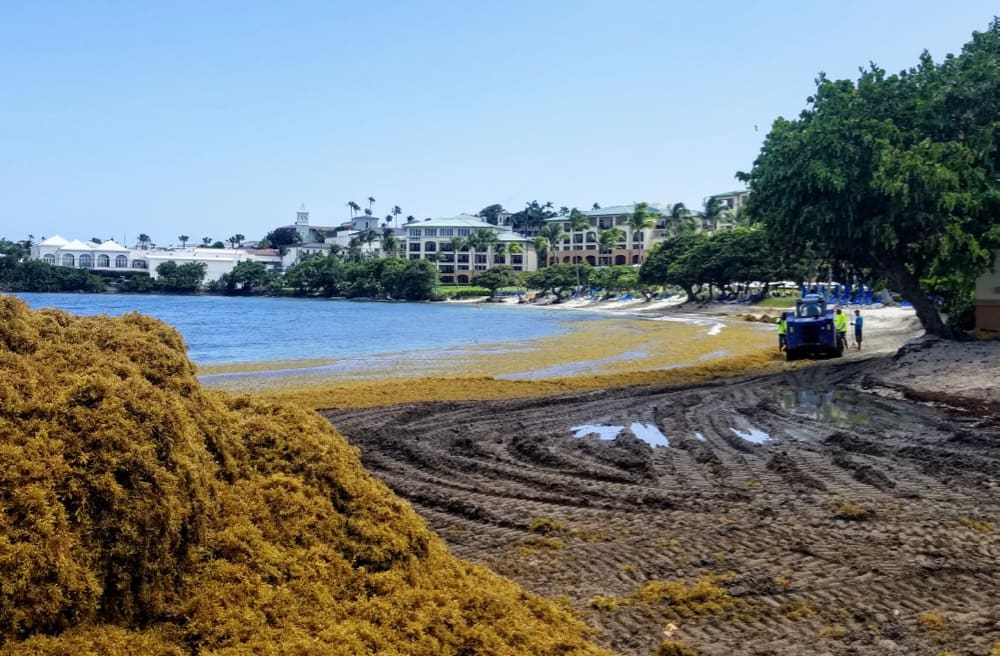 This sargassum seems to originate closer and to be fed by nutrient-laden run-off into rivers emptying into the ocean, heavy with fertilizers and other man-made products. The algae mats begin to appear around April or May and peak later in the summer; by October they start to fade out of sight.
According to figures from the United Nations, there were 27 million tons of sargassum circulating in the Caribbean region from June to August of 2019. The most recent figure available was for just one month, June of 2020, when researchers estimated a regional load of 12.7 million tons. So far, 2018 seems to have been the heaviest year for sargassum in the region. The U.N. reports 20 million tons of it in just one month, June 2018.
The algae is a habitat for a wide range of marine life, prompting calls to leave it undisturbed or at least regulate its handling. It is also a nuisance to residents and visitors, clogging swimming areas, snaring boats, and releasing a "rotten egg" smell as it decomposes, prompting cries for its expeditious removal.
Sargassum-induced odor prompted the closure this summer of the Red Hook office of the Fish and Wildlife division of the Department of Planning and Natural Resources. It was at least the second year the office had to close temporarily because of sargassum.
Fish and Wildlife Director Nicole Angeli said the decision to close is based not on the amount of sargassum in the area but on the quality of its smell.
"We use a multiRAE meter for daily air quality monitoring of H2S," Angeli said in reply to questions from the Source.
H2S, or hydrogen sulfide, is released by sargassum as it decomposes. It is a colorless gas that is very flammable and highly toxic. At high concentrations, it can cause irritation of the eyes, nose, throat and lungs.
"The OSHA (Occupational Safety and Health Administration) guidance is an eight-hour exposure of 10 ppm (parts per million.) When our office reaches 2 ppm (well below OSHA guidance) we close out of an abundance of caution for our staff," she said.
Angeli provided copies of Fish and Wildlife brochures touting the benefits of sargassum while acknowledging its downsides.
While it is floating in the ocean, the algae provide food and shelter for sea turtles and hatchlings, juvenile crabs, shrimp, jacks and mahi-mahi, according to the literature. When washed ashore, it provides a protective buffer from wind and wave energy, thus stabilizing shorelines and reducing erosion.
"The best course of action is to leave sargassum alone, let nature run its course and use beaches that are less affected," one brochure states. "Manual removal by hand raking is allowed for nuisance sargassum that cannot be avoided."
Marlon Hibbert, director of Coastal Zone Management, Fish and Wildlife's sister agency, said in an email that CZM will consider approving the removal of sargassum on a case-by-case basis "based on the severity and location of the influx."
Approvals come with conditions, he said, "paramount among them, being that individuals involved in the removals will have to consult with and be trained by Division of Fish and Wildlife staff to identify and avoid damage to both the dune and beach systems as well as wildlife that utilize sargassum as habitat."
Removals should be mainly by hand, and only in "very severe cases" should machines be used "as a last resort."
Hibbert said the Department of Planning and Natural Resources has met with the Hotel and Tourism Association, the Department of Health and the Delegate to Congress' Office about sargassum over the last month. It has also spoken with researchers at the University of the Virgin Islands and the University of the West Indies about best practices, and it is seeking guidance, technical and financial assistance from the federal government.
He also said the landfills are accepting sargassum for "a defined number of days per week which also compounds the issue as large volumes of the material are not easily discarded with space already limited."
Waste Management keeps sargassum separate from other refuse at the landfills, Springer said. It does not use a geomembrane lining to prevent leeching.
"The landfills in the territory began accepting waste prior to the use of geomembranes and synthetic liners," she said. However, "the groundwater is sampled quarterly to ensure there is no impact to the environment."
– Sargassum: Brown Tide Threatens the Caribbean
– Sargassum's Future Poses Bigger Mystery Than Its Origins