Editor's Note: Hermon Smith, the island's renowned  lignum vitae carver who died on February 11, sat down with a St. John Tradewinds contributing writer Susan Mann on January 21 at The Marketplace for what would be his final interview about his life and work. The well-known wood sculptor and nature lover thoughtfully answered questions, as he responded to the continuous greetings from passersby.
Friends of Hermon Smith gather at Hawksnest Beach to share happy memories of the well-known island wood carver on February 19.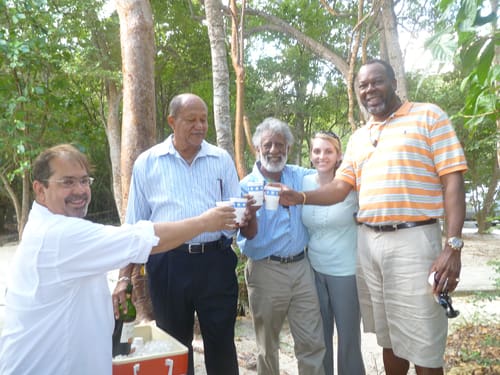 By Susan Mann
Well-known for his almost constant carving — painstakingly scratching lines to create a face on iron-hard pieces of lignum vitae or "Tree of Life"— Hermon Smith said he came across his first piece of the native wood about 30 years ago when he was clearing some brush.
In the last weeks of his life, after being diagnosed with a fatal illness, the longtime Bordeaux resident had several pieces of sculpture which he hoped to finish up in his remaining time.
But, with very little time left on earth, the "main thing" Hermon wanted to do was "have a chance to tell everyone good-bye," he said in his final interview.
Lignum Vitae Sculptor of Ethnic Art
Listed in the Caribbean Artisan Network database as a "Lignum Vitae Sculptor of Ethnic Art", Hermon viewed his wood sculpting as representative of a V.I. cultural endeavor.
"When I was in college, I took a class about different African tribes," Hermon said, explaining how and why he started carving the ubiquitous, abstract face in each piece he made. "After a while, I began to see that with each tribal community there was a sameness, a shared spirit; it's hard to explain, but that spirit became the face I always end up with."
The sculptor mentioned he had told a BVI writer who interviewed him a few months earlier that he sees a face in almost everything, including living trees.
It is not surprising Hermon not only used the wood for his creations, but planted lignum vitae trees across the island of St. John.
Hermon also enjoyed learning and sharing all that he could about the healing properties of plants, such as the use of "Black Wattle" to help ease the symptoms of Dengue Fever. He routinely brought to town a freshly harvested plant for whatever ailment someone had complained to him about during a recent encounter.
Outspoken on Caribbean Culture
The woodcarver didn't mince words when the subject of Caribbean culture came up.
"People who say dog fighting is a part of our culture are wrong; dogs were brought here for protection of the home," Hermon said. "People who believe dog fighting is a part of our culture are gangsters and gamblers."
When asked for a true example of island culture Hermon had an immediate response:
"The donkeys; they made the paths that became our roads," he explained.

Native St. Thomian Tried Life as Fisherman
A native St. Thomian, Hermon's mother passed away when he was still growing up with nine brothers and sisters. His father was a fishermen for two decades, so Hermon said he tried to follow in his footsteps fishing on Mingo Cay.
"I just did not have the patience for it," explained the artist who came to spend hours etching a face on a piece of lignum vitae.
Many who knew Hermon may find it hard to believe he served two years in the Army; he also left the territory to attend college in Northern California. It was while studying and living in California that Hermon met his former partner, Susan Wakelee.
"We both really liked jazz music, and started going to concerts together, then she came back here to St. John to live," said Hermon.
The couple had one child, a daughter whom they named Nefertiti, who lives stateside and works as a teacher. Hermon spoke with a sense of pride concerning his daughter's career.
"She became a Montessori teacher, like her mother," he beamed proudly.
Reflecting on Life
"Everything you do in life comes back to you," said Hermon, when asked what he was most pleased with about his life. Hermon brought up those years of his life he described as when he had been "drinking and causing trouble all the time."
During this period Hermon sustained a traumatic injury to his head as a result of a beating he received while jailed on St. Thomas. The beating caused Hermon significant problems from time to time in recent years, including some permanent memory loss.
"It was only after I completely stopped drinking, that I could begin to see the damage I had done to myself and others," he acknowledged.
An avid reader, Hermon's most recent favorite author was West Virginia native Janette Walls.
"I like her because she tells it like it is and gets right to the point about things in a humorous way," Hermon explained.
"I am most pleased with my feeling for humanity," Hermon explained. "I have tried to live by example. If you are going to talk the talk, then walk the walk."