An expansive view of Hawksnest Bay, St. John, takes the cover of the new edition of The United States Virgin Islands.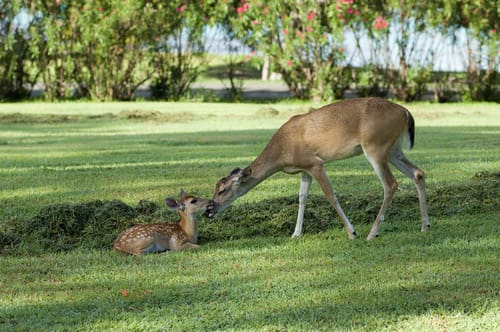 A native mother deer tends to her baby.
Fans of Steve Simonsen should make room on their coffee tables for the newest edition of the territory-wide book by the renowned local photographer.
The United States Virgin Islands, Simonsen's eighth book, was first published by Massachusettes-based 34 Main Street Publishers more than a decade ago. The book featured Simonsen's photography of all three main U.S. Virgin Islands with an introduction by local author Peter Muilenburg.
Main Street Publishers owner Paul Sylva, who spends winters cruising the islands on his sailboat, had already published coffee table books on the BVIs, when he approached Simonsen about doing one on St. Croix, St. Thomas and St. John, explained the photographer.
"Paul had been publishing books for a while at that time and had already done one on the BVI," said Simonsen. "He wanted to do one on the USVI so he sailed over here and ran into a friend of mine in Cruz Bay who recommended me for the book."
Along with Simonsen's photography, local author and sailing legend Muilenburg composed the introduction for the first edition of The United States Virgin Islands.
"Peter Muilenburg was the author of the first edition and he wrote an incredible introduction which compared me to Ansel Adams," said Simonsen. "That was very flattering and it was just a great project."
So when Sylva approached Simonsen about doing a revision of the book, he jumped on board. This time around The United States Virgin Islands includes many more digital images, updated landscape views and a new introduction by local freelance writer, and frequent Tradewinds contributor, Andrea Milam.
While working with local wildlife experts to ensure the accuracy of all captions, Milam also broadened her appreciation for all of the U.S. Virgin Islands while working on the book, she explained.
"One of my favorite parts is the St. John section, but having lived here for seven years, I might be a bit biased," said Milam. "I do love the sections on St. Thomas and St. Croix too, however, because they really opened my eyes to the beauty of this entire territory."
The book gives viewers a chance to see the island through Simonsen's curated vantage point, she added.
"I love that the book showcases all three islands, and that readers get to view the USVIs through the lens of Steve Simonsen, who is obviously incredibly talented at what he does," Milam said. "I hope it will be a great tool for marketing the USVIs as a beautiful vacation destination."
Simonsen has been capturing the islands for more than 20 years and never stops clicking away. For the second edition of The United States Virgin Islands, he culled hundreds, if not thousands, of shots from St. Thomas, St. Croix and his home island of St. John.
"It's an ongoing process every year," Simonsen said. "I don't stop shooting. I go to St. Croix about half a dozen times a year and spend a week there each time."
While most of the images in Simonsen's newest book are recent photographs, the photographer is often surprised when he looks through archive images with his wife and business partner Janet.
"We've been here shooting for 20 years now and in that process, we might have an image that just sat in the filing cabinet and we haven't given it a thought," he said. "Then you run across it 15 years later and you can't believe what a great shot it is. There are some things that are timeless, but most of the shots in this book are new."
With a new fresh look, The United States Virgin Islands also has a new cover image, and this time around it's a stunning picture of the pristine beaches and waters of the North Shore of St. John.
"The cover shot of the original book was a wrap around that featured Buck Island, St. Croix," said Simonsen. "That was idyllic, featured a sandy cay and was very Virgin Islands. This time we were thrilled when they selected the cover of the book and it was St. John."
While enjoying the beautiful photography and accurate captions in the book, Milam also hopes The United States Virgin Islands makes a few more fans of the islands, she explained.
"I hope that people who might not be familiar with the Virgin Islands are captivated by the islands' beauty as shown in the book, and I hope that those who have been here and are fond of the USVI will only feel a renewed love for this special place," said Milam. "I am so grateful to have been given this opportunity. It's my first book, and one of the most exciting things I've worked on in a long time."
The United States Virgin Islands is available at retail outlets across the St. John, including Papaya Cafe, Friends of the Park Store and Bajo el Sol. The book is also available online, along with Simonsen's other publications, at http://web.me.com/ssimonsen/Store/Books.html.