St. John Tradewinds photos by Amy Roberts. [hr gap="1″]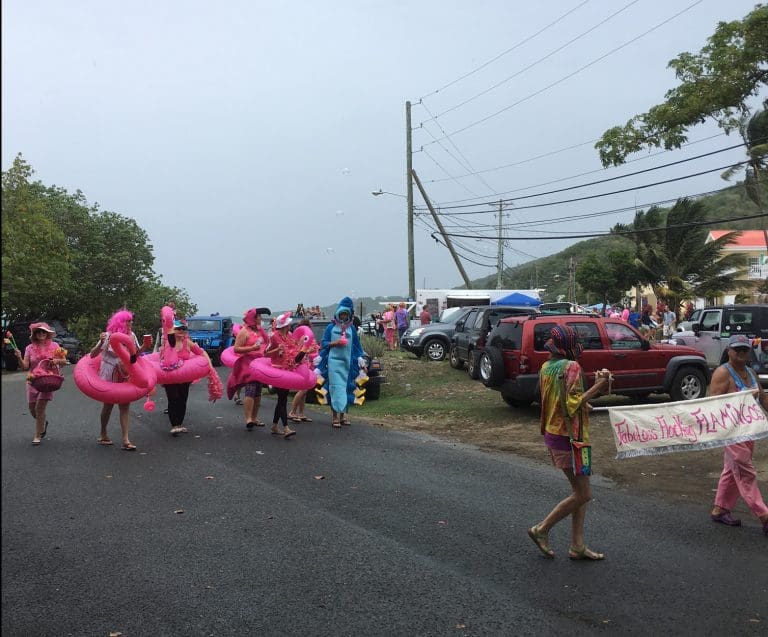 CORAL BAY — A lash of rain and some gusty winds couldn't stop a crew of hearty revelers who turned out to celebrate Labor Day in Coral Bay, Monday, September 5.
Celebrations began with a parade featuring six entries. There were marchers in assorted costumes, two riders on decorated bicycles. A flock of giddy dancers wearing pink flamingo pool toys scuttled from side to side along the road, pausing to strike a one legged pose.
Crews of participants draped themselves in leis and Christmas bunting and piled into pick up trucks, waving American flags.
In honor of the day, a truck of contractors unfurled a banner that read "A Few Good Handymen."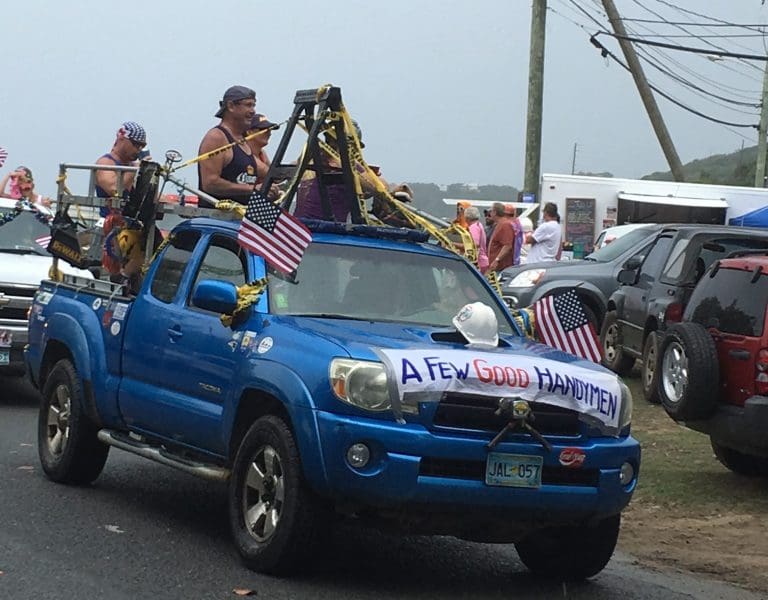 The festive spirit that sent the short parade up Rt. 107 to Emmaus Moravian Church and around the corner to the church field took less than 20 minutes. It was spurred along by darkening skies, churning seas and the hull of a breakaway sailboat that sunk in Coral Bay Harbor that morning.
Sharon Coldren from the Coral Bay Community Council called the National Weather Service in San Juan. The forecaster she got on the phone said more rain, more wind, was on the way. 
It didn't come for another three hours, well after the parade passed by. "It didn't happen," Coldren said, sounding incredulous that the weatherman got it wrong, even after she spoke to him directly.
Costume maven Gail George greeted friends with a flamingo bump. Kind of like a chest bump that athletes do, but with lots of latex inner-tubing in between.
By then the parade had turned off the road, through the fence by the old Guy Benjamin School and spilled onto the field. Tents waited there with fresh fried fish and johnny cakes.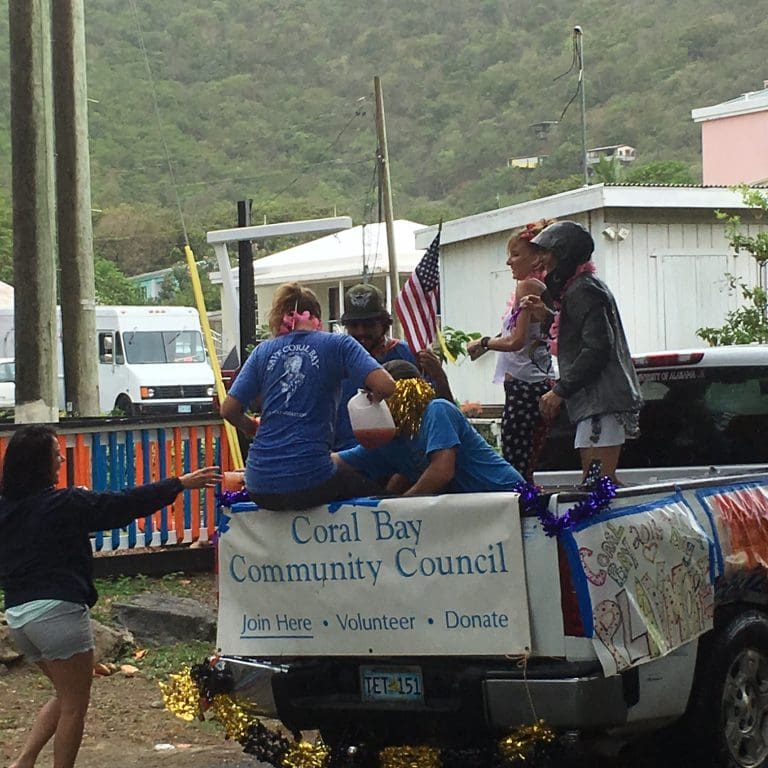 A small crowd gathered around the tables of Bordeaux farmer Charles Leonard to peruse the bottles of coconut oil and honey,  soursop wine, pumpkin, cucumbers, eggplant and lemon grass. 
Gail is the crazed genius that dressed up a group of visiting U.S. Marines in sarongs and got them to wave swimming noodles in the air after they agreed to join the parade in 2012. On Monday George said she was glad for the cloudy ­­weather because it kept temperatures cool enough for a spirited march. If not, the personal summer of middle age would have lasted long past Labor Day.
"I'm retiring!" she declared at the end of the march. ­­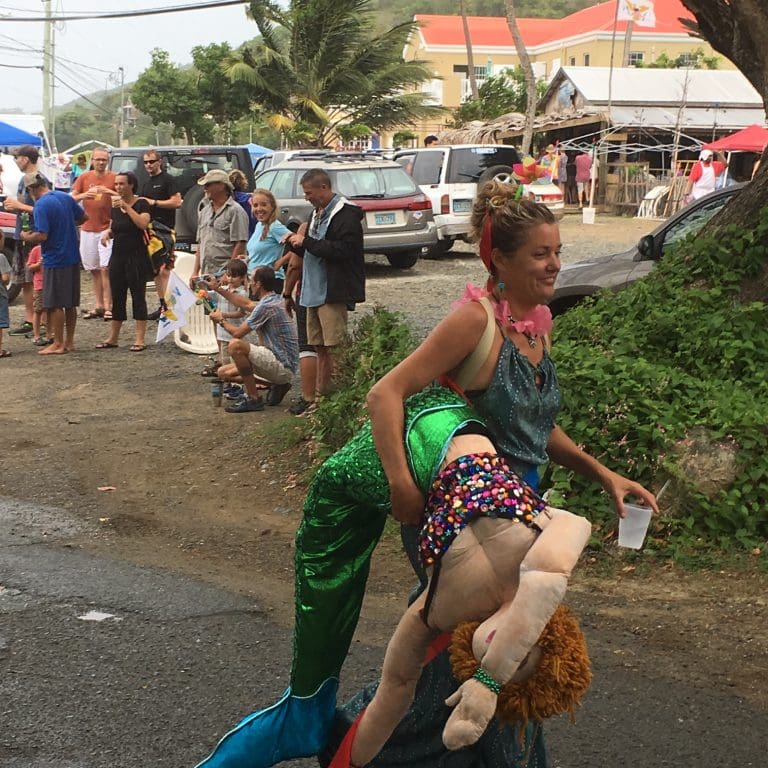 Grand Marshal Nancy Stromp led the parade dressed in rabbit ears and a sash with a small Stars and Stripes thrust in each hand. Up until the moment the honor was sprung on her, Stromp was an organizer. For two weeks leading up to the big day, she held meetings, drew up lists and nudged businesses into offering support. The morning of the parade Stromp blew up dozens of balloons, tying them up along the church ground fence.
As simple and home spun as it is, Coral Bay Labor Day works alongside the St. John Cultural and Festival Organization. Festival chairwoman Leona Smith said she was pleased with the way the event came together, and was looking forward to Labor Day 2017.