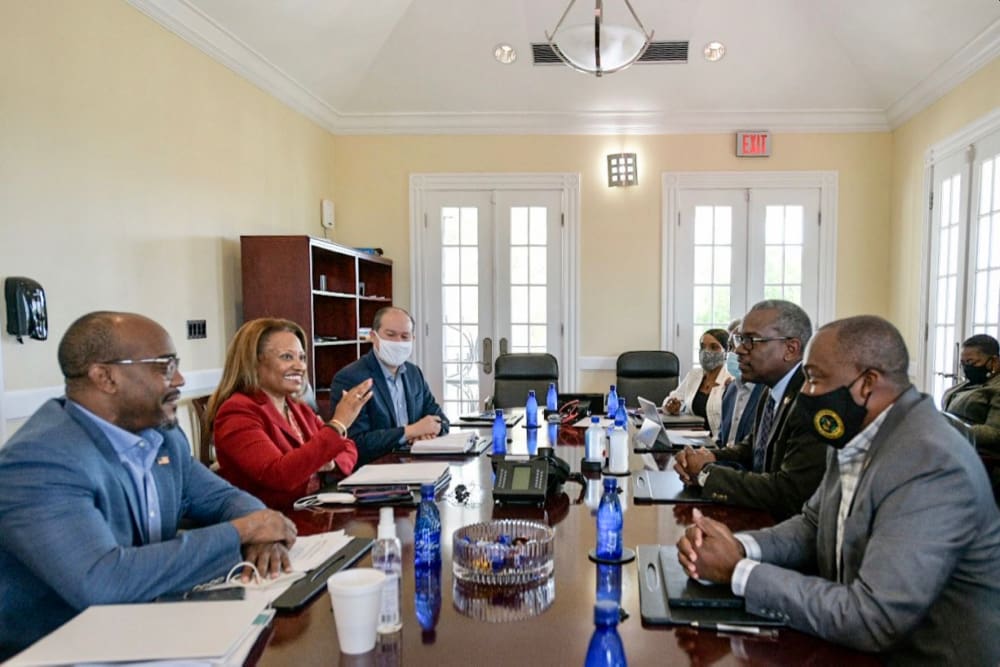 When Adrianne Todman left St. Thomas for college in 1988, she narrowly missed the touchdown of Hurricane Hugo, the first in a series of what she called the more "iconic" storms that ultimately changed the trajectory of economic development and substantial growth within the territory.
But her family on island still lived through Hurricane Marilyn in 1995, sustaining considerable damage to their home, which remained unlivable for months. Working to send supplies down and offer support from abroad is "something I'd never want any family to experience," she said in an interview with the Source Friday. Her hope now, as the deputy secretary for the U.S. Department of Housing and Urban Development, is to leverage her experience and knowledge to help bolster recovery efforts that are still ongoing after Hurricanes Irma and Maria in 2017.
Meeting with a series of V.I. government officials Friday – among them Gov. Albert Bryan, Jr., V.I. Housing Finance Authority Executive Director Daryl Griffith and his Chief Disaster Recovery Officer Dayna Clendinen – Todman said she believes "the right team" is in place to secure a future of resiliency for the Virgin Islands. But, with about $2 billion in federal funding awarded to move that vision ahead, she also intends to "make sure the job gets done because it has to get done."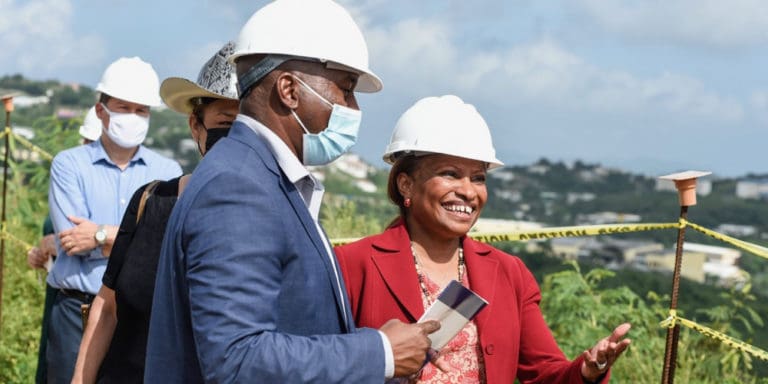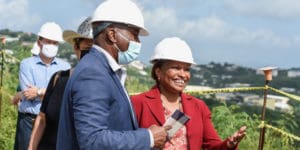 "Part of my being here, and the field office team from Puerto Rico being here, is to understand what is getting in the way, and sometimes, that can be just the little things, like not having flexibility on a simple rule we may have," she said. "I've been on the job about four months now and one of the things I committed to is looking at how HUD's disaster recovery funds were being deployed, not just in the territory but in Puerto Rico, and understanding some of the work behind the reports we have been receiving, in terms of homes being repaired, economic development initiatives that are underway, and where there could be some bottlenecks in those processes."
Challenges
From VIHFA, Griffith said Friday that his team was more than candid with Todman, describing both the successes the authority has had and outlining the challenges as well, which boil down to the long line of approvals that need to be granted before families can access the money they need to begin repairs on their homes and finding qualified contractors in a short amount of time to help get projects across the finish line.
VIHFA has, at the outset, been able to execute 1,500 permanent roof repairs, 6,000 temporary repairs through its Emergency Home Repair Program, and cover part of the expenses for housing developments like the one ongoing in Estate Donoe that are meant to serve, among other things, as replacement homes for residents displaced in 2017 from the Tutu High Rise community. Through its EnVIsion Program, meanwhile, another 200 homes are set to be repaired or reconstructed with another 200 planned in short order as a bid for contractors is anticipated to go out in November.
But the repairs aren't completed as quickly as the authority would like, which Griffith attributed to a few issues, the first of which are environmental approvals, which vary with different funding sources, while the second is finding the right people to get the work done.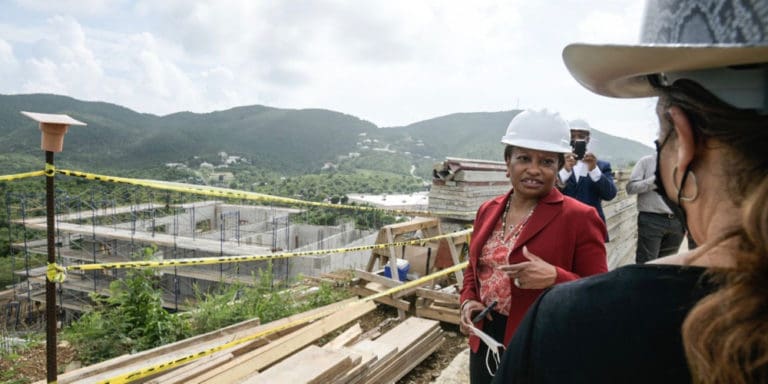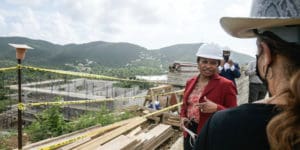 "VIHFA before the 2017 storms was a 35-person operation managing a little bit over $20 million in funding. Now, we're managing $2 billion with more than 100 people and we will have to get to 200 to truly manage the responsibility that has been given to us," he said. "We are hiring, but even though we are looking and we have great people here in the V.I., we've never had such a demand all at one time, so it's hard to get the staffing levels to what we need so quickly."
Even if the authority manages to complete its project list in two years – they have six in total to spend the first tranche of HUD disaster recovery funding and are just a year in – it's still been four years since Irma and Maria hit the islands, and VIFHA is aware that families are getting frustrated, Griffith added.
"There are still people that need help and until we can reach everyone, we're going to put our feet to the ground and do as much as we can," he said.
Having a Virgin Islander like Todman in a key position is helpful, especially when it comes time to get HUD's approval on action plans for how the funding is spent. "We've never had someone who knows about the territory, who understands the territory and can relate to these things," Griffith said after touring several project sites with Todman on Friday. "We are very proud to have her in the leadership role, which gives her the opportunity to bring her local knowledge to the table when decisions are being made."
Generational Funding
Asked about her takeaways from Friday's meetings, Todman listed the VIHFA's request to make sure there's "not any unnecessary red tape" tied to HUD's programs, along with the need to have more people to do the work.
"Because I'm from St. Thomas, I have an understanding of the heavy lifting that has to be done in terms of repairs after a hurricane," she said. "Just like an individual homeowner has to deal with certain issues, so does the government, and we are working hard to temper some of the dynamics and ensure that the decisions being made are sustainable."
The ultimate goal on both sides is to make the territory more resilient, but productive collaboration and keen decision-making are keys to realizing it.
"We call this type of funding that has been awarded 'generational money,' meaning that now that it is hand, we don't want to just Band-Aid," Todman said. "We want to make sure that when these funds are spent, they are being put toward really building for future storms. It's not just a quick fix."
In a perfect world, Todman added, that would mean ensuring the territory is not only able to withstand another Irma and Maria, but is fully functioning, with access to electricity, bustling downtown areas that are able to remain open for visitors and a public infrastructure system that hasn't collapsed from destruction.
"I don't even know if $2 billion is enough to get us there," she said. "But my goal is to make sure that no storm ever cripples the islands again."