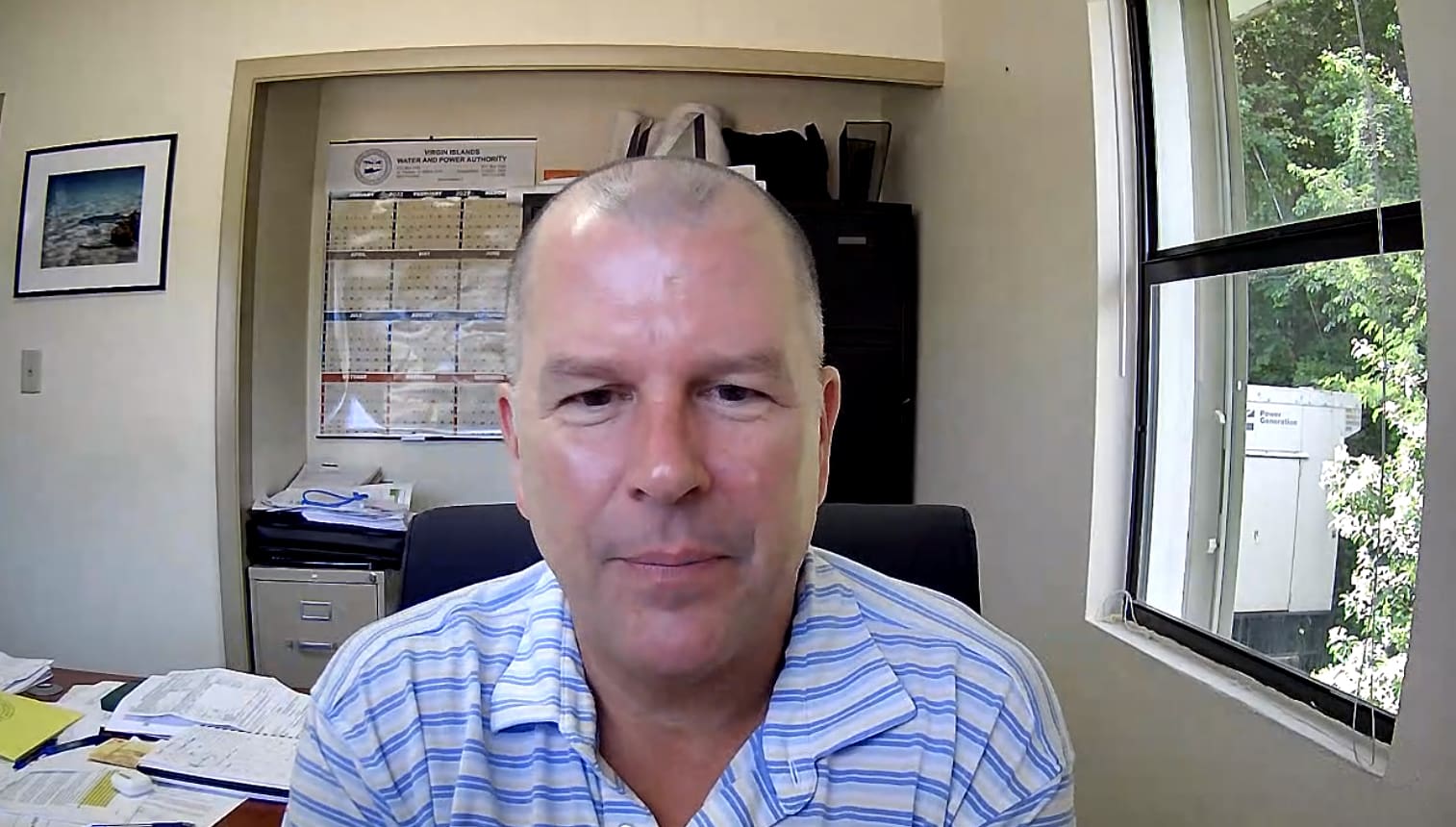 With a mandate to pull the plug on frequent blackouts, rise above ballooning fuel prices, and complete ambitious — and highly technical — infrastructure projects, it might seem odd the Virgin Islands Water and Power Authority's CEO was excited about a company cookout Thursday. But he was. It was a small but important step in the right direction.
Andrew Smith, on the job since January, was well aware of the cash-strapped public utility's challenges. Some can be resolved piecemeal, like putting up storm-resistant power poles and burying power lines where possible. But other issues are less obvious, requiring a holistic approach.
The cookout Thursday was to celebrate a new St. Thomas facility for the company's lineworkers to use. Improving working conditions, Smith said, will help improve the quality of work.
"Our facilities are in a material state of disrepair. There's debris everywhere. The buildings aren't maintained. The working conditions are not good," he said. "If I come to work and there's old dilapidated equipment, there's old broken down stuff over here, that doesn't inspire me to do good work. That doesn't inspire me to take care of what I have."
Smith seemed genuinely tickled that an employee with "a really poor attitude" had something nice to say about the new lineworker's building.
Likewise, keeping the Authority's tattered and patched fleet of service vehicles up and running isn't just a morale booster but a vital part of storm resiliency, he said.
"We got all of our trucks working on St. Croix and we saw that during Tropical Storm Fiona. Our restoration was fairly rapid on St. Croix because we had all the vehicles working," Smith said. But on St. Thomas, where the terrain is less forgiving, the trucks were beyond repair.
"The repair approach isn't working. And that's OK. We started setting aside money — and it took us six or eight weeks to do it — and we got enough money put together that we bought two bucket trucks," he said. "I don't think the linemen on either island have had a new bucket truck in I don't know how many years."
On Monday, a new head of safety joined the utility on St. Croix. Josh Jones, formerly Safety Manager of Operations for Iowa and Wisconsin-based Alliant Energy, was hired after an extensive search, Smith said, that included internal candidates, external USVI candidates, and two mainland candidates.
Like equipment upkeep, Smith said emphasis on workplace safety was something that builds a strong company culture: Doing little things the right way leads to doing big things the right way.
"Until about six weeks ago, you didn't have to wear safety glasses in the power plant, right? Only if you were doing certain things. If you were using a grinder or a drill you had to have safety glasses on. But you could walk around the plant without safety glasses on. I have never been allowed inside the gate of a power plant — let alone running a grinder or something — without safety glasses on," Smith said. "Protecting our employees is number one. Number two is, something I firmly believe: A safe company is a well run company because if you can pay attention to the details of safety then you pay attention to the other details of what you do on a day-to-day basis."
That day-to-day business includes installation of two new propane-powered generators on St. Thomas. A team from Finland-based Wartsila, the generator manufacturer, has been on island to help with the technical aspects of installing. Teams of local contractors have been pouring concrete slabs. But the project is likely four or more months behind schedule — something that rankled an odd consortium of U.S. congressmen in late October.
The delay comes from the usual reasons. It's much more difficult to install massive, highly technical equipment in the space and supply-chain constricted Virgin Islands than the mainland.
"Some people struggle to understand that these are big, complex machines. You don't go down to the Home Depot and put them in the back of the truck, right? So it is not at all unusual," Smith said, adding the typical timeline for a power plant project of this sort is 18 to 24 months at best.
"And that would be, realistically, like building it in Texas, right? Where regulations are not terribly onerous, land is plentiful, all that stuff. Obviously we have to import it all; we have a small footprint for our plants; we have to fit it all in there. So, there's just some complexities for us."
The congressmen from Ohio, Wisconsin, Florida, and Texas weren't alone in their interest in WAPA. The Washington, D.C.-based Taxpayer Protection Alliance has singled out the Authority for derision, writing an editorial in August calling for cuts in federal spending on water and power generation in the Virgin Islands.
Such a withdrawal of funding would be a disaster for the Virgin Islands utility, Smith said.
"What happens for us, because we're a relatively small island community, to bear the cost of those investments on our own would be impossible. It would be so dramatically expensive for us that we could never make those investments. So, that federal support is absolutely critical for improving the lives of Virgin Islanders."
The new generators — purchased with federal Housing and Urban Development money — will improve efficiency by up to 40 percent, Smith said, and replace a diesel-powered generator. While all fuel prices have leapt since the pandemic, and especially since Russia invaded Ukraine, diesel is currently 2.2 times as expensive as propane, he said.
The new generators will save the utility about $3.5 million a month in fuel, Smith said.
But even when the machines go online, Virgin Islanders shouldn't expect a cavernous drop in their electricity prices. The return will be seen in decades to come.
Currently, WAPA's cost of electrical generation is above the regulated rate. While the price of electricity in the USVI is high, it could be much higher. It takes about $0.16 more to make each unit of power than the utility charges.
"I characterize it as, I'm underwater. I've got to swim to the surface and then I can catch my breath. And then we can start to work on the rate," Smith said. The new generators will get WAPA close to the Smith's metaphorical surface but not quite to a comfortable spot.
Although Smith wouldn't say so, some Virgin Islanders in the know suspect the scrutiny from conservative entities in Washington is the doing of Vitol, a Swiss-based company that supplies propane and turns it from liquid to gas for WAPA. They also loaned the utility somewhere around $200 million to build necessary infrastructure, Smith said.
WAPA is current on its fuel and operations fees, Smith said, but fell behind on the infrastructure payments when fuel prices skyrocketed over the summer.
"Our cost of fuel, 2020 versus 2021, was about $40 million higher, which was an increase of over 50 percent. And you can see it in our payments and our cash flows: As our fuel went up, we stopped paying people," he said. "It was that June-July timeframe we stopped paying GERS; we stopped paying Vitol. You can really see it in the vendor obligation when that started to happen."
Vitol, which raked in more than $4.2 billion in profit in 2021 and reportedly collected close to $4.5 billion in profit in the first six months of 2022 alone, sometimes infers WAPA is simply choosing not to pay its debt, Smith said.
"We didn't pay it because we couldn't pay it. And that's the same thing with all of our vendors," he said. "Obviously we have to prioritize our vendors. I gotta buy fuel or the lights go out. I got to make payroll, or I can't run the company. I got to make my debt service, right? So we prioritize those payments and then other things we can't make we just don't pay because we would literally run out of cash."
He likened it to running a family on a shoestring. Do you buy new shoes or food?
"Well, the kids are going to have to put some tape over their shoes because we got to eat."
To balance that budget, WAPA needs money, he said, likening the situation to owning an old, gas-guzzling car. The driver can change behavior to save fuel — stop jamming on the accelerator and the brake, keep below the speed limit, turn off the air conditioner — and it will help a little.
But real fuel savings aren't going to be achieved by simply driving better.
"I have to buy a new car. OK? I think there's a dynamic where some people are struggling to understand why we need investment in the Water and Power Authority. And the dynamic is exactly as I described. We're running generators that are 30 years old. They're inefficient. They haven't been maintained," Smith said. "If we're going to get a new fuel-efficient car, it's going to cost money."