Who doesn't love going to a spa and getting the royal treatment? You're surrounded by calming music, flickering candles, soothing smells and unlimited pampering. If you can't make it to the spa, why not turn your already magnificent Caribbean home into a luxurious retreat? Here's everything you need to to transform your bathroom into a place of relaxation and serenity.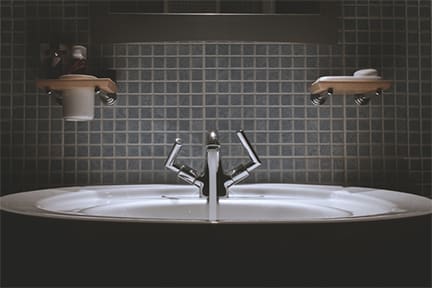 Spa Bathroom Shopping List
Luxury Towels: Wrapping a big, fluffy, warm towel around yourself is so calming and just what you want after a relaxing soak in a tub or a steam. White linens are often used in a spa-like setting, but whatever you like for your décor is fine too. Also, rolling the towels up instead of folding them flat adds to the luxurious atmosphere as well.
Bath Oils: If you are looking for a way to put yourself to sleep, a bath filled with essential oils will do the trick. To guarantee yourself a good night's sleep you'll need chamomile (10 drops) to relieve tension, mandarin (10 drops) to reduce blood pressure, lavender (14 drops) to tackle insomnia-induced physical symptoms like headaches, and Frankincense (8 drops) to deepen your breathing and induce a drowsier, must-sleep-now state. Invest in a great bathtub tray so you can have all of your oils on hands, as well as any books or drinks you need to relax.
Lower the Lights: If you're having trouble winding down and relaxing, consider lowering or turning off the lights. Studies have shown that overhead lights and the lights that come from our gadgets slows the release of melatonin, pushing off sleep. Give yourself some time between screens and bed by lighting candles and letting your brain rest; this will help the transition from busy day to restful sleep. Along with lighting candles, installing light dimmers will give you the same effect with ease.
Infused Water: When you check into the salon, the first thing you are handed is a cool, refreshing glass of infused water. Whether it's cucumber, strawberry and mint, or lemon water, these beverages are mood changers. Having a pitcher on hand can calm you down after a stressful day. A classic small floor storage space is the perfect place to set your pitcher while you're in the tub; this storage space can also double as a towel holder.
If you can't make it to the spa, bring the spa to you! Having the right materials on hand can transform your already luxurious Caribbean home into a four-star retreat. Invest in luxury towels, bath oils, lower the lights and make infused water for ultimate relaxation.
About Lagnappe Custom Interiors:
Tiffany Cassidy is a 15 year resident of St. Thomas and owner of Lagnappe Custom interiors, a full-service interior design firm specializing in bringing the luxury details to a home or commercial space that make it memorable, functional and yours.
Lagnappe Custom Interiors is a Based out of St. Thomas, Visit www.Lagnappe.com for more information.