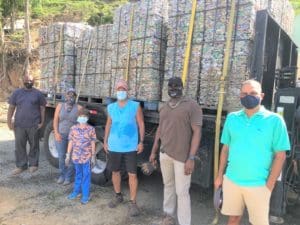 In a continuing effort to reduce the "waste" being shipped from St. John to the Bovoni Landfill on St. Thomas, the community collected and crushed another 300,000 aluminum cans as part of Island Green Living Association's recycling initiative. The load was sent off for recycling on Saturday, Sept. 5 with the help of local Michael Marsh; Stevenson Formel Freight Services, owners of the M/V Norma H II cargo ship; and the many Island Green volunteers who donated their time collecting, crushing and baling cans.
The 9,000 lbs. of crushed aluminum have been given passage aboard the M/V Norma H II's deadheaded return trip to Puerto Rico, ensuring the carbon footprint is kept to a minimum. Michael Marsh helped load with his truck and crane. This shipment adds to the nearly half a million cans Island Green recycled in 2019.
"Stevenson Formel Freight Services and Michael Marsh have again come through, donating their services and equipment and making our can-crushing operation a success.
"We can't thank you and our many volunteers enough, including David Minner, Ph.D., who serves on our board and helped load the bales," said Harith Wickrema, Island Green's board president.
"With this latest batch, 800,000 aluminum cans in total will have been recycled. This is exactly what we mean when we say much of society's waste is a valuable resource. We are hopeful this territory will utilize the $10 million grant from the Environmental Protection Agency (EPA) to recycle and compost our waste and expand this effort throughout the territory. Let's reintroduce source separation and container deposit legislation which will make it easier for WMA to deliver results," said Wickrema.
Recycling aluminum does not reduce the quality of the metal, so it can be recycled repeatedly. Together with last year's batch, Island Green has kept a cumulative 25,000 lbs. of valuable aluminum from wasting away unused in the territory's overflowing landfills. The $4,500 earned from today's aluminum shipment will support ReSource Depot operations along with green initiatives, furthering sustainability on St. John.
Founded in 2004, Island Green is a non-profit organization that has been advancing sustainability and conservation on St. John for 16 years. In addition to aluminum, the organization's ReSource Depot has kept nearly 300,000 pounds of building and other materials out of landfills. The nonprofit has worked closely with the Legislature on banning plastic bags, source separation and bottle deposit legislation, and efforts to ban plastic straws and sunscreen containing harmful chemicals such as oxybenzone. Island Green has been instrumental in building public awareness of green initiatives. For information, visit www.islandgreenliving.org.