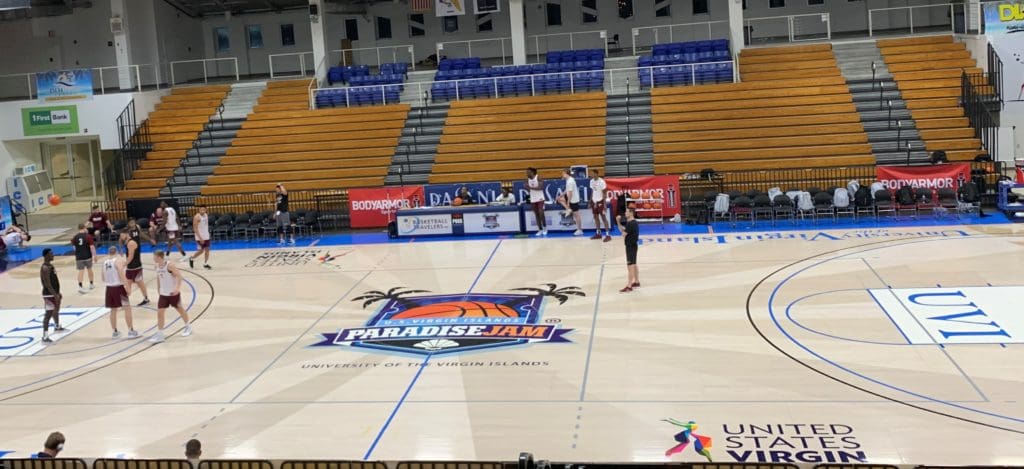 Paradise Jam is back home after a one-year hiatus due to the pandemic. Centers for Disease Control and local restrictions forced the college tournament to relocate the 2020 edition of the event to Washington, D.C. This year, the University of the Virgin Islands Sports and Fitness Center has once again opened its doors, accepting college teams from throughout the continental U.S.
Here's a look at all eight teams participating in the men's division, and Friday's lineup:
Game 1 – Bradley University vs. Colorado State University – 2 p.m.
Bradley University – The Bradley University Braves hail from Peoria, Illinois and compete in the Missouri Valley Conference. Head Coach Brian Wardle is going into his seventh year and has found some success since taking the helm of this program. In 2019 and 2020, Bradley University men won the Missouri Valley Conference championship in back-to-back years. Last year, the Braves sported a losing record going 12-16. The team hopes to return to their winning ways for the 2020-2021 campaign as they take on Colorado State University to open the 2021 Paradise Jam.
Colorado State University – The Colorado State University Rams, based in Fort Collins, Colorado, are coming off a great season, winning 20 games while dropping just seven in the 2020-2021 season. In Mountain West play, they boasted a 14-4 record, finishing third in the conference. The Rams are returning all three of their double-digit scorers from last year: David Roddy (15.9), Isaiah Stevens (15.3) and Kendle Moore (10.5). Fourth-year Head Coach Niko Medved took his team to the National Invitational Tournament last year.   The Rams have already started this year with three wins in three games. They look to improve on their record as the play Bradley University on Friday afternoon.
Game 2 – Brown University vs. Creighton University – 4:15 p.m.
Brown University – Brown University is an Ivy League school located in Providence, Rhode Island. Nine-year Head Coach Mike Martin is a former Bear who has returned in hopes of developing a strong program at his alma mater. Brown finished fourth in the Ivy League Conference with an 8-6 record. Overall, the Bears went 15-12 in the 2019-2020 campaign. Brown has started this year strong with a 3-1 record. They average a total of 87.3 points per game over that four-game span while only allowing their opponents 64.3 points. Their only defeat was a single-digit loss to perennial powerhouse North Carolina Tar Heels in Chapel Hill. The Bears will get tested once again in this young season at the Paradise Jam as they take on Creighton University from the Big East Conference.
Creighton University – The Creighton University Bluejays had an amazing year in 2020-2021 as they were one of the final 16 teams in the 2021 NCAA March Madness Basketball Tournament. Greg McDermott is in his 12th season helming this program. Despite losing quite a few players from last year's roster, the team from Omaha, Nebraska comes into the Paradise Jam tournament with an unblemished 3-0 record. Seniors Alex O'Connell and Ryan Hawkins are the players to watch on this young team. The Bluejays' first game of the tournament will be against Brown University at 4:15 p.m.
Game 3 – Northeastern University vs Duquesne University – 6:45 p.m.
Northeastern University – Northeastern University is a private school nestled in Boston, Massachusetts. The Huskies are members of the Colonial Athletic Association. Head Coach Bill Coen has won more games there than all his predecessors. The Huskies had a slightly above-average season last year, winning 17 games and losing 16. Northeastern University is off to a slow start as they come into Paradise Jam, already dropping two of their three games of the 2021-2022 season. The Huskies' first opponent of the tournament is Duquense University.
Duquense University – Pittsburgh, Pennsylvania is home to the Steelers, Pirates and Duquense University Dukes. Keith Dambrot accepted the head coaching position in 2017.  The Dukes finished the 2020-2021 campaign with a 9-9 record, 7-7 in Atlantic Conference play. Sophomores Kevin Easley Jr. and Tre Williams are key players to watch on Duquense.  Jackie Johnson III dropped 27 points in the Dukes' last game against Weber St. Duquense starts their quest for the 2021 Paradise Jam title against Northeastern University at 6:45 p.m.
Game 4 – Southern Illinois University vs The University of Colorado – 9 p.m.
Southern Illinois University – It has been said, "Home is where the heart is." This statement is very true for Southern Illinois University Salukis Head Coach Bryan Mullins.  This former four-year player was inducted to the Salukis Hall of Fame for his leadership as a point guard who took his teams to one National Invitational Tournament and two NCAA March Madness Tournaments. The team, based in Carbondale, Illinois, ended last year with a 12-14 record. This leaves room for much improvement as Mullin's top eight scorers from one year ago are all back for the 2021-2022 season. This Missouri Valley team will be taking the court for the final game of day one of the 2021 Paradise Jam.
University of Colorado – The University of Colorado Buffaloes from Boulder, Colorado are coming off a tremendous season, going 23-9 last season and culminating with a trip to the NCAA March Madness. Five seniors played important rolls in the Buffaloes' 2020-2021 success. Head Coach Tad Boyle will use his 16 years of coaching experience, 12 at Colorado, to navigate this season. The Buffaloes are off to a great start with three wins against no losses for the young season. Key players for the Buffaloes are sophomores Keeshawn Bathelemy, Jabari Walker and Tristan da Silva. This Pac-12 team will face Southen Illinois University at 9 p.m. on Friday.
Paradise Jam is being held with the blessing of the V.I. Health Department. The doors of the Sports and Fitness Center are open to both the vaccinated and non-vaccinated.
Vaccinated individuals should walk with their vaccination card or be able to prove they have taken the vaccine. A picture ID is also required.
Non-vaccinated spectators must produce a negative COVID-19 test result that is no more than two days old, as well as a photo ID.
The V.I. Health Department will be conducting free COVID-19 testing at UVI for unvaccinated individuals on the following dates and times:
Friday, Nov. 19: noon-7 p.m.
Saturday, Nov. 20: 2-6 p.m.
Sunday, Nov. 21: 4:30-7:30 p.m.
Thursday, Nov. 25: noon-3 p.m.
Friday, Nov. 26: noon-3 p.m.
Saturday, Nov. 27: noon-3 p.m.