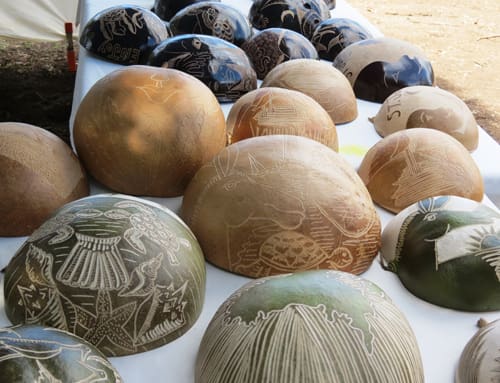 A vendor assists customers viewing a candle display at the grand opening of Neptune's Landing Wednesday in Susannaberg.

The art of scrimshaw design is displayed on green, brown and varnished black calabash are part of a cultural display seen at Neptune's Landing in Estate Susannaberg Dec. 31. Proprietor Ivy Moses said she created Neptune's Landing to recreate the cultural experience of life in the yard, away from the asphalt and concrete of the island's town areas.
SUSANNABERG — On New Year's Eve 2013, St. Johnian Ivy Moses was outdoors getting fresh air and exercise when she was struck by a car, and instead of ringing in the New Year with festivities Moses started 2014 in the emergency room at Roy L. Schneider Hospital.
When New Year's Eve came around again, Moses said things would be different, and she celebrated a new start in her life by opening Neptune's Landing on Centerline Road,
Named after her great grandfather, the gathering place was created to honor and preserve a St. John way of living, she said.
The day of grand opening, brightly colored picnic tables and newly planted fruit trees greeted vendors and visitors. An audio speaker, mounted on a stand, pumped out some lively calypso.
Moses called the fledgling fruit tree stand Iva's Tropical Fruit Garden, after her father. With help from her two young sons, she planted cherry, soursop, guavaberry, mami, carambola, mango, banana and suriname cherry trees. When visitors who came to the grand opening come back in a year, she said, the place will have a different look.
"We want it to be a yard because back in the day we didn't have asphalt, we didn't have concrete, we had a yard," Moses said.
About half a dozen vendors from St. Thomas and St. John pitched canopies and set up tables for the opening of Neptune's Landing. Delroy "Ital" Anthony brought hand-crafted moko jumbies, scrimshaw calabash shells – some green, some tanned with age and some slickly lacquered to a burnished sheen.
Others brought coolers full of native fruit drinks and stocked tables with colorful candles and baked treats. An official from the UVI Small Business Development Center shot photos and offered marketing advice.
Some 500 fliers were handed out in the days leading up to the opening, Moses said, most of them to taxi drivers. She hoped more would show up, she said, bringing cruise ship passengers. Perhaps as the winter tourist season progressed, they would, she mused.
The plan for Neptune's Landing is to have the site open as a vendors' crafts plaza and cultural celebration site for half a year, Moses explained. For the other half, the site would be closed to the public but open to summer camps and school groups.
Future plans for the site include construction of a stage for live performance, a free standing cookhouse with space to accommodate four coal pots for old time cooking demonstrations, Moses added. A stonework bar and two clapboard structures complete Moses' picture of a St. John cultural yard.