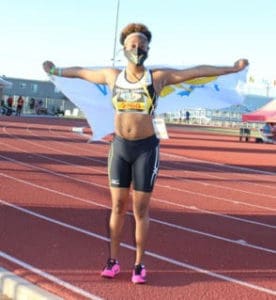 The Paralympic Committee has announced that Jahmaris Nesbitt competed in the Desert Challenge Games in Mesa, Arizona. Nesbitt finished 3rd in the 100m T38 behind Lucia Padilla from Mexico and Ericka Esteban from Guatemala.
Nesbitt will be representing the Virgin Islands in the Paralympic Games in Tokyo, Japan, in August, 2021.
T38 is the sport classification for disability athletics intended for people with cerebral palsy. It includes people who have coordination impairments such as hypertonia, ataxia and athetosis.
When interviewed, Nesbitt said, "Despite my ailments, I am grateful to Mr. and Mrs. Smith for never giving up on me from junior high to present day — [and] especially the big man upstairs — for blessing me with this opportunity to represent the Virgin Islands. A diagnosis can't predict the extraordinary things I hope to accomplish while on this mission. Like I always say, 'you only live once, take the risk or lose the chance' – YOLO."