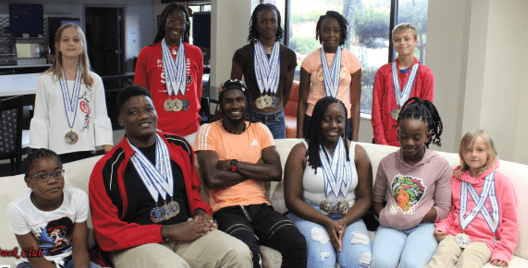 The St. Croix Track Club Inc. (STXTC Mustangs) announced today that it set two meet records and won 23 medals at the Atlanta, Georgia Relays. The 10 Mustangs won 11 gold, 9 silver and 3 bronze medals. They also competed well to gain 1 fourth, 1 fifth, 1 sixth, 1 seventh and 3 eighth places.
This placed the St. Croix Track Club team in 6th place among 68 teams, with the teams in first through fifth counting more than 30 athletes compared to their 10 competitors. Points are accumulated by each athlete once they finish in 1st through 8th place overall. 1st place is worth 10 points (pts), 2nd place — 8 pts, 3rd – 6pts, 4th – 5pts, 5th – 4pts, 6th – 3pts, 7th –2pts and 8th – 1pt.
Traveling to Atlanta and contributing to this accomplishment were Olivia Jones, Katelyn Jones, Faith Eatmon, Joshua TeWinkle, Jordan Vaughn, Michelle Smith, Ariana Edgar, Jeniqua Weekes, Akyra Joseph, and Mikaela Smith.
Achieving meet records were Mikaela Smith in the 400m hurdles with a time of 65.44 seconds and Michelle Smith in the 1500m in a time of 5 min. 8.40sec.
The St. Croix Track Club's top three scorers were Michelle Smith with 36pts, Joshua TeWinkle with 32pts and Akyra Joseph with 29pts.
St. Croix Track Club is thankful for the support of the VI Lottery Youth Initiative fund. Included are the results for the St. Croix Track Club athletes; the full results are accessible at this link: Meet Results are at www.smartmeetsresults.com