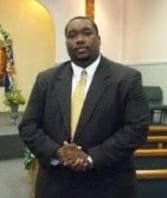 With deep regret, the family announces the passing of Jerome Antonio Thomas, age 39, who went on to heaven on Friday, April 30, in Atlanta, Ga.
Funeral services will start with a viewing at Turnbull's Funeral Home on Friday, June 4, from 3-5 p.m. The second viewing will be held at 9 a.m. followed by a funeral service at 10 a.m., Saturday, June 5, at St. Andrew's Episcopal Church. Interment will be at Western Cemetery No.3. Funeral arrangements are entrusted to Turnbull's Funeral Home.
He was preceded in death by his grandmother, Eleanor Teresita Thomas; and aunt, Ilma Marie Thomas.
He leaves to mourn: his wife, Jamila Thomas; stepdaughter, Neveah Sylvest; mother, Julice Thomas; father, Jaime Illidge; grandfather, Carlton Hackett; brother, Julio Illidge; aunts: Delia Todman, Herlene David and Colette Hackett; uncles, Orville Todman, Elvis Thomas, Leon Thomas and Kelvin Thomas; great-aunt, Joyce Garrin; mother-in-law, Jemell Fahie; father-in-law, Rowan Charles; sisters-in-law: Leanna Mahoney and Kayla Boronell;
He is survived by brothers-in-law: Keith Charles, Jaime Fahie, Edwardo Fahie and Shamal Hennes; cousins: Greg Garnett, Leburn Smith Jr., Carmencita Thomas, Claudette Duggins, Carlton Creque, Curice Paulus, Jerome Nibbs, Bryant Thomas, Shakayla Thomas, MayAsia Smith, Malik Alexander, LeQuan Smith, Le'Deijah Smith, Mehkai Smith, Ksaiah Smith, Kamari Marshall, K'nai Marshall, Se'Kani Frett, Kaden Hazel, Trevon Abeef, Tiana Abeef and Aliana Miose;
He is also survived by godparents: Monique and Dalma Simon, Imogene Ottley, Greg Rhymer, Cathy Rasmussen, Celina Barthlett, Audrey Schneider, Kishma Victor, and Gwenette Dowe; godchildren: Alauna Petersen, Aiden Petersen, Joliya Melendez-Al-Arefi, Kaden Melendez-Al-Arefi, De'Nique Byron, Gvanni Byron, and Kemari Defreitas; adopted parents: Ilva Jennings and Carol Rhymer;
Other survivors include special friends: Daryl Petersen, Vernon Byron, Danny Rangel, Sidonia Swan, Anastasia Benitez, Joette Melendez, Kishone Herbert, Adil Karam, David Titley, Adelyn Williams, and the Thomas, Sprauve, Charleswell, Turnbull, Skeleton, Isaac, Frett, Hodge, Crabbe, Daly, and Fahie families; as well as the Rising Stars Youth Steel Orchestra family, the St. Andrew's Episcopal Church family, the WAPA family and the Charlotte Amalie High School Class of 1999.
The family requests that attendees wear shades of blue.