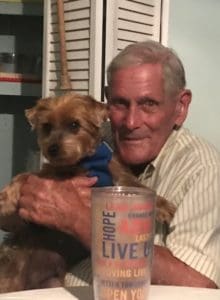 John Powers Littlehales, also known as "Haps," got his wish and passed away peacefully in his home surrounded by the dogs and a great deal of love. Haps was born in Washington D.C. on July 14, 1935, and the world has not been the same since.
Haps was one of a kind with a heart of gold. He was married to the love of his life for 55 years Geraldine Kimball Littlehales, also known as "Puddie." They lived their life on their own terms and traveled the world together.
He attended Chapel Hill College in North Carolina and later went on to serve in the Marines for a short time. Haps and his wife had a passion for all animals, most notably horses and dogs. They went on to start a horse farm in Annapolis, Md., called "Revelations Riding." They had 33 horses and ponies at one point as well as his pet raccoon, Modein Goush, from "Come on I wanna lay ya, Hawaii." They later moved on to St. Croix, where they turned their passion to dogs. Going on to rescue 14 dogs at one time.
Haps worked for Rural Electric, Pan Am, Lloyds of London and Marshal and Sterling here in the Virgin Islands. [He was] always living a life that varied from the "norm," but it was always on his terms. He had an undeniable connection to mother nature. He was an extraordinary soul that affected everyone he came into contact with. His positivity and outlook on life were contagious.
He was a brilliant artist that lived his life as if it were a piece of art. His artwork is scattered all over the island, but some of his drawings still hang in the halls of Marshall and Sterling on St. Croix.
Haps was an avid reader consuming at least one novel a week and having four personal libraries in his home. In his retired life, you could always find Haps sitting on his favorite porch chair, with the dogs by his side, taking in the beautiful view and sipping a Cruzan Rum and OJ.
He had a smile that could light up a room, eyes the color of the Caribbean Sea, and a laugh that could be heard a mile away. He was loved by so many that he was proud to call his family, just as we are proud to call him ours.
"Give the world the best you can, and the best will come back to you. Live a life that matters; live a life of love." Haps Littlehales.
In lieu of flowers, we ask that you make a donation to the St. Croix animal shelter in the Littlehales' name, foster a dog, or better yet, adopt 14. Haps requested that everyone raise a glass and have one last drink (or a few) for him, surrounded by love and laughter. He will live on in our hearts forever and will truly be missed by many.
Cremation arrangements are entrusted to Schuster's Crematorium LLC.