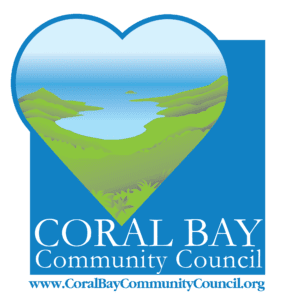 The next Coral Bay community Town Hall meeting will take place from 6:30-8:30 p.m., Saturday, Aug, 27, at Miss Lucy's in Coral Bay.  As requested at the last meeting, Commissioner of the Department of Public Works Derek A. Gabriel and Program Manager Jomo McClean will be present during the first hour to explain the local road projects and planning during the first hour.
The second hour will be devoted to developing a community list of questions and issues for nonpartisan election candidate forums being planned for late September and early October.
Food and beverages will be provided. CBCC invites the entire community to attend and have a little fun too. Families with children are welcome – and bring your neighbors too.  The council will also have representatives from several local nonprofit organizations present.  John's Folly Learning Institute and Coral Bay Community Council (CBCC) are the hosts. CBCC will be providing the free food and beverages.  For more information, call 776-2099.