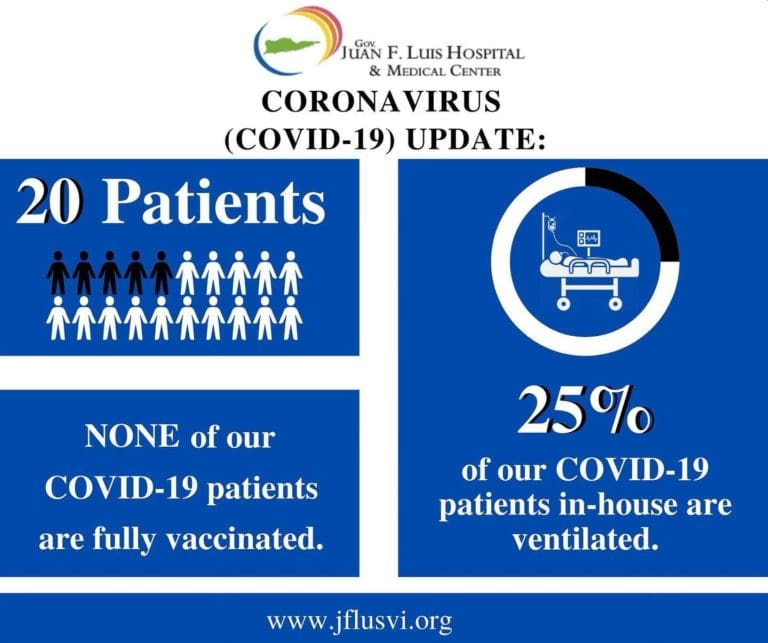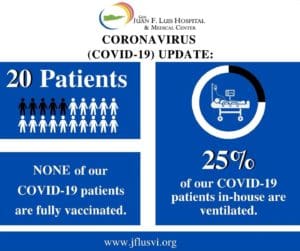 For staff at Gov. Juan F. Luis Hospital, fighting the ongoing COVID-19 surge is more than just finding more clinical professionals, ventilators or beds. Lately, it's also been about balancing out resources and looking at alternate solutions to challenges so all of the territory's medical facilities can be successful should they begin to see the same influx of patients.
For now, that means not transferring any of the 20 coronavirus-positive patients being treated at JFL to Schneider Regional, despite public concerns that this may be happening, or pulling staff from St. Thomas to supplement St. Croix's. Instead, JFL Legal Counsel Chivonne Thomas said JFL's staff is aware that with the coronavirus positivity numbers higher on St. Thomas, the situation could shift from one island to the other at any time.
"Our sister hospital needs support, also, and we understand their needs," she said in a conversation with the Source Thursday. "We can't take resources from one side for the other." In the meantime, the hospital has continued to receive staffing support from Pafford Medical Services, whose medics were deployed in 2019 to assist the V.I. Department of Health's Emergency Medical Services staff. But brainstorming sessions between Health and the two hospitals have allowed for discussion on other options, and Thomas said that all parties are exploring routes for increased staffing.
"We need more clinical professionals," she added. "We continue to recruit on- and off-island, but there is a nationwide nursing shortage that has been exacerbated by the pandemic."
According to a Facebook update from JFL, which has been posting its numbers daily, the hospital has also been able to secure 10 additional beds for COVID-19 patient care. At the same time, it is also continuing to manage the surge from within by eliminating visitations; strongly encouraging employees and staff to get vaccinated; increasing the frequency of COVID-19 screenings for employees and patients; and enforcing a 100 percent personal protective equipment, mask and hand-washing policy.
A temporary two-week hold on elective surgical procedures has also been implemented.
"Our healthcare workers report feeling stressed from the prolonged pandemic response and the recent surge," Thomas said when asked what the days are looking like for JFL's staff. "As many people return to 'normal,' our healthcare workers do not have this illusion of normalcy. We, instead, continue to fight a battle that will not end unless our community joins with us to fight this. Please mask, social distance, avoid mass gatherings and get vaccinated.
"The human cost of COVID-19 is real to each and everyone in the walls of JFL. We ask for the community's love and support during this time."
Meanwhile, additional public concern over the unavailability of the alternate care facility at the St. Croix V.I. National Guard compound hinges upon the re-execution of a lease between the hospital and the U.S. Defense Department. Reached by phone Thursday, V.I. National Guard Public Affairs Officer Capt. Marcia Bruno said the facility is generally used for training but could be available again to JFL should there be an overflow of patients.
The original lease agreement expired since the facility opened last year and hasn't been renewed because, up to now, there hasn't been an overflow, Bruno said. Should there be a need for the center, which is a federal facility, in the future, the hospital would have to make a request through the V.I. National Guard's Adjutant General, who would then submit it to the U.S. Secretary of Defense. Upon receiving approval, the V.I. National Guard would then process the request and execute a lease.
"It does take some time though, so if the facility is needed – and that's just looking at how the numbers are trending – we need to start the process now," she said.