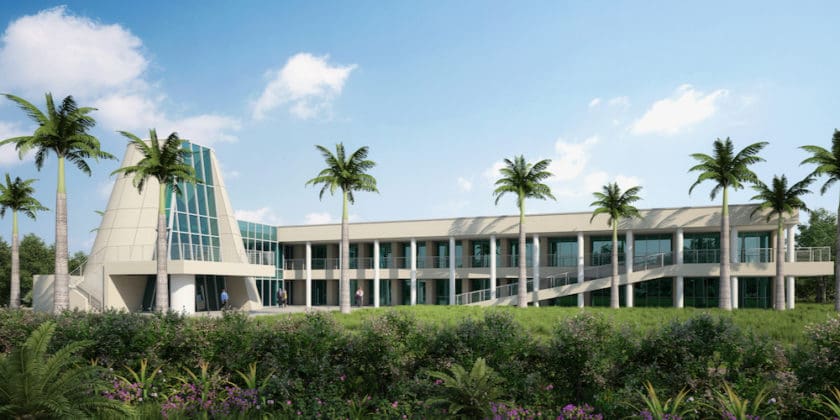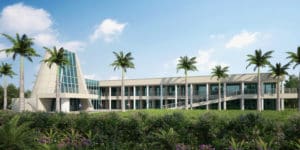 The University of the Virgin Islands RTPark, a tax-break granting entity, will start lending money from the V.I. government treasury to its tax-break recipients who cannot get similar terms on the free market if legislation approved Tuesday is signed into law.
First planned back in 2001, RTPark is an economic-development initiative designed to take advantage of the territory's lucky access to gigantic amounts of fiber optic data-carrying capacity. One of two sets of major data-trunk cables landing on St. Croix carries the bulk of all communications in and out of the U.S. Virgin Islands and most Latin American telecommunication traffic to the U.S. mainland.
The core of RTPark is a tax incentive program for technology companies, which may be located anywhere in the territory. In exchange for tax breaks, companies work with UVI in a variety of ways, from endowing annual scholarships and hiring interns to financing or providing professional expertise for technology-oriented classes at the university. RTPark's "commercial revenue" consists of the fees it charges clients in exchange for tax-break agreements. Local phone company Viya is its largest tax-break client in terms of local employment.
It was designed to be a revenue-generating entity. It does not generate revenue for the government currently but does help sponsor some programs at UVI. UVI does not operate the RTPark, and there is currently no "tech park," in the everyday sense of a physical location or business park with a number of technology-oriented businesses. A structure was built, but never housed businesses. A bigger plant has been proposed, which would require the government to donate historically agricultural land, rezone that land and require $40 million from some source. As of yet, the government has not moved to sell the land or rezone it.
More about RTPark can be found on its website.
The bill (34-0058) appropriates $6 million in V.I. government funds and gives $5 million to RTPark to dole out in loans to its tax-break recipients. It identifies money Limetree Bay Terminals was supposed to pay the government in lieu of rehabilitating some tanks for the government to use for bitumen to make asphalt. That money was part of the sale terms of V.I. government-owned land on which the refinery sits. The other $1 million would go for marketing St. Croix's South Shore Trade Zone, another economic development project of the territory that offers 90 to 100 percent tax reductions in exchange for setting up shop in the industrial zone on St. Croix's south shore.
Senators praised the measure as a way to hopefully generate economic development.
"We are hoping to lure companies to the Virgin Islands and hopefully create jobs," Sen. Kurt Vialet said.
Sen. Alma Francis Heyliger said she supported the bill but said she was under the impression it would be open to the public, while she has since gathered that it "will be divided among companies that are already interested."
Sen. Donna Frett-Gregory said she was not certain but understands "there are various interests who may be interested in coming to the USVI," so that the loans may prompt them to invest. She said it should be a revolving loan that is paid back, and additional funds should be provided, indicating it would be a permanent, ongoing loan program.
Repaying 2011 8-Percent Pay Cut
Senators approved legislation appropriating roughly $38 million to pay back government employees hit by 8 percent pay cuts in 2011. In 2016, the U.S. Third Circuit Court of Appeals ruled the pay cut violated the U.S. Constitution's contracts clause but did not set a timeline for repayment.
The Legislature also approved a bill appropriating $4 million to the V.I. Housing Finance Authority to support home buying loans and $2 million for roadwork on the Leonardo "Nardo" Trotman Drive.
Senators also approved legislation to:
– Transfer the former Cancryn school property to the Port Authority to expand its transshipment and maritime activities.
– Clean up V.I. law on marriage of those under age 18. Such marriages are already illegal in the territory but one passage of law still refers to a judge's role in deciding whether to allow them.
– Require fuel tax be remitted when the fuel enters the territory.
– Increase the aggregate amount that a surviving spouse may receive from debtors upon the death of the creditor and to increase the amount of debt a debtor must pay the survivors of a decedent creditor not less than 30 days after the creditor's death from not more than $5,000 to not more than $10,000.
– Require parents convicted of child neglect to attend counseling.
– Grant seniors and the terminally ill preference in civil actions. There can be long delays in civil actions, which could deprive seniors and the terminally ill of the opportunity of access to justice.
Thirteen of the 15 senators were present. Sens. Milton Potter and Janelle Sarauw were absent.