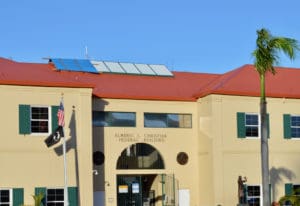 Consistent with the Governor's Stay At Home Order, effective Monday, Aug. 17, the judicial branch will further curtail operations in response to the surge of COVID-19 cases.
Pursuant to Administrative Order No. 2020-0015 issued by the Supreme Court, all nonessential services within the judicial branch are suspended until further notice. The Superior Court of the Virgin Islands will continue to utilize remote hearing protocols for all or most essential and emergency matters, including but not limited to advice of rights, emergency petitions for abuse and neglect, domestic violence and stalking. Accordingly, public traffic to the courts shall be limited to these essential and emergency matters only.
Essential employees across the branch, where applicable, will continue to work remotely and report to court facilities only in accordance with established emergency schedules.
Territorywide, all non-essential judicial branch employees have been asked to shelter in place and will be placed on paid administrative leave. During this period of modified operations, judicial officers and court personnel remain available to conduct the business of the court virtually and telephonically.
For inquiries and/or assistance, utilize the following numbers:
St. Croix District
Court Administration 340-713-6627
Office of the Clerk of Superior Court 340-713-6626
Probation and Pre-Trial Services 340-713-6642
St. Thomas-St. John District
Court Administration 340-693-4110
Office of the Clerk of Superior Court 340-693-6403
Probation and Pre-Trial Services 340-693-6429
Supreme Court
Office of the Clerk of Supreme Court 340-693-4100
Office of Bar Admissions 340-693-4120
Office of Disciplinary Counsel 340-693-4127
The public is further reminded of the following email addresses for the submission of filings to the Superior Court of the Virgin Islands:
Advice of Rights and Arraignments: remoteaorstx@vicourts.org
Complex Litigation Filings: CLDCourtesyCopy@vicourts.org
All Other Filings: superiorcourtefile@vicourts.org
Conventional filings will continue to be accepted at the following court locations:
Superior Court
Alexander A Farrelly Justice Center 5400 Veteran's Drive, St. Thomas
R.H. Amphlett Leader Justice Complex RR1 Kingshill, St. Croix
Supreme Court
Supreme Court Building 161B Crown Bay, St. Thomas
Raymond L. Finch Supreme Court Building No. 18 Strand Street, Frederiksted, St. Croix
The judicial branch reminds its employees and the public to follow guidelines issued by the CDC and the V.I. Department of Health. Remain vigilant in social distancing and wear masks in public.
For more information, contact:
Regina Petersen, Administrator of Courts
Judicial Branch of the Virgin Islands
P.O. Box 590
St. Thomas, U.S. Virgin Islands 00804
Fax: 340-774‐2258  TTY: 340-693-4118