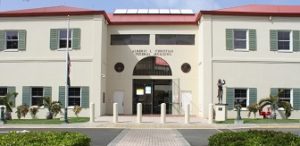 A St. Croix man accused of leading a violent criminal enterprise and two associates have been found guilty at trial of racketeering, murder, attempted murder and kidnapping.
A federal jury empaneled on St. Croix found defendants Paul Girard, 34, Kareem Harry, 34, and Tyler Eugene, 24, guilty on Tuesday. The verdict came at the end of a trial that began with jury selection during the first week of March.
Authorities who led the investigation and prosecution declared the attempts of a criminal gang to impose their will on the people of the Virgin Islands a failure.
In charging documents, Girard, Harry, and Eugene were described as members of a criminal enterprise that engaged in violence, drug dealing and money laundering. The enterprise's purpose was to enrich its members, expand the territory where it controlled illegal activity and to intimidate or eliminate its rivals through violence and threats of violence.
All three face lifetime prison terms, based on convictions for murder in aid of racketeering.
Most of the charges in the case were alleged under the federal Racketeer Influenced and Corrupt Organizations Act, a law enacted more than 50 years ago to fight organized crime. Prosecutors identified Girard as the group's leader in documents dating back to September 2018. Harry was named as a soldier of the enterprise in a superseding indictment filed in January 2019. Harry's name was added to the list of defendants later that same month.
Up to 11 individuals were charged as part of the enterprise that, among other things, robbed a bank, jewelry stores, the racino at the Randall "Doc" James Racetrack and the Divi Carina Bay Casino; shot and killed a rival gang member near a Head Start preschool and another outside of a St. Croix convenience store.
Seven more defendants have pleaded guilty to various related charges and now await sentencing, officials said.
Girard was convicted of racketeering conspiracy, drug conspiracy, three counts of murder in aid of racketeering, and use of a firearm resulting in death. The lead defendant was also found guilty of attempted murder in aid of racketeering, Hobbs Act Robbery, and kidnapping in aid of racketeering.
The jury also returned verdicts against Girard involving four counts of using firearms during a crime of violence. Prosecutors noted that these violations took place while Girard was in prison, serving time for previous crimes.
Eugene was convicted of racketeering conspiracy, murder in aid of racketeering, attempted murder in aid of racketeering, and firearms related offenses.
Harry was found guilty of racketeering conspiracy, murder in aid of racketeering, kidnapping in aid of racketeering and firearms offenses.
One of the verdicts included under the federal weapons offenses was use of a firearm resulting in death. Girard, Eugene and Harry were all convicted on that charge.
The case was investigated by the Federal Bureau of Investigation and the Virgin Islands Police Department.
U.S. Justice authorities issued a statement after the verdict was read by District Court Judge Timothy Savage at the Almeric Christian Federal Building on St. Croix. Assistant U.S. Attorney General Kenneth Polite said the verdict illustrated the determination of federal law enforcement to combat gang violence.
"These defendants terrorized the U.S. Virgin Islands through violence and theft," Polite said. One of the lead investigators echoed those words after the verdict was read and the trial ended Tuesday.
"The use of violence and intimidation by these gang members to try and assert power over the people of the Virgin Islands failed," said FBI Criminal Division Assistant Director Luis Quesada. "These criminals thought they were untouchable, but (the) verdict demonstrates the ongoing commitment of the FBI to investigate and disrupt criminal enterprises like this and demand justice for their victims."
Gretchen Shappert, top federal prosecutor for the Virgin Islands, praised the legal team for their hard work throughout the three-and-a-half-year pretrial process.
"These convictions mark the dismantlement of the Paul Girard Criminal Enterprise. This was a team effort. We are hugely grateful for the dedication of the prosecution team," Shappert said.
Among those credited for producing successful outcomes in the Girard case were Trial Attorney Christopher Taylor of the Justice Department's Organized Crime and Gang Section, and Trial Attorney Marie Zisa of the Human Rights and Special Prosecutions Section. Assistant U.S. Attorney Meredith Edwards prosecuted the case on behalf of the Justice Department in the Virgin Islands.
A sentencing hearing is expected to be announced at a later date.