KIMBERLY BOULON PAINTINGS AND EVENT
AT KIMBERLY BOULON FINE ART GALLERY,
MARKETPLACE, 2ND FLOOR, ST. JOHN, VI
FRIDAY, DECEMBER 2, 5-8PM
ST. JOHN SUBLIME: A Series of Paintings by KIMBERLY BOULON
COMMEMORATING THE 2016 NATIONAL PARK SERVICE CENTENNIAL AND VIRGIN ISLANDS NATIONAL PARK 60TH ANNIVERSARY
"Please join us with wine and appetizers for an evening of art and entertainment with a performance by the St. John School of the Arts (SJSA)."
Kimberly Boulon, a resident of St. John, VI since 1980 and well-known for her visually beautiful land and seascapes and figurative paintings, has a love of National Parks and the Virgin Islands National Park in particular. Her husband, Rafe, grew up on St. John, and they raised their two sons, Devon and Revel, surrounded by the Park. The Boulon family sold Trunk Bay to Laurance Rockefeller in the late 50's to help establish the VI National Park. Naturally, they have an affinity for the value of the National Park Service and protecting America's special places for the benefit of all.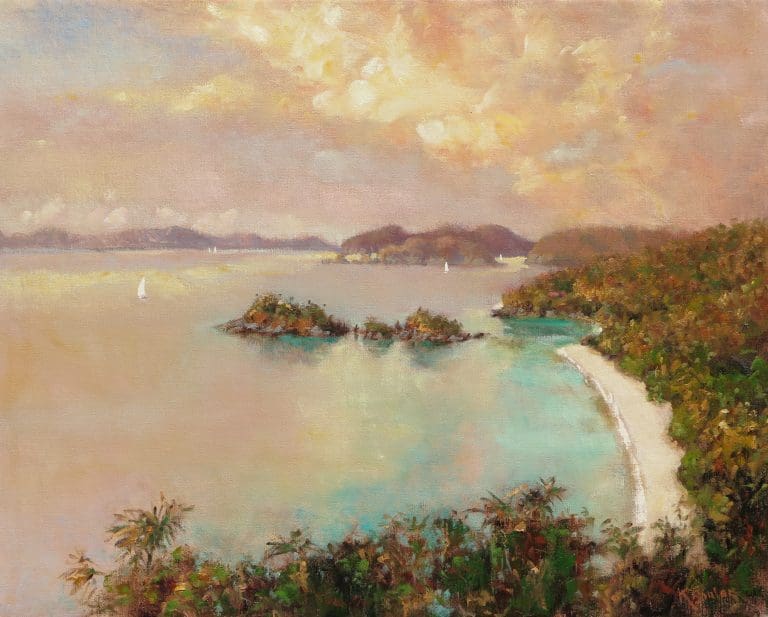 "For 36 years I have had the privilege of gazing out over all of St. John and its surrounding beauty and immersing myself in it day after day after day. This series of paintings is the beginning of my search for a higher plane of contemplation of our fragile planet whose health is hanging in the balance."
A 12" x 16" oil painting with frame by Kimberly, valued at $1850 and on view at the Gallery, will be RAFFLED off at the end of the Event, Friday, December 2. 100% of ticket sales go to SJSA. Tickets, $10 each or 6 for $50, may be purchased ahead of time at the Gallery – T, Th, F 9:30 to 5, or from SJSA (340) 779-4322. You do not have to be present to win.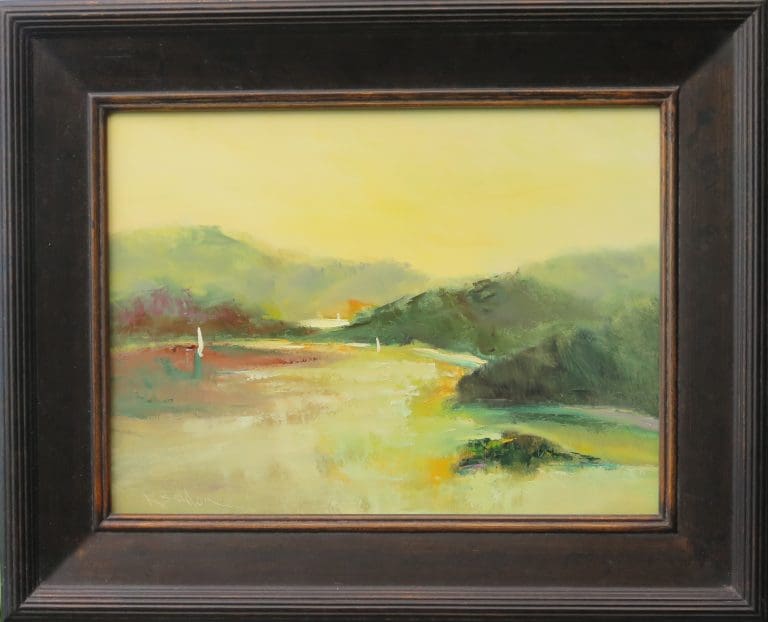 Additionally for this special Commemoration, Kimberly has printed a series of cards that will be available at the Event and in the Gallery.
For more information, please contact Rafe or Kimberly Boulon at (340) 693-8524 or by email at kimberlyboulonart@gmail.com, or at www.kimberlyboulon.com .