A festive Labor Day crowd basked in the sun to show off and admire works of automotive art at the fourth annual Coral Bay Labor Day Car Show.
Car lovers viewed dozens of vintage and customized cars and trucks on Monday.
Organizers said most entries made the trip over from St. Thomas. There would have been more, said car show promoter Jay Swatley, but with only one barge making the inter island run, there was limited capacity.
For those living on St. John, the fact that there was a car show at all was little short of a miracle, with 363 days having passed since Hurricane Irma brought widespread destruction to the town in east St. John. Heaping piles of broken trees and storm debris took over every inch of the field until May.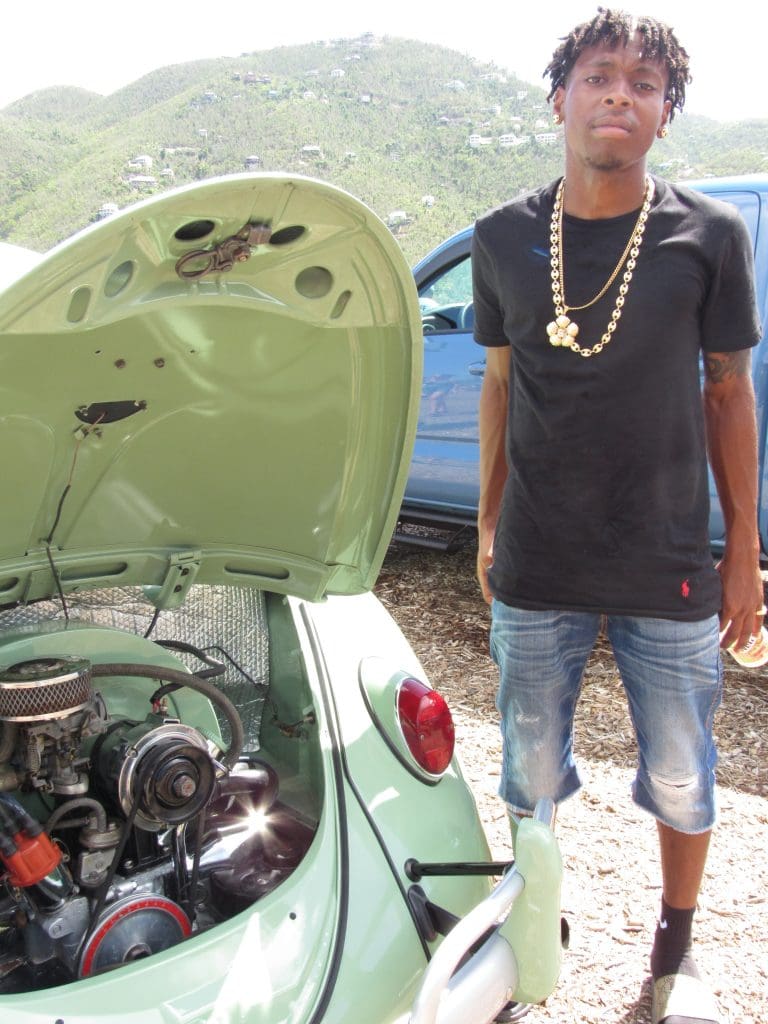 The original venue for the car show, Winston Wells Park in Cruz Bay, has been converted into a foundation for a modular school. But contractors working with the Army Corps of Engineers left the Moravian Church field cleaned and sprinkled with mulch
It was time for the show to go on. On one side of the entry tent, the St. John Cultural and Festival Organization staged its annual Labor Day fete with a mini parade, live deejay, vendors and refreshments.
On the other side of the gate, chrome posts and velvet ropes gave the polished 'biles an extra touch of class.
Marla McClung used the hood of her 2008 Jeep to show off trophies won last year.
"The name is Blue," McClung said as she lounged on the bumper.
David Nicholas posed by the open hood of his uncle's 1973 light green Volkswagen Beetle. It was the rear hood, where Volkswagen engineers mounted the air-cooled engine.
Engine parts gleamed, the belts were free of grease and dirt. It was the original engine from '73, Nicholas said. For now, he was driving his uncle's car. One day he'd like to have one of his own, he said.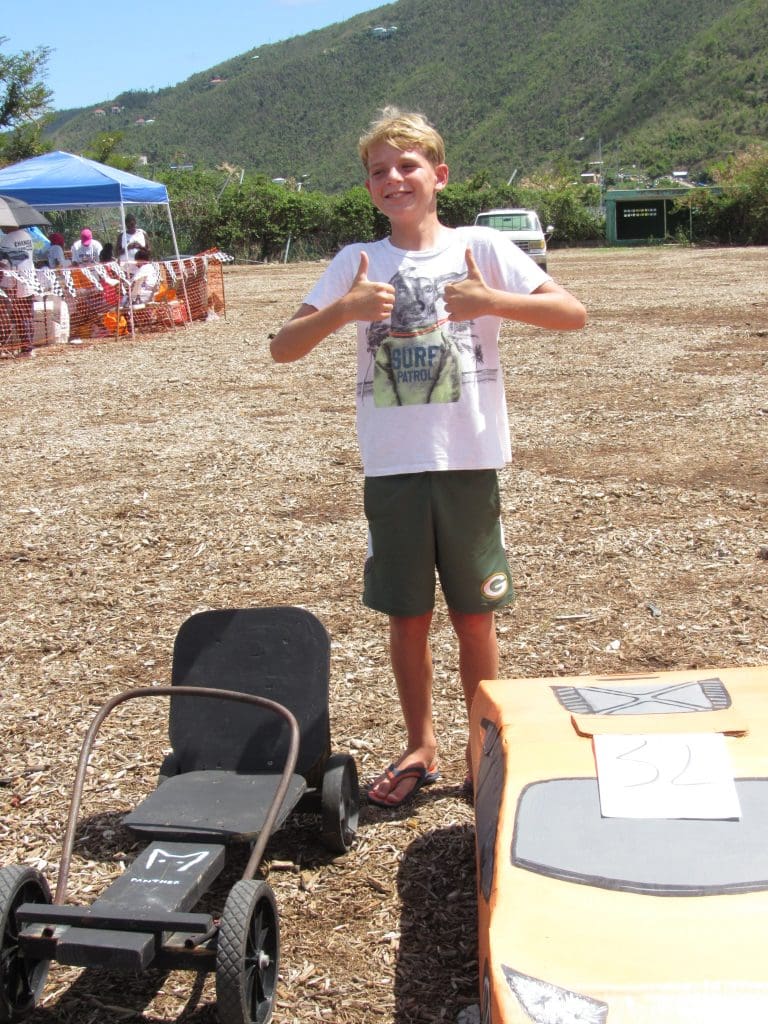 Henry Radcliffe, an 11-year-old sixth-grader at Antilles School, didn't have a car of his own either. At least one he could drive. Instead he showed off two homemade creations. One, a motorless go-cart; the other, a cardboard Lamborghini. A friend hopped in the painted orange sports car, head poking up through the roof.
Andrew Radcliffe, his father, said Henry's built all sorts of things, with a little encouragement using household stuff.
"He's made rockets, boats – it's just a great thing to do with your kid," he said.
Abrie Cilliers lounged under a canopy near a custom built 1941 Chevy truck.
"The body is from a '49 . Everything else was modified in the last four years," he said. "It was hidden in a shipping container during the storm."
Wife Sue Cilliers said the burgundy classic was also a reliable roadster, taking the couple on road trips from Ohio to Florida and on a shorter trip that began in South Carolina.
"It rode the Devil's Tail in North Carolina with 118 hairpin turns," she said.
Visitors milled from car to car, stopping to admire the features. Vehicles that popped their hoods took part in a separate competition for engineering features. Customized cars were also judged separately.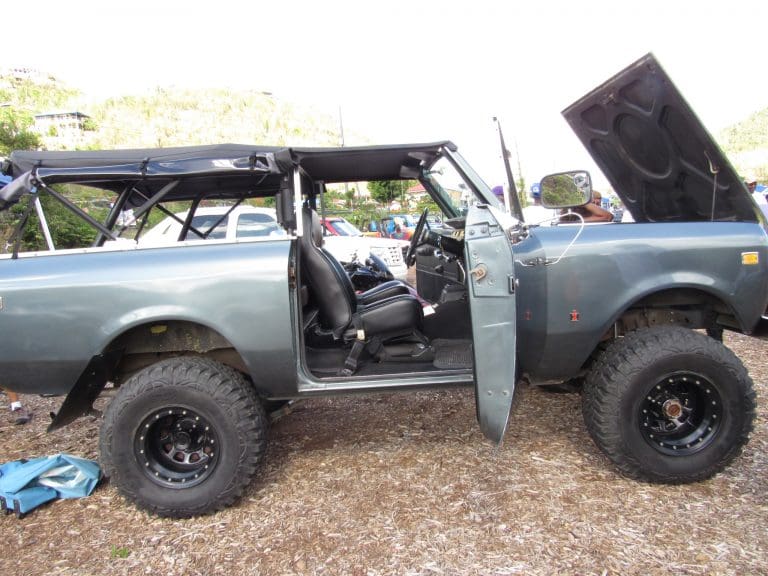 Jason Oliver's 1974 Scout bore a tag on the windshield that said it's not a Jeep.
"It's a Scout 2, 1974," he said.
The sturdy utility truck was built by International Harvester, better known for its farm equipment.
Oliver said he got his first Scout after leaving high school in 1989. Reliability comes in part from the Scout's four-wheel drive. But the one he owned while working as a contractor in Colorado, he said, had an extra set of granny gears that let it climb the steepest slopes.
The Scout on the field in Coral Bay was Oliver's latest acquisition, found on E-Bay.
Car fans also took time out from browsing to gather around as different entries squared off in a sound system competition.
Shared content for Virgin Islands Source and St. John Tradewinds.