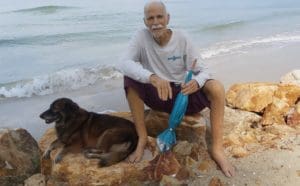 Lary D. Ratliff Esq. died Nov. 12, at his home of Koh Chang, Kingdom of Thailand, where he had lived since 2010.
Lary was a remarkable person who lived his life on his own terms.  Born in New Orleans, La., in 1949, and raised in nearby Pass Christian, Miss., Lary attended undergraduate and law schools at the Louisiana State University, graduating in 1976.
In 1979, Lary bought a small wooden sailboat and sailed it to the Caribbean. He thereafter landed on St. Croix and fell in love with the island and its people. He became a member of the Virgin Islands Bar Association, and he served as an assistant attorney general with the Department of Justice (then the Department of Law) from 1980-1983. He then opened his own practice in a beautiful location just above the Bombay Club in Christiansted.
Lary was an active sailor. As a cancer survivor, he founded the local chapter of the American Cancer Society.
He practiced on St. Croix until 1992 when wanderlust hit him again, and he moved to the Big Island of Hawaii. There he became a lawyer with the Hawaii Bar Association, but he also followed his passion for sailing by buying a sailboat and providing day charters as the captain and crew. He even got certified as a landscape gardener (in Hawaii this requires training) and worked doing that. With his typical ingenuity, Lary managed to find and rent an awesome, private wooden cottage right on the water just south of Kailua-Kona.  He later bought a property south of there and lived in the country.
After traveling in Southeast Asia in the early 2000s, Lary again up and moved to the Kingdom of Thailand in 2010, where he lived until his death on Nov. 12, 2020. He chose the beautiful island of Koh Chang in the southeast part of the country. There he was fully retired and again found himself an amazing cottage built on stilts over the Klong Prao River, just about 150 meters from the ocean. His cottage came with a dock, where Lary kept his boats. He went out to sea almost every day to surf, explore nearby islands, and fish.
Lary took the time to be a writer as well. His first book was A Shell Game, a novel based on St. Croix about a dishonest trustee of an estate. The legal story of the book was based on a big trust case Lary had in Hawaii, wherein he held accountable just such a dishonest trustee, and, of course, the adventure is all about St. Croix.
His second book, The Dance of the Nagas, is a Thai story about nagas, which are mythical divine creatures of Buddhism, half-human and half cobra. It's a great tale. It was just being completed at the time of his death and will hopefully be published shortly
Lary leaves behind family members: sister, Laurie Paul Wilson; brothers: Joseph Paul Ratliff and Quin(tard) Wiggins Ratliff; and many friends who will remember the twinkle in his eye and his quick wit and smile. You will be missed, my friend.