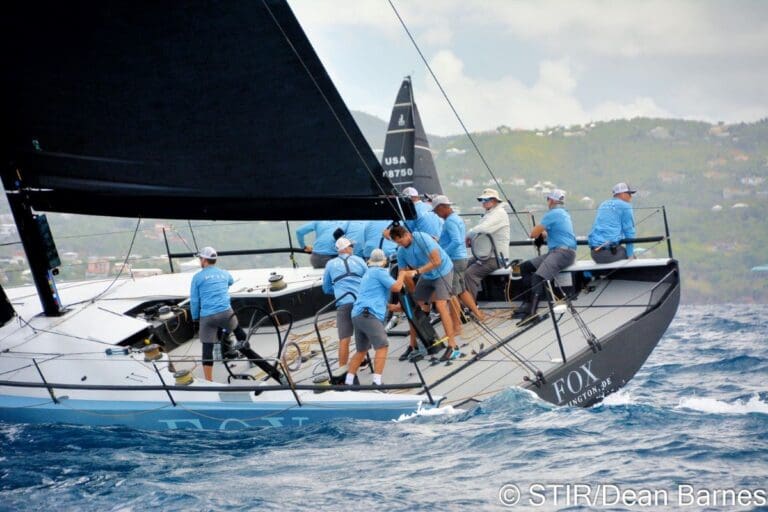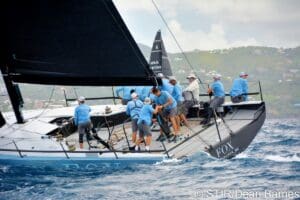 "It was the sun and sea that brought us to St. Thomas and the fantastic racing and friendly people that is making for a fun weekend," said Chris Mason, tactician on the UK's Johnny Mordaunt's Fast40+, Tschuss, which finished the day in fourth in CSA 1.
"The team sailed well today. It's all about teamwork. We have some locals onboard that are helping with local knowledge on wind and currents. Racing around the islands is so much more fun, and interesting, than windward-leeward courses around the buoy," said Mason.
In CSA 2, the USVI's Peter Corr's Blitz remained in the lead despite a third in the second of two races today when a crew member went overboard and then safely reboarded. Nipping at Blitz's heels is Puerto Rico's Jaime Torres helming his Melges 32, Smile and Wave. Torres, with a talented team that has only sailed as a team for three days, is now only two points behind Blitz.
"Our strategy was to win the starts and we did," said Torres, whose crew members include Gretchen Ortiz on foredeck. Ortiz, with skipper Enrique Figueroa, represented Puerto Rico in the Nacra 17 Foiling in the 2020 Summer Olympics. "We are the slowest in the class upwind, so we must hold off everyone at the start. Then, we're the fastest downwind. So, it's all about sailing fast and not making many mistakes."
Puerto Rico's Bastian Sarh led the CSA 3 Class on his Beneteau 10m Chili Pepper. The USA's David McDonough, driving his Pearson 37-2, Trinity III, happily completed both races.
"Racing was off the charts today," said McDonough, who jokes that he's got the lock on last place. "It was a delightful day on the water, and for us, it was all about having fun. We have a crew that ranges from a ringer from New England to a rookie from Georgia who has never sailed before. We like to say racing is simply an excuse to go sailing, and that's what we did."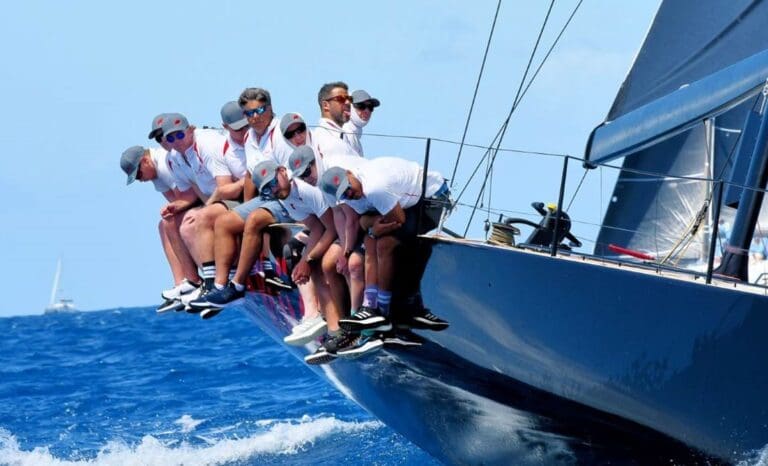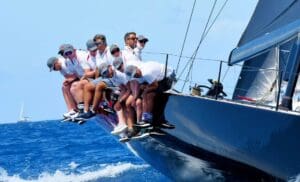 Wonderful One-Design Racing
STIR hosts likely one of the largest one-design fleets of any major Caribbean regatta. Nearly 20 one-design IC24s raced around windward-leeward courses off St. Thomas' south shore in Jersey Bay. Puerto Rico's Marco Teixidor and his team on Cachondo continue at the top of the class by 2 points. The USVI's Cy Thompson on Bill T had an incredible day, going from 6th place after being disqualified in the first race Friday for being over the start line early to second behind Cachondo today.
Today was the first of two days the Hobie Wave one-design class sailed. The USA's Michael Compton finished first, with a trio of wins in seven races. The USVI's Kyrre Culver ended the day mid-fleet in scores but enjoyed racing in the tight-knit fleet.
"Almost all of us have sailed together before. However, the triangular courses, with windward-leeward leg kept it interesting," says Culver.
The St. Thomas Yacht Club owns both its IC24 and Hobie Wave fleets, which are used for sailing instruction and race charters by the Club's St. Thomas Sailing Center.
Racing concludes on Sunday, with the first start at 11 a.m. and courses set off St. Thomas' East End. The Awards Ceremony follows at 5 p.m. at the St. Thomas Yacht Club.
To follow the action, check out STIR on Facebook (www.facebook.com/stirvi), Twitter @stirvi, and Instagram #STIRVI. Real-time scoring is available at: https://yachtscoring.com/emenu.cfm?eID=14738  under Race Results.