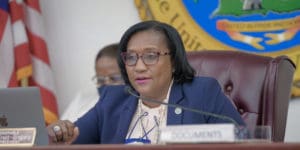 The Legislature announced Thursday a committee appointed to review Sen. Marvin Blyden's conduct and establish a course of action and evaluate potential disciplinary measures related to his alleged violation of health directives after testing positive for COVID-19.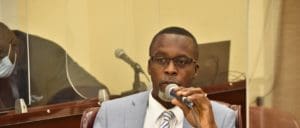 Blyden acknowledged the lapse and apologized Monday evening.
Senate President Donna Frett-Gregory announced the creation of a special committee on Monday, saying in a release it would meet by the end of the week. No time or place was announced, and it appears to have conducted its deliberation behind closed doors.
Citing the Legislature's rules, Frett-Gregory has reportedly appointed five senators to evaluate allegations Blyden acted inappropriately after testing positive for the COVID-19 virus by failing to quarantine. Members of the Committee on Ethical Conduct are Senators Milton Potter, Kenneth Gittens, Kurt Vialet, Carla Joseph, and Dwayne DeGraff.
Potter, who is chairing the inquiry, said his committee is taking the allegations very seriously.
"Given the danger coronavirus poses to our community and the many lives lost to this terrible virus, we must thoroughly evaluate all evidence and the complaint before us," Potter said. "I can assure the public that this matter is being carefully reviewed."
In the same statement, Gittens said elected officials need to be held to a higher standard.
"Here at the Legislature, we are bound by a code of conduct and our sworn oath of office," Gittens said. "Our Rules state that Senators must act in a manner complementary to the Senate and with dignity and respect for the office. We are expected to set an example."
A formal complaint was lodged against Blyden on Monday and amended Tuesday. Blyden has been issued a copy of the complaint and was also advised of the CEC's plan to move forward with the administrative process established to review his conduct. According to the Legislature's statement, Blyden will have an opportunity to respond to this complaint and to offer any evidence or witnesses he deems relevant.
"We ask for the public's patience as we do our best to fairly evaluate this matter," Potter said. "We promise to keep you informed."