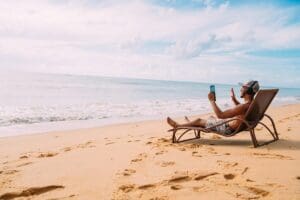 Customers who are currently subscribed to Liberty Mobile's Unlimited Elite plan now have unlimited talk, text and data in 19 Latin American countries at no extra cost. The company is also announcing enhancements to international roaming, adding 5G capability when traveling in over 35 international destinations.
With the Unlimited Elite plan, Liberty Mobile customers traveling to Belize, Costa Rica, El Salvador, Guatemala, Honduras, Nicaragua, Panamá, Argentina, Bolivia, Brazil, Chile, Colombia, Ecuador, Guyana, Paraguay, Peru, Suriname, Uruguay and Venezuela now have the same access to unlimited talk, text and data that they, and all Liberty Mobile customers, already enjoy in the U.S. Virgin Islands, the United States, Puerto Rico, Mexico and Canada.
Customers can communicate seamlessly with no additional costs while traveling in these countries and territories. Customers with the Unlimited Elite plan automatically receive this benefit. They do not need to call a service representative to activate it. Unlimited Elite subscribers get other benefits such as 5G access, a 40GB hotspot, free HBO Max and 4K UHD streaming.
"Customers in the USVI will definitely benefit from our expanded Unlimited Elite plan because it offers added freedom to our customers so they can use their devices the same way they would use them at home," said Catherine Kling, director of commercial sales at Liberty Mobile USVI. "Many of our customers travel often and they are able to use our services seamlessly with us. In addition, our customers now get even more value when they travel. Our roaming service matches and surpasses the competition when customers travel outside of the USVI."
In addition to Unlimited Elite, Liberty Mobile also announced enhancements to its international roaming service, adding 5G capability when roaming in more than 35 countries with a compatible 5G device. The list includes countries such as Aland Islands, Austria, Brazil, Bulgaria, Canada, China, Croatia, Denmark, Dominican Republic, Estonia, Finland, Greece, Hungary, Indonesia, Israel, Italy, Japan, Kuwait, Liechtenstein, Mexico, Netherlands, Norway, Oman, Philippines, Qatar, San Marino, Saudi Arabia, Singapore, Slovenia, South Korea, Svalbard, Sweden, Switzerland, Thailand, Thailand, United Arab Emirates (UAE) and Vatican City. International Day Pass subscribers can enjoy this benefit at no extra cost.
Liberty Mobile has six locations throughout the USVI, which makes it the largest retail footprint of any telecom company in the USVI. Locations currently include Red Hook, Crown Bay Marina, Kmart Tutu Park and Kmart Lockhart on St. Thomas, plus Sunny Isle Shopping Center and Kmart Sunshine Mall on St. Croix. In addition, Liberty Mobile is the leader in retail and customer service extended hours, with an experienced local staff at stores and kiosks. As part of the Broadband VI operations, the company also has a customer service call center on St. Croix staffed by local, friendly and knowledgeable employees.
"Liberty Mobile's seamless coverage, infrastructure, service and commitment to the community have been here for a long time, and we are not stopping now. We will continue providing the same excellence in service that customers in the USVI are accustomed to, and we will take it to the next level," said Bala Balakrishnan, general manager of Liberty Mobile USVI.