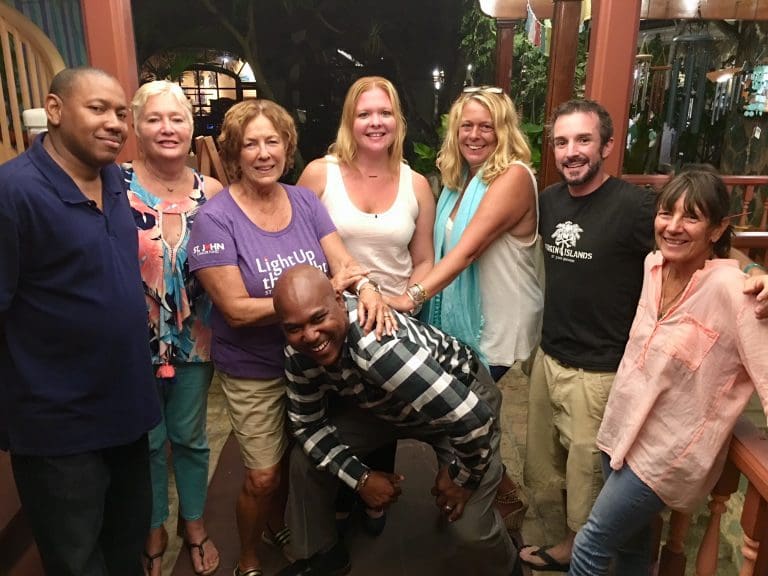 The power went off, the generator failed, and it rained hard at least three times. But if you ask anyone about the success of Light Up the Night, the main fundraising event for the St. John Cancer Fund held on March 24, you're likely to hear, "It was awesome!"
At a gathering Monday evening at the Tap Room to thank the organizers, event chairwoman Mary Bartolucci shared the news that almost $76,000 was raised through entrance fees, activities and online donations.
"This was the first year we had online donations," said Bartolucci, who said she was pleased that the new system worked so well. The event drew 35 teams enlisting a total of 108 participants online to raise funds for the St. John Cancer Fund, which assists St. John residents with medical costs, transportation, and other forms of support.
The destruction from two major hurricanes in September at first made organizers doubt whether they could hold an event in 2018.
[adrotate group="6"]
"In November, we felt, 'We can't do this,'" Bartolucci said. "We didn't want to ask people in the community [who were still struggling] for sponsorship."
It turns out more teams signed up in 2018 than ever before. Some had already started fundraising as soon as the 2017 event was over. One of them was Gallows Point Resort, the top fundraiser for the event. They teamed up with their onsite restaurant, Oceans 362, to raise more than $10,000 by selling raffle tickets for a five-night stay and dinner at the resort. Paula Tilas of Gallows Point and Lacey Pritchard of Ocean 362 said the resort has two staff members who are "warriors," the event's preferred term for cancer survivors.
The Beach Bar, which has always been a strong supporter, raised more than $6,800. Other top fundraising teams included BOOMSHAKALAK, the Landsharks, and Live from St. John.
"We were surprised by the turnout, said Tim Hanley, who co-chaired the online registration and donations. "We set our expectations so that we wouldn't be disappointed. The community turnout was uplifting. It's one of those events that does encompass the entire community, and gets St. Thomas involved as well."
Bridget Rose, his co-chair, said she was particularly moved by the Warriors Walk during which cancer survivors are invited to take one lap around the track and are then joined by everyone else in the spirit of solidarity. This is followed by the Luminary, a ceremony where lights are turned off and hundreds of candles are lit to honor individuals who have battled cancer.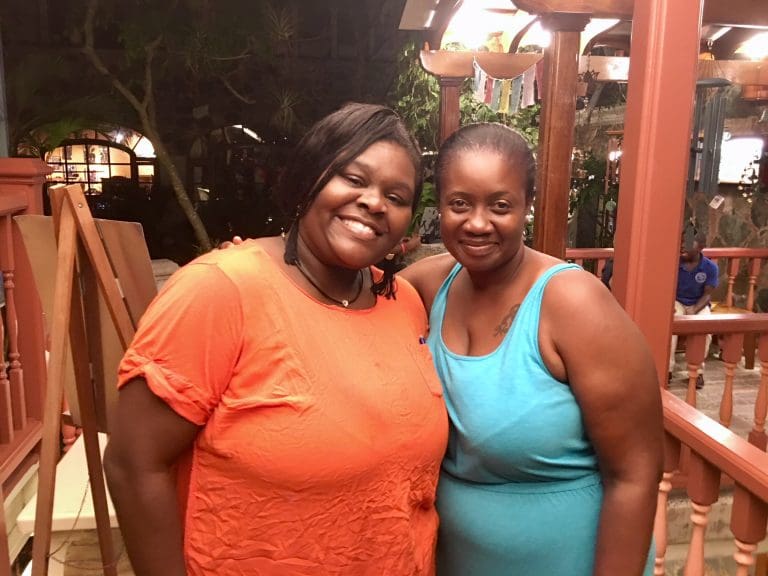 More than 60 cancer warriors were also served dinner at the event, according to Evanna Chinnery who took time to research a healthy menu featuring foods known to strengthen the immune system, including tofu, fish, quinoa and avocado.
Dinner organizer Benda Sonson said the dinner was prepared by members of St. John churches, including the Catholic, Methodist, Lutheran, Seventh-day Adventist, and Pentecostal congregations. Starfish Market made a fruit plate, and the restaurant Extra Virgin donated the tofu, "which was awesome," Sonson said.
The Warrior Dinner guests were served by students from the Gifft Hill School.
STJ Cancer Fund co-founder Cynthia Smith said the organization is always looking for ways to make their services more responsive to individuals, some of whom are contacting them at the onset of a crisis and "are going through a lot." Applicants can request financial assistance for medical care, travel expenses, and other costs by contacting the St. John Cancer fund on their website http://www.stjohncancerfund.org/.
The identity of those seeking funds is kept secret from those who make the funding decisions, and patients' privacy is maintained, said Smith.
The St. John Cancer Fund was founded in 2012 by Adonis Morten, Cynthia Smith, Clarence Stephenson, Hank Slodden, Tim Hanley, and Mary Bartolucci.
This year, the Community Foundation of the Virgin Islands, which manages the fund's finances, provided a $15,000 grant to launch the event. That figure was not included in the total amount of funds raised.
Shared content for St. John Tradewinds and Virgin Islands Source.