Have you noticed that the Estate Enighed dumpster area has been looking clean and neat lately and, even more importantly, staying that way? Amy Roberts talked to men who are responsible for that and shares their stories with us. Amy also wrote an accompanying sidebar on Dave Queeley Jr. about  his inspiring life changes. Enjoy.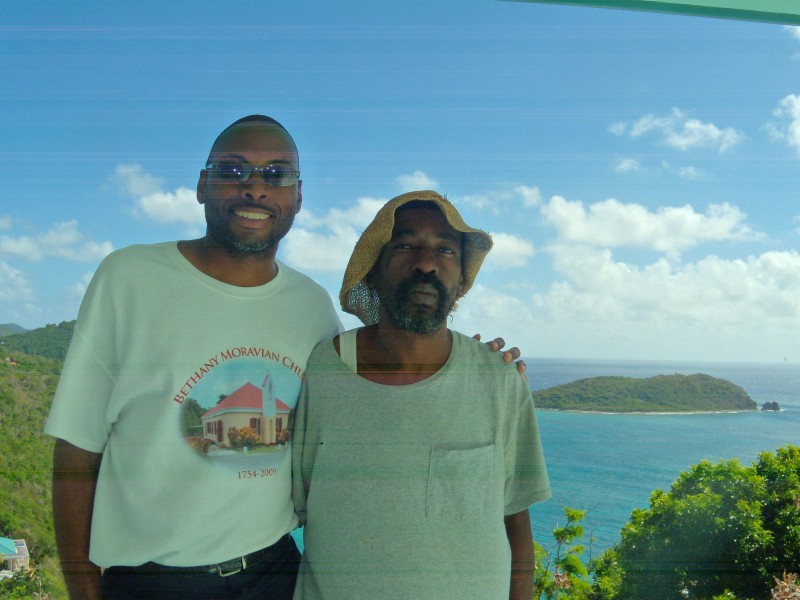 Lloyd Prince, at left, with Dave Queeley Jr.
By Amy Roberts
St. John Tradewinds
Remember how the Pine Peace garbage collection site looked a few years ago?
The dumpsters sat in perpetual mud puddles which no one wanted to step in, so people threw their trash as they passed — and often missed. The wind scattered aluminum cans and plastic bags, and the heavier debris lay in the mud, putrefying in the sun.
One passerby finally decided to do something about it. Nearly four years ago, Lloyd Prince took it upon himself to start picking up the trash, collecting the cans, and piling up the rocks that separated the collection area from the adjacent mangrove swamp.
"I like to compartmentalize stuff," said Prince. "I started piling up rocks, putting them in a straight line. Then someone came along and knocked them all down."
Discouraged at first, Prince soon found he had a secret ally. Dave Queeley Sr., a master of dry rock wall construction, came by and said to himself, "I'm going to rebuild it so that no one will knock it down." Soon the two met at the dumpsite and quietly took on the area as a community beautification project.
Queeley had already worked with the St. John Community Foundation collecting and sorting aluminum cans gathered by community members. For a short time the Waste Management Authority provided funding for the project, and when that ran out, he continued to volunteer.
"The Waste Management Authority doesn't have the money or manpower to keep the dump sites area clean," said Prince. "They say it's the job of Penn Trucking, which has the contract to remove the bins. But cleaning up all that trash is time consuming."
"The guys from Penn help when they can, and so does Lance Sonson [who often walks by], but imagine what it would be like if everyone who passed by did their share," Prince said. "We need other ones doing the same."
As a teenager, Prince was inspired by Don Wilford, a long-time St. John resident who would walk down Jacob's Ladder through Pine Peace picking up trash as a form of exercise. Wilford continued this practice until he was 88 years old and moved to the states.
Another source of inspiration was Martin Nicholson, the general manager of Caneel Bay from 1986 to 1995.
"I was working at Caneel, and I saw Mr. Nicholson bend down and pick up a piece of trash, and I said, 'If he can do that, I can do that,'" Prince recalled.
Prince now drives a taxi, and he says sometimes another driver will pass him by while he's picking up trash and say, "Why aren't you down at the taxi stand making money?"
His typical response is direct.
"Because this is a road to a hotel," he said. "There's no reason we have such a beautiful island and show the tourists things like this. I do it for locals, too. We have to show respect."
"V.I. people have a misconception," added Queeley. "Government, government, government; the government is supposed to do everything. We have to maintain ourselves."
"We live here, and every day we have to pass by," Queeley said. "We don't want to pass by and see everything looking so garbage-y."
Illegal dumping at the bin sites is another problem, according to Queeley.
"If a person dumps a stove at Pine Peace, you know he had to bring it in a vehicle," he said. "Why not just bring it to the waste transfer station at Susannaberg? It takes the same amount of energy and time to take it where it belongs."
Prince and Queeley agree that the amount of trash at Pine Peace has gotten worse since closing of the bin site near the barge exit. They're hoping that the site there will be re-established.
They're also hoping to inspire others to come out for a cleanup day in the mangroves.
"There's a lot of trash in there because of the wind," said Prince. "We've already been in there to clean up three of four times. We'd like to run a fence between the dumpsters and the mangroves to catch the trash."
"It's the time of year when we're supposed to do a little thing to show our love," he added.  "We need to set a standard in Love City to show this is who we are."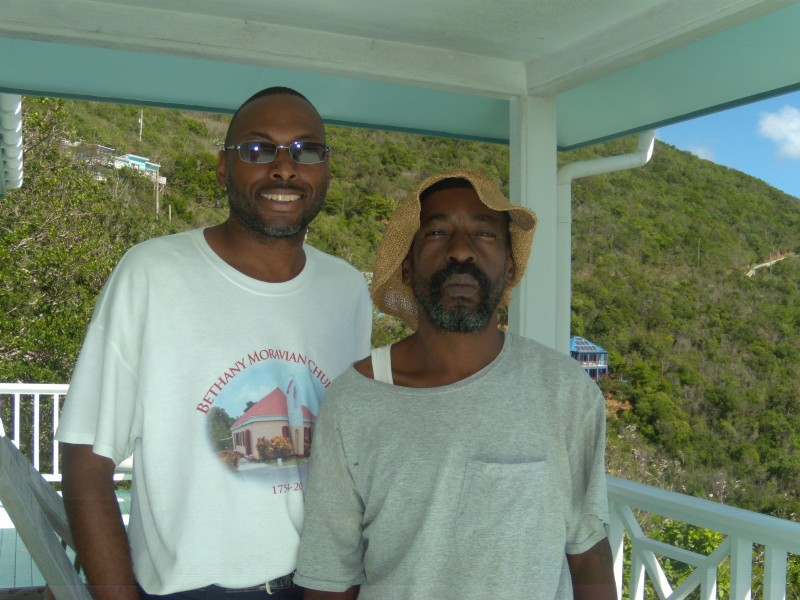 Lloyd Prince, at left, with Dave Queeley Jr.
Sidebar: Dave Queeley Jr.
by Amy Roberts
St. John Tradewinds
Dave Queeley Sr. was not always such a constructive member of society.
"I was a miscreant, a thief," he said. "I could have stolen the sugar out of your coffee, and you would take a drink and say, 'What happened to my coffee?'"
After serving time in Alabama for crimes he committed there, Queeley resolved never to go back.
"It's no place for a human being; after you've been there one time, you're supposed to know better," he said.
In addition to his other activities, Queeley takes the time to mentor at-risk youth on St. Thomas where he grew up.
"Negativity plays a trick on our kids' minds," said Queeley. "And our black males, when they go to jail, don't find anything to replace the negative energy."
When he goes and speaks to the kids, Queeley often carries what he calls his "mobile graveyard."  It's a poster board with newspaper clippings of local youth who have died by violence.  Too often, the youngsters he counsels know four or five of the people on the poster board, he explained.
Queeley has also worked with Mario Francis, an environmental activist on St. Thomas, teaching young people to build traditional rock walls without cement, a trade he's been practicing for 40 years.
The secret is starting with a flat surface and finding flat rocks that match each other.
"I know about rocks," said Queeley. "I can build a wall, and you can walk back and forth on it; it won't fall down."
Every Wednesday Queeley volunteers at the St. John Community Foundation.
"That's my church!" he said. "It shows the kids that everything you do in life, you don't have to get paid. Every day we get up, we're paid by whatever-you-want-to call-Him for another day of life."
Listeners of Reef Broadcasting (103.5 FM), may already be familiar with Dave Queeley Sr.  Using the pen name "John the Baptizer," he often calls in to DJ Avalanche's show between 2 and 4 p.m. and reads one of his oratories. Queeley has written thousands of them, publishing them in more than 40 collections which he sells.