Henry Mongie sailed to the Virgin Islands from his native South Africa in 1963. While he has stayed in touch with his family back home, more than 20 years had passed since Henry saw his sisters – until a few weeks ago. Andrea Milam had the pleasure of spending time with Henry and his sisters and family members during their St. John visit and shares their heartwarming story with us.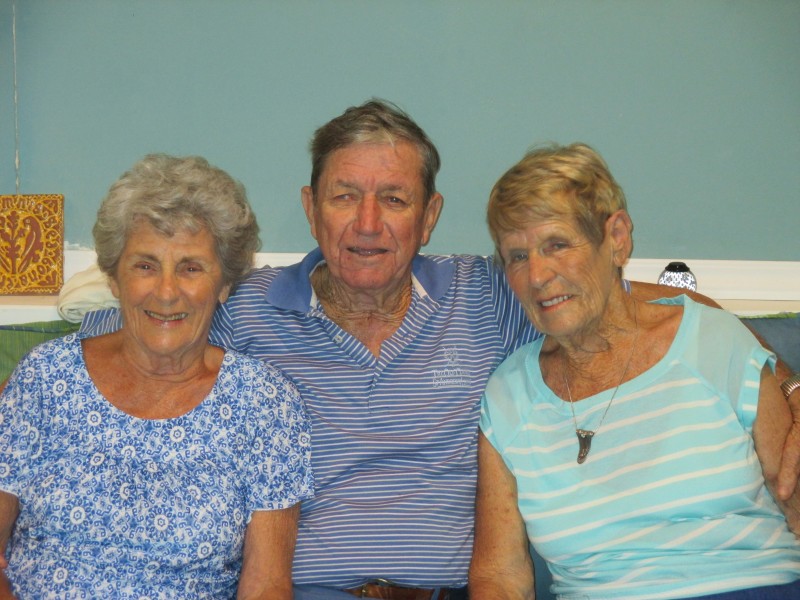 By Andrea Milam
St. John Tradewinds
The holiday season was a time of warmth and togetherness for families across the island, but in the Chocolate Hole home of Henry Mongie, a special kind of magic was happening.
Henry and his two sisters, Yvonne Van Den Berg and Linda Tighe, spent the holidays together, marking the first time the siblings had all been under one roof in more than two decades. All in their 80s, they acknowledged with a calm and assured sort of solemnity that it was likely also the last time they would all be together.
Linda's husband Peter Tighe, Yvonne's son and daughter-in-law Rory and Linda King, and Henry's son Jonathan Mongie and his wife, Eva Mongie and their children, Savannah and Wyatt, rounded out the crew, filling Henry's home with love and laughter.
Henry, a South African native and 52-year resident of St. John, sailed to the Caribbean in 1963. It was a tumultuous time in his native country, where the system of apartheid reigned, so Henry set off in search of something different. He departed from Mozambique, skirting the African continent's southern coast, with stops in Durban, Port Elizabeth, Hermanus, and Cape Town before making the nearly 2,000-mile crossing to Saint Helena, a remote volcanic British Overseas Territory in the South Atlantic. From there, Henry made the long crossing to Trinidad and then up the island chain to St. Thomas, where he dropped on anchor on July 4, 1963.
Henry quickly assimilated to life in the Virgin Islands; not long after his arrival, he started Tradewinds Charters. Over the years, Henry ran several businesses on St. John including the At Your Service travel agency and Pine Peace Liquors. He made occasional trips back to South Africa before the busyness of life made the journey infeasible. His sisters, both mired in their own daily routines in South Africa, traveled to St. John a handful of times to visit Henry.
Despite the distance, the siblings kept in touch with occasional letters, phone calls, and even a Skype chat. As Henry approached his twilight years, he realized it was time to bring his family together under one roof for the last time.
"It's wonderful to see them again," Henry said from the terrace of his home with the waves rolling in gently below. "I wanted it to happen and it happened. It's probably the last time we'll ever see each other again."
The planning started months before the siblings' December 18 arrival, which involved Linda King, Yvonne's daughter-in-law, traveling from her home in Qatar to South Africa to accompany Henry's sisters and brother-in-law on their journey to the V.I.
"I was packing for nine months," Yvonne said of her excitement.
"Mum packed her suitcase 10 times," echoed her daughter-in-law Linda with a smile.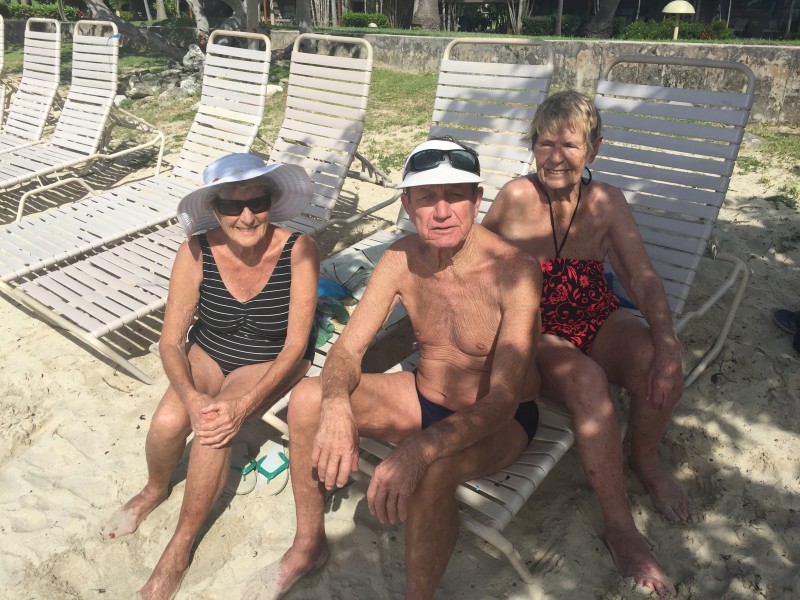 Gathered around the table on Henry's terrace, the conversation flows so easily between the three siblings and their extended family, it's easy to forget they haven't seen each other for decades. Their rapport with one another is friendly and convivial, their exchanges interspersed with light teasing, a testament to the strength of their familial bond. The time Henry and his sisters spent together triggered old memories, shared with much joy and laughter.
"From the moment they got off the taxi in Red Hook, it's just been an amazing time," said Jonathan of seeing his dad and aunts together. "The stories that have come out — I've been learning more about the family. It's like these memories have woken up. Some of the stories were told after they were plied with alcohol."
Henry and his family celebrated his 82nd birthday with a lunch at Shipwreck, and they spent many days beach hopping together. They attended Miles Stair's holiday party and Henry hosted his own Christmas dinner party, complete with two legs of lamb and two turkeys.
"It's almost like we knew we were on limited time, so staying together was critical," says Jonathan. "We had a ton of beach time, a ton of talk time, lunches, dinners, nighttimes together. It's been truly amazing."
While old memories were shared, new memories were created, and the three-week visit, which came to an end January 10, is something Henry and his sisters will surely cling to and reminisce upon with joy in their hearts.
"You can't explain the feeling you get when you get up in the morning and see the family together," said Linda. "It's hard to put into words. The first few nights I sat here and said, 'I can't believe it!' It's just been beautiful."
[adrotate group="6"]