Pictured above: Uninhabited land on Lovango. Photos courtesy of Capt. Jay Rushing.
"Congo." "Lovango."  "Mingo."  These musical sounding words are the names of cays—small islands– just to the northwest of St. John.  Maybe, as you've ridden the ferry from St. John to St. Thomas, you've gazed out at them and wondered what it would be like to own a little piece of them.
Here's the good news.  You may not ever own a piece of property on these islands, but as a member of the public, you now have the permanent enjoyment of a one-acre site of conservation property at the easternmost tip of Lovango Cay that will be preserved forever as natural green space.
The St. John Land Conservancy (SJLC) announced that an anonymous donor has given the land to the Conservancy for conservation purposes.  According to Raf Muilenburg, St. John Land Conservancy president, "This means that the beautiful eastern tip of the Lovango will never be developed, allowing the natural land and rock forms (with tide pools, cliffs and canyons) to remain undisturbed."
The waterfront property is surrounded by coral reefs and has views of the Sir Francis Drake Channel and provides beautiful scenery to passing boats as well as views from St John.  The photos below provide views of the new Lovango land from all sides.
The board members of the SJLC celebrated the donation of the property at Bajo El Sol Gallery on January 7.  The public was invited to meet with the newly reorganized board of directors, including Vice-president Gary Ray, PhD, Secretary Thia Muilenburg, and Treasurer Mary Vargo.
Board members shared how the organization got started, and how it hopes to grow.
"We started several years ago with the need to save the Haulover property when it went up for sale," said Raf Muilenburg. The 3.6 acre Haulover property included beachfront land on Round Bay, part of Coral Bay, and woodlands and wetlands across the road all way to the stone beach at Dreekets Bay on the north shore.  With R-2 zoning, developers could have constructed up to 28 condominium units.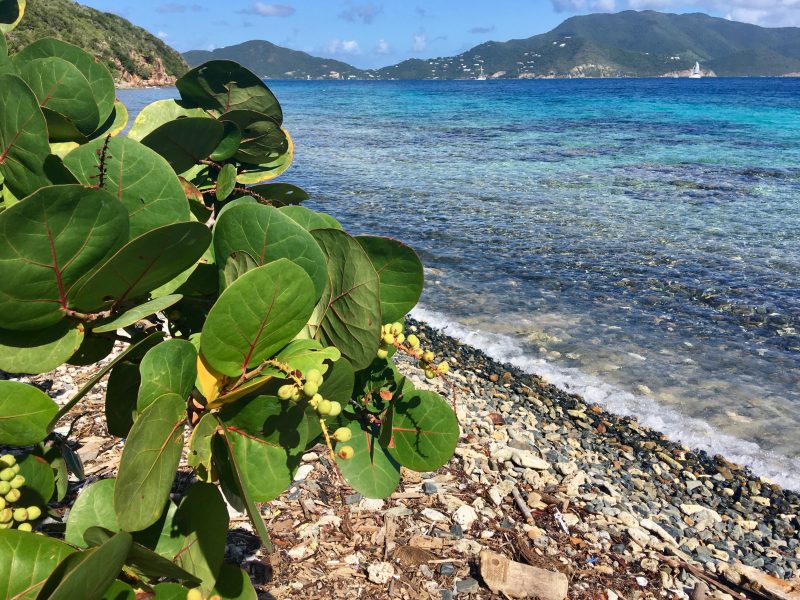 "I grew up there," said Muilenburg, who was raised on Breath, a boat built by his parents, which often anchored in the calm waters of Round Bay.  "I wondered, 'How can we save it?"
Fortunately, as a partner in Morrisette and Muilenburg LLP, Attorneys at Law, Muilenburg had developed a professional relationship with the property owner, Family Properties Caribbean LLC.
The Haulover property was listed for sale at $1.9 million, but FPC principal David Prevo, a conservationist at heart, spoke to Muilenburg about finding a way to protect the land from development as part of the National Park.
Although he was unable to afford a direct donation, Prevo was willing to sell the land for conservation for $800,000, the price he had paid for the property ten years earlier plus property taxes and other costs incurred.
The Muilenburgs worked for over a year with the Park, The Conservation Fund (TCF) and various potential donors.  They were able to put together a coalition of island residents willing to donate almost half the necessary amount – but were unable to raise the whole thing, until they took the story to St. John Tradewinds News.
The Tradewinds article published in February 2011 galvanized many members of the community, among them Lauren Mercadante, who had fallen in love with St. John as a teen and was willing to donate the money to purchase the property for transfer to the National Park. With her husband George Mercadante, and others including Muilenburg and Athena Swartley, they established the Conservancy as a 501(c) (3) charitable nonprofit entity.
The purpose of the St. John Land Conservancy is to protect natural and historic land and resources, allowing free public access by the people of St. John, in perpetuity.  And they're looking for further donations of both land for conservation and additional funds to help it happen – all such donations are tax deductible, and land donation can give substantial tax benefits to the donor.
Unlike the Virgin Islands National Park (which may accept land donations within or abutting authorized NPS boundaries), the Conservancy can accept donations of properties outside Park boundaries.  The Conservancy can offer a variety of options for people who want to donate land, from outright transfers to conservation easements, which allow a portion to be used while conserving the rest, as well as other arrangements.
"We're seeking donations of threatened parcels that are of high conservation value," said Gary Ray.  If it borders the National Park, if it's part of a corridor to the beach, if it is rich in wildlife and native habitats, it qualifies as high conservation value, he said.
"Even agricultural land, historic land, and land with high population density may be considered of value," said Ray.  "When you contribute to the Conservancy, you're helping St. John."
The Conservancy is also looking for volunteers to assist in a variety of ways, including grant writing, organizing and coordinating Conservancy events, fundraising of various kinds, office work, photographing potential acquisitions, and providing boat access to properties such as the one on Lovango.
For further information on the Conservancy's projects and future plans, click the following link: http://www.stjohnlandconservancy.org/, or visit their Facebook page, which lists upcoming events including a chili cook-off being planned to benefit the group and raise community awareness, or email them at info@stjohnlandconservancy.org.