Pictured above: "One Love" on its long spinnaker run to Grass Cay.
Photos courtesy of Jim Furneaux.
By Jim Furneaux
The St. John Yacht Club's annual Dukes Trophy Race overcame early lack of wind to produce a competitive race in 8 to 12 knot winds Sunday, January 22. While the start at Two Brothers was slow, by the time racers passed Rata Cay and made the turn at Johnson's Reef outer marker, winds had strengthened for the long spinnaker run to Grass Cay.
The eventual winner, "One Love" skippered by Bill McConnell of St. Thomas made its move coming around Grass Cay and led the field back past Rata Rock and to the finish line at Steven Cay off of Cruz Bay. "Bill McConnell picked the right way the whole day," said Mike Feierabend, Commodore of the St. John Yacht Club.
The Dukes Trophy Race is named in honor of pioneer St. John tourist host Richard "Duke" Ellington who purchased the land at Gallows Point in the 1950s and established a colony of beach cottages and one of the premier local hangouts, Duke's Bar. Duke was a colorful character who had already established a name for himself as a mystery writer authoring a series of books featuring private eye, Steve Drake. SJYC has been hosting the Dukes Trophy Race for over thirty years.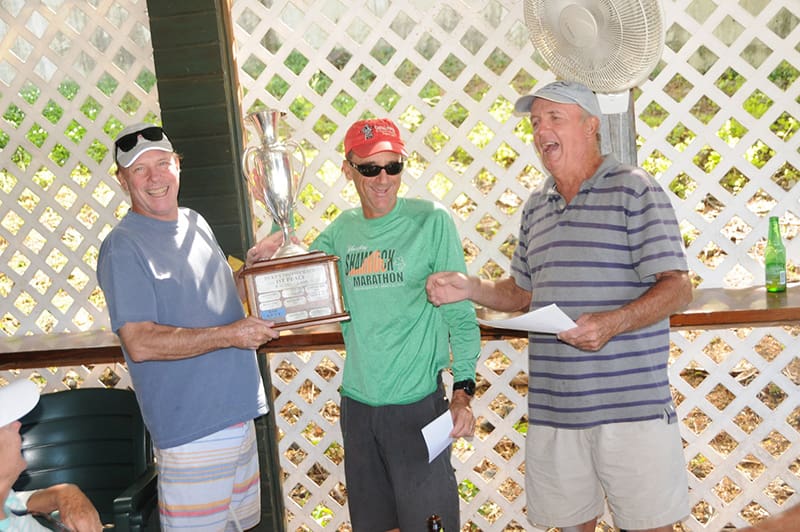 The results of the 2017 race are as follows: winner "One Love," skippered by Bill McConnell, second place "MT," skippered by Mike Feierabend, and third place went to J.P. Montegut's "Boat Drinks."
The next regatta of the St. John Yacht Club is the Island Hopper on February 26th. Racers and friends will celebrate with the annual and very popular after race beach cookout at Elaine Estern's Coconut Coast Studion on Frank Bay.
Sign up early! For more information, visit www.stjohnyachtclub.org.