In the wake of a recent decision by the Department of Licensing and Consumer Affairs not to allow Love City Community Network to charge subscribers a monthly fee, the non-profit organization is stepping up its fundraising efforts.
Several staff members, some of whom agreed to suspend their salaries, are taking to their phones to ask for donations, and Mongoose Junction restaurants teamed up to host a fundraising barbecue on Saturday night, which doubled as a party celebrating the one-year anniversary of the passing of Hurricane Irma.
The Tap Room sold its beverages and the North Shore Deli prepared plates heaped with chicken, pork and plenty of side dishes to feed the crowd. Scoops served up dishes of its upscale ice cream. Shirts bearing the LCCN logo were for sale, and by the end of the night, almost $8,000 was raised to help the community-based communications network.
Ivan Jacobs, LCCN's outreach and development director, said the non-profit organization is pressing on to continue its mission: to reinforce its disaster-ready network, to create a series of public Wi-Fi hotspots that can be operational almost immediately after a storm; and to reach people in remote locations who are not being served by the main internet service providers.
"We still have the widest distribution [of internet signal] on the island," said Jacobs, adding that the maps featured on Viya's website show that the company is still in Phase 1 in terms of re-establishing fiber-optic connections for phone, internet, and cable service to the eastern portion of St. John.
Immediately after the storm, several IT experts teamed up to provide connectivity for disaster relief agencies and to establish Wi-Fi hotspots on the island. Many of these people went on to establish Love City Community Network, which has been described as "A bunch of scrappy people making something out of nothing."
The fundraiser for LCCN also was a party to celebrate the one-year anniversary of the passing of Hurricane Irma. The courtyard at Mongoose Junction was packed by residents who recalled gathering a year ago in the same spot after hurricane Irma tore through the islands.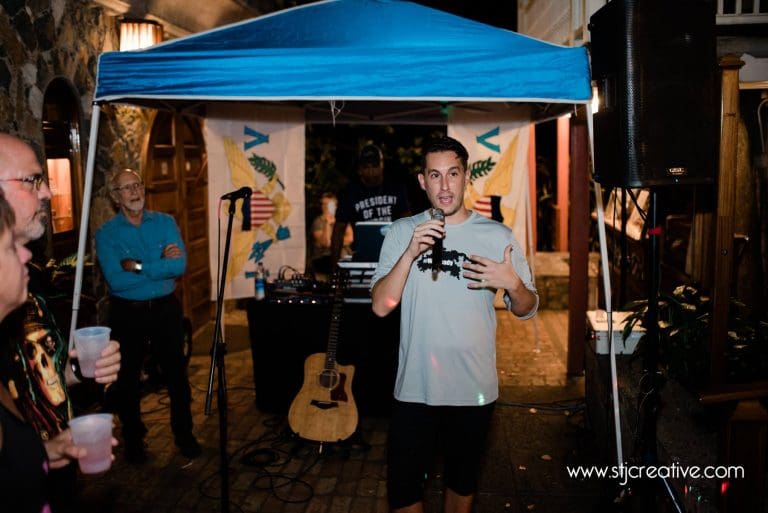 Immediately after the storm, Glen Speer, the developer and owner of Mongoose Junction, rallied the business owners within the complex, and Ryan West, who worked in one of those businesses, took over the mic and began giving daily updates to the public.
Both Speer and West spoke briefly at Saturday's fundraiser for Love City Community Network.
"A year ago, when I stood on this wall, I knew there would be a recovery, but I knew it would be a couple of years," said Speer.
Speer praised the community-based non-profit organizations that have aided in the island's recovery, but warned, "The island needs to come together. If we don't find someone with vision and leadership to move us forward, we're going to give the island up to those who have a lot more money. … Nature will recover, but if we let the bulldozers take over, there's no future."
For more photos, visit STJ Creative Photography's Facebook Page. To learn more about Love City Community Network or to make a donation, visit their website, https://lccn.vi/.
Shared content for Virgin Islands Source and St. John Tradewinds.