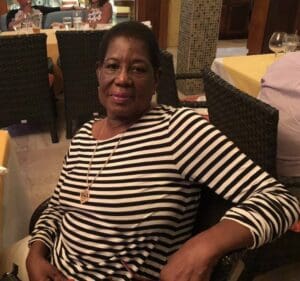 Malvina Agatha Rodgers of Estate Sion Farm died on Saturday, March 12, in Fort Lauderdale, Fla. She was 76 years old.
She was preceded in death by her parents: Leonard Sr. and Leonile Rodgers; sister, Lorraine Rodgers; sister-in-law, Deborah Rodgers; aunts: Ena, Ina, Ann Marie "Antoinette," Ara and Eulalie Petrus; and nieces: Renee, Teshanee and Tamara Rodgers.
She is survived by her daughter, Anita E. Nibbs; sisters: Lenore Rodgers and Sandra Rodgers; brothers: Roy, James and Leonard Rodgers, and Richard "Louis" Fleming (adopted); sister-in-law, Doreen Rodgers; aunts: Irene Mason and Julia Pankey; uncle, Roy Oliver; nieces: Keisha Rodgers-Barnett, Yuri Rodgers-Milligan, Kenisha T. Reefer, Kama Rodgers, Lalerah M. and Leonarda Rodgers, Ashara Ritter-Encarnacion, April Johnson, Evelyn Ayala and Joycelyn Fleming; and nephews: Shawn Smith, Rupert Reefer, Asher Ritter, Jimmy Fleming and Russell E. Rodgers.
She is also survived by great nephews: La'Ron Rodgers-Moses, Romont Reefer, Brian Barnett Jr., Bricen Barnett, Laquan Smith, Cairo Smith, Jeremiah Ventura, Azani Penn, Kamani Rodgers-Henry, Jordan E. Rodgers, Iron-Deh Ritter and Azariel Hamilton; great nieces: Zaria Milligan, Ta'Jhanique Cumberbatch, Jasmine R. Rodgers, Tishawna Smith, I-O'Diesha Ritter, Azeara Penn and Amharic Ritter; and cousins; Dr. Denise Bennerson, Kevin and Mark Oliver, Mary, Augustin and Malcolm Mason, Freddy Pankey, Melvin, Jeffrey, Iyieachia and Izorrie Petrus, Marvin Clarke, Nicole Petersen and Sharon Petersen-Butler.
Other survivors include godchildren: Hubert L. Frederick, Renee Somme, Karen Thomas, James E. Parris, Tresa Civil, Cheray Charles, Keshia Shillingford, Ashtin Charles, Geneau Thomas, Kila Ross-Jones, Shyree Lynch, Sedaysha Harrison, Alwyn Lynch Jr. and Adrian; special friends: Josephine Hector, Rupert Reefer Jr., Lorraine Thomas, Roy Gumbs, Delita Civil, Celine M. Parris, Deborah Evans, Sisters in de Hood, Yvonne Francis, Arlene Sealey, Sarah James, Helen Schjang, Verna Walcott, Annette Henry, Petra George-Clement, Robin Davis, Asta Evans and the McKnight family; as well as other relatives, friends and godchildren too numerous to mention.
Relatives and friends are invited to attend her celebration of life on Friday, April 8, at Holy Cross Catholic Church in Christiansted, St. Croix.  The family is requesting that attendees wear festive colors. The viewing will begin at 10 a.m. with a service immediately following at 10:30 a.m.  Interment will be at the Frederiksted Cemetery.