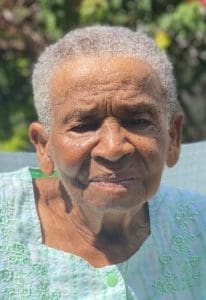 Maudina Gwendolyn Molloy of Estate Strawberry Hill died on Saturday, Aug. 28. She was 92 years old.                                
She is survived by her daughters: Cynthia Brookes (Cecil), Joan E Murray and Karen Liddie (Jephthah Lui); sons: Ivan Dedrick Hamilton (Agnes), Patrick Peterson (Margo), Amos Peterson (Mary Ann), Stephen Peterson, H. Larry Peterson (Lisa), Felix (Ken) Watson (Arlene) and Anthony Lammy (adopted); stepchildren: Hugh Matthew (Rupertha), Laurel Marilyn Barbell, Byron Peterson and Janet Reyes; and adopted children/grandchildren: Lisa Bough, Doreen Davis, Derrick Dominique, Coleen Hodge (family), Resa O'Reily, Joanie Phillip and Patricia Sage.
She is also survived by grandchildren: Sherri Ann Hamilton, Dr. Gavin Hamilton, Kervin Hamilton (Terra), Joyelle Saunders (Alvin), C. Jonathan Brookes (Stephanie), Jevon Brookes (Tequia), Adeleke Peterson, Melanie Cameron (Rolando), Kai-Patrick Peterson (Niecia), Aria Flores (Jonathan), Meleke Turnbull, Leah Peterson, David Peterson, Aaron Peterson (Jen), Jenna Nissley (Ben), Zachary Peterson (Jillian), Nicole Honore, Jenel Murray, Todd Murray, Giselle Peterson, Andrew Peterson, Jephthah Liddie, Jahred Liddie, Felix Watson Jr. (Chantele) and Kyle Watson; and great-grandchildren: Jaedon Saunders, Joen Saunders, Zadie Brookes, Taiyla Trice, Caiya Brookes, Callen Brookes, Ariel Benjamin, Jonathan Flores Jr., Jalen Flores, Promise Flores, Taniyah Flores, Narijah Flores, N'Kayla Hughes, N'Kia Hughes, N'Koiya Hughes, Kaiden Peterson, Felix Watson III, Cole Peterson and Myla Peterson.
More survivors are sisters: Rebecca Morris and Diana Hamilton; brothers: Charles Hamilton (Daisy), John Hamilton, Leroy Hamilton (Olivette);  nieces and nephews: Paulette, Lorraine, Florine, Loretta, Geofrey, Andrea, and Stella Morris, Eugene, Chesil, Rev. Adelyn, Patricia, Jetris, Annette, Ingrid and Charles Jr. Hamilton, Alisa, Mark, Nevlyn, Joanne, Bibianna, and Mercedes Hamilton, Rev. Alson Percival and siblings, Mercier Peter, Chesley Hamilton and siblings, Drexel Hamilton and siblings, Winston Hamilton and siblings, and Larisene Weiner; and cousins: John and Charles Davoren, John Huggins, Elvere, Simon, Phyllis, Lisa and Leslie Huggins.
Other survivors include special friends: Ava Harvey, Vena Henry, Leorta James and family, Ian Caesar, Olive Ford, Madonna Hall, Lucy Bough, Fr. Michael F. Kosak, Secular Franciscan Order, St. Ann's Deacons (wives), Sr. Patricia Alexander, Dr. Denis Griffith (Patricia), Gloria Hospidales, Gloria Slater, Miriam Griffith, Edeen Headley, Cynthia King, Verna France, Nilda McMahon Lorna Cave, Lauren, Dwayne and Dion Caines, Victor M. Marrero and Carmen Lydia M. Dennis; as well as other relatives and friends too numerous to mention.
The viewing will begin at 9 a.m. followed by a funeral service at 10 a.m., Thursday, Sept. 9, at St. Ann's Catholic Church. Private cremation will follow.
In lieu of flowers, donations are to be made to St. Ann's Catholic Church for the televising of mass for the sick and shut-in.
Due to the COVID-19 pandemic and public health regulations, all attendees must wear a mask and adhere to social distancing.