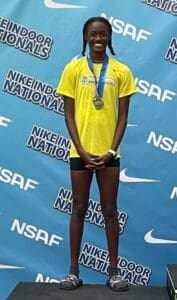 St. Croix Track Club athlete Michelle Smith, a high school sophomore at Montverde Academy, competed at the 2022 Nike Indoor Nationals on Staten Island, N.Y., on March 11 – 13. Smith won the 400m prelim in a new Virgin Islands Indoor Junior record of 56.06. Smith's 400m time qualified her for the Championship Division final, which was run in two sections of four athletes each.
Smith won her section of the final, breaking her VI Indoor Junior record again with a time of 55.30. She placed 4th overall, which earned her All-American status.
On March 13, she competed in the Emerging Elite 60-meter hurdle prelim, placing first in a VI Junior Record of 9.05, which qualified her for the 60mH final. In the final, on the same day, Smith broke her previously set 60m hurdle record by 1/100 of a second running 9.04, finishing 3rd overall.
Michelle Smith will compete next in the Adidas Track Nationals held in Virginia Beach, Va., March 18 – 20.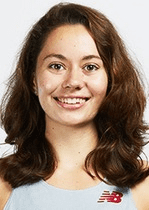 Rachel Conhoff, St. Croix Jolly Rogers Track Club and Ursinus College junior, continued her successful indoor season at the DIII Indoor NCAA Track and Field Championships on March 11 and 12. She ran a personal best of 5:00.42 in the prelim of the 1-mile race to make it to the final. In the final, Conhoff placed 9th with a time of 5:01.15, finishing up a great indoor season.