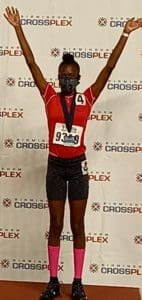 Michelle Smith won second- and fourth-place finishes in two events at the Southeast Showdown in Birmingham, Ala., on Monday, Feb. 15. It was an indoor track and field meet for high school athletes who came from 18 states and the U.S. Virgin Islands.
Since Smith is a high school freshman, placing second in the 800m run with a personal best of 2:17 and fourth in the finals of the 60m hurdles are noteworthy. Many of her competitors were juniors and seniors. Among 9th graders, according to www.athletic.net, she is ranked 4th in the nation based on her times in both events. Smith is hoping to qualify for the Caribbean Free Trade Association Games set to be held in Bermuda in early July.
The Virgin Islands will be sending a contingent of qualifying track and field athletes to Hamilton, Bermuda, to what is considered the world's most outstanding under 20 and under 17 track and field competition.
For more information, email stcroixtrackclub@yahoo.com or call Malique A. Smith, president of St. Croix Track Club Inc., at 422-4707.