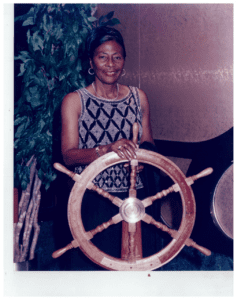 Millicent Hendrickson-John, also known as "Millie," "Aunty Millie," "Mammy" or "Mammy John," of Estate Catherine's Rest died on Feb. 24. She was 83 years old.
She is survived by her daughter, Jasmine John; adopted daughters: Feria DeFoe, Fayola Tross, Dahlia Hunkins, Joslyn O'Garro, JoyAnne O'Garro Norman, Jayla Norman, Sikela Norman, Silva Gibbs, Sylvia Archibald nd Okeyma Armstrong-Rose; adopted sons; Clarence Payne, Devon Rose, Ameer Norman and Garry Norman; grandchildren: Yajaira Rivera and Latania Graham; great-grandchildren: Jabes Cruz and Jeremiah Cruz; sisters: Margery Selkridge and Miriam Bailey; brothers: Maurice Hendrickson, Vincent Raymond Hendrickson and Rupert Powell; nieces: Marie Selkridge-Ashford, Yolanda, Josette, Gaynell Bailey, Hopefull Myrick, Sandrene Carty, Sandra Smith, Lisa, Sonia, Liz, Vanessa, Denise Hendrickson, Debbie and Labodie Swanston;
She is also survived by nephews: Judson Selkridge, Gavin,  Gaston and Greer Hendrickson, Devon Powell, Alphonso Hendrickson, Dale, Charles, Maurice, Hugh, Leslie, Trevor, Cy and Keith; great nieces: Niesha and Aniah; great nephews: Xavier Ashford and Anthony; son-in-law, Jose Ortiz; sisters-in-law: Ann Celia Hendrickson and Uletta Hendrickson; and godchildren: Glenn Richards, Rohan Claxton, Donette Dyer, Jayla Norman, Khadeija DeFoe, Enecia Hendrickson, Taheem Jarvis, Laniqua Gonzalez and Paul Harris.
More survivors are special friends: Kevin Brandt, Claudette Thomas, Brother and Sister Vanterpool, Janet Liburd, Sam Freeman, Janet Claxton, Dahlia Hunkins, Dorette, Lauralie Lynch, Laurette Mills, Mona Howie, Clarina Gilead, Rev. and Mrs. Sonoram, Christine Herbert, Susan Martin, Aureliano Marin, Ms. Jefferes, Delano Francis, Edith Cornelius, Ms. Connor, Ornette and Roan Creque, Joyce Heyliger, Teddy Richards and family, and the Ebenezer Methodist Church family.
Other survivors include cousins and other relatives and friends: Rhoda Archibald, Keeth and Prudence France, Franklin Hendrickso, Lorna Miller and family, Keisha Francis and family, the Archibald family, Clinton, Michelle, Veloria, Mary St. Aime and family, Robyn and James Swanston, the Allen family, the Browne, Hendrickson, Wilkin, Byron, Powell and Chiverton families, Ken Robertson, Judge Jessica Gallivan and family, Bridgette Bradshaw, Adndrew Coriette and family, Geneva Diaz, Clifford Powell, Yvonne Isles family, Yonie Hendrickson and family, Eren Edwards, Lola Graham and family, Anna Hall, Jackie York and family, the Prayer Warriors Group, and former co-workers of Department of Labor; as well as other relatives and friends too numerous to mention.
Acknowledgements to all caregivers: the doctors and nurses at Emory Hospital, North Decater Road, Ga., Bridgeway Care, Nurse Vince, CNA's Karen and Tenitha, Continuum Care's Tracy Sanders and Kinara, Maddie, Labodie Swanston, Feria DeFoe, Jose Ortiz, Sandrene Carty, Jasmine John and Ken and Denise, and Dr. Lyn Campbell.
The viewing will be held at 10 a.m. followed by a funeral service at 11 a.m., Saturday, March 19, at Ebenezer Methodist Church (Richmond). Interment will be at Kingshill Cemetery.
Professional services are entrusted to James Memorial Funeral Home Inc.