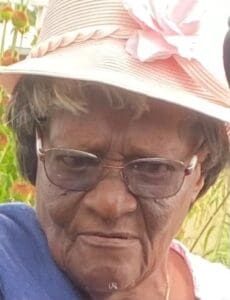 Gloria Emelda Granger, also known as "Glorie," of Estate Pearl, died on March 6. She was 88 years old.
She is survived by her daughter, Claudette P. Bird; sons: Corwin Commabatch, Avery Gerard and Tremelle Gerard; grandchildren: Kyle E. Stevenson, Devyn Gerard, Jaden Gerard and Xaariyah Gerard; sister, Henricata Martin Mussington; brother, Arendel D. Martin; nieces: Kysa Martin Donawa, Kirsten M. Robinson and Lisa Martin; nephew, Arendel D. Martin; great nieces: Kaisa Donawa, Keyerra Forde and Kenyonna Pope; and great nephews: Randy Donawa Jr., Kyran Donawa, Jamar Donawa, Rasan Donawa, Samson Donawa and John Forde.
She is also survived by daughter-in-law, Rhea GoPaul Gerard; son-in-law, Eugene E. Stevenson; sister-in-law, Albertha Martin; and special friends: Delores Chrichlow, Wilhelmina Commabatch, Lindsie Robinson, Ana Brewster, Ausilita Durante, Eleanor Mason, Violet Connor, Maria Brunn, Elinor Frorup, Denise Melchoir, Josephine Hector and family, Louis Gerard, Yvonne Hector, Dr. Yvonne Williams Henry, Anna Merle James, Knud D. Knight, Ms. Bramble, Viola Henry, Pastor Terri, Dexter Skepple, the Speak The Word Family, The Class of 1953 and Janet Crump.
Other survivors include cousins and other relatives: Viola Henry, Eleanor Mason and family, Corrine Aska, Donna Hector, Violet Bailey, Leroy Osborne Jr., Ruby, Violet and Jacqueline Osborne, Ruby Osborne, Gregory Miller, Magnolia Drummond and family, Helen Miller, Glen Miller and family, Delroy Richards and family, Panchee Hall and family, George Lewis, and Dan James and family; as well as other relatives and friends too numerous to mention.
The viewing will be at 10 a.m. followed by a funeral service at 10:30 a.m., Thursday, March 24, at The Way of the Cross Baptist Church. Interment will be at Kingshill Cemetery.
Professional services are entrusted to James Memorial Funeral Home Inc.